Like many, we hate not having the resources to take care of a problem independently. That's why having a 12v air compressor on board is a must. Not only can these devices help with flat tires, but you can also use them to inflate camping mattresses and other gear. Plus, they're not too expensive. There's no reason not to have one.
If you're still on the fence about getting an air compressor for your car, we're here to help. We'll tell you more about 12-volt air compressors, what to look for, and why they are worth the investment. Read on to learn more!
What Is a 12v Air Compressor?
A 12v air compressor is a small, portable air compressor that runs on 12 volt DC power, making it easily transportable and valuable in a car, truck, or RV. 12-volt air compressors are perfect for inflating tires, camping mattresses, and other inflatables. They are also excellent for blowing up pool toys, beach balls, and other recreational items.
12v air compressors typically have a max pressure of 120 to 150 PSI, so you can't use them for heavy-duty applications like painting or sanding. However, they are more than adequate for most household and light automotive needs.
They usually come with various adapters and nozzles to help you inflate almost anything. Because they're small and portable, you can take them anywhere. They are perfect for when you're on the road and might be miles away from any assistance.
Pro Tip: Navigating tire pressure can be confusing. We uncovered Is It OK To Drive With Low Tire Pressure?
Can You Plug An Air Compressor Into a Car?
A 12v air compressor is a handy tool, but can you plug it into your car? The answer is yes, you can. Designers made 12v air compressors compatible with cigarette lighter sockets, so all you need to do is find an available socket in your car, and you're good to go.
Some 12v air compressors come with alligator clips that allow you to attach them directly to your vehicle's battery. Though the air compressor operates off 12-volt power, it can quickly drain a battery. Whether you plug it into a 12-volt outlet or connect it directly to the battery, ensure the car is running so that you don't drain the battery.
Why Do You Need a 12v Air Compressor?
If you've ever been stranded on the side of the road with a flat tire, you know how crucial it is to have a 12-volt air compressor. This handy device can quickly fill up your tires so you can get back on the road. But a 12v air compressor is not just for emergencies.
You can use them to inflate tires, fill up air tanks, and operate power tools. 12-volt compressors are also more portable than their larger counterparts, making them ideal for camping, off-roading, and emergencies.
In addition, 12v compressors are relatively inexpensive, making them an excellent investment for anyone who wants to prepare for the unexpected. Whether filling up your tires or powering a cordless drill, a 12-volt air compressor is a must-have tool for any DIYer or driver.
What Should You Look for in a 12v Air Compressor?
When shopping for a 12v air compressor, there are a few key things you need to remember. Maximum air pressure, airflow, power source, draw, and socket types are critical factors.
Maximum Air Pressure
The maximum air pressure is the first thing to consider. This will determine how much air the compressor can deliver. If you need to inflate tires or other objects that require high pressure, then you'll need a compressor with higher maximum air pressure. Most people will want a 12v air compressor with a maximum air pressure of at least 100 to 120 PSI.
Airflow
The airflow is also essential. Airflow measures how much air the compressor can output per minute. If you are using the compressor for tasks that require high airflow, like filling up a tire quickly, then you'll need a model with a higher airflow rating.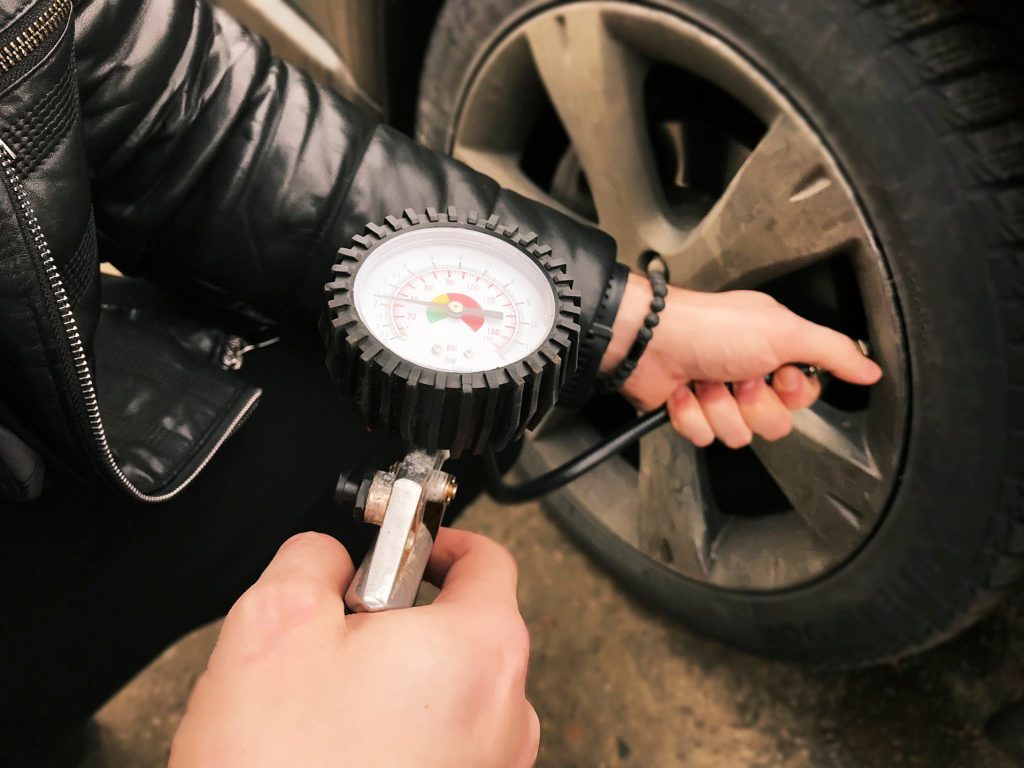 Power Source and Draw
Ensure the compressor you choose works with the 12v outlet in your vehicle. Your 12v air compressor should operate at 120 watts of power or less and draw 15 amps or less. This should ensure that it safely operates from your vehicle battery without damaging it.
Socket Types
Finally, you'll need to consider socket types. Some 12v air compressors come with multiple sockets to accommodate different objects. Others have only one socket type, so you'll need to ensure the one you choose is compatible with the things you'll be inflating.
Pro Tip: Overinflated your tires? This is How to Easily Let Air Out of Your Tires.
Is a 12v Air Compressor Worth It?
We think that a 12v air compressor is worth the purchase price for any driver. It's an inexpensive form of insurance during your travels but has many other uses that add to its value.
The key is handling an emergency like a flat tire, but don't forget that it comes in handy with many other scenarios. You can inflate an air mattress. You can use it with specific power tools, inflate a stand-up paddleboard, or inflate bicycle tires.
As long as you find a 12v air compressor with the appropriate maximum air pressure, good airflow, doesn't draw so much power it damages your vehicle's battery, and has the socket types that you need, it is one of the best investments for any driver.
Have you ever had a flat tire without an air compressor? Tell us in the comments!
Discover the Best Free Camping Across the USA
To be honest with you, we hate paying for camping. There are so many free campsites in America (with complete privacy).
You should give it a try!
As a matter of fact, these free campsites are yours. Every time you pay federal taxes, you're contributing to these lands.
Become a FREE CAMPING INSIDER and join the 100,000 campers that love to score the best site!
We'll send you the 50 Best Free Campsites in the USA (one per state). Access the list by submitting your email below: