Especially when venturing out West, it's important to pay attention to signs and ordinances along your journey. If you enter Native American land, regulations usually change. There are certain things you can and can't do on tribal lands. It's essential to understand the rules so you can respect the communities there.
Because of the quality of care these lands receive, often, they offer some of the best scenery. They've remained mostly unchanged for millions of years, and this draws visitors.
Let's learn about camping on Native American land and how you can appreciate and enjoy these areas, too!
Is It Legal to Camp on Native American Land?
Most of the land managed by the Bureau of Land Management (BLM) is public land, open to everyone. Native American land is not public land nor managed by the BLM. To explore the land, you'll need to reserve a guided tour led by a native. You can't just walk around the land on your own.
In addition, the Navajo Nation Parks & Recreation website states, "Cremation, littering, rock climbing, camping and drones are strictly prohibited inside the Navajo Tribal Park lands and across our Great Nation." Like hiking, you can't just set up your tent or park your RV on these sacred lands.
Backcountry permits are available for hiking and camping in some Native American lands like the Navajo Tribal Park.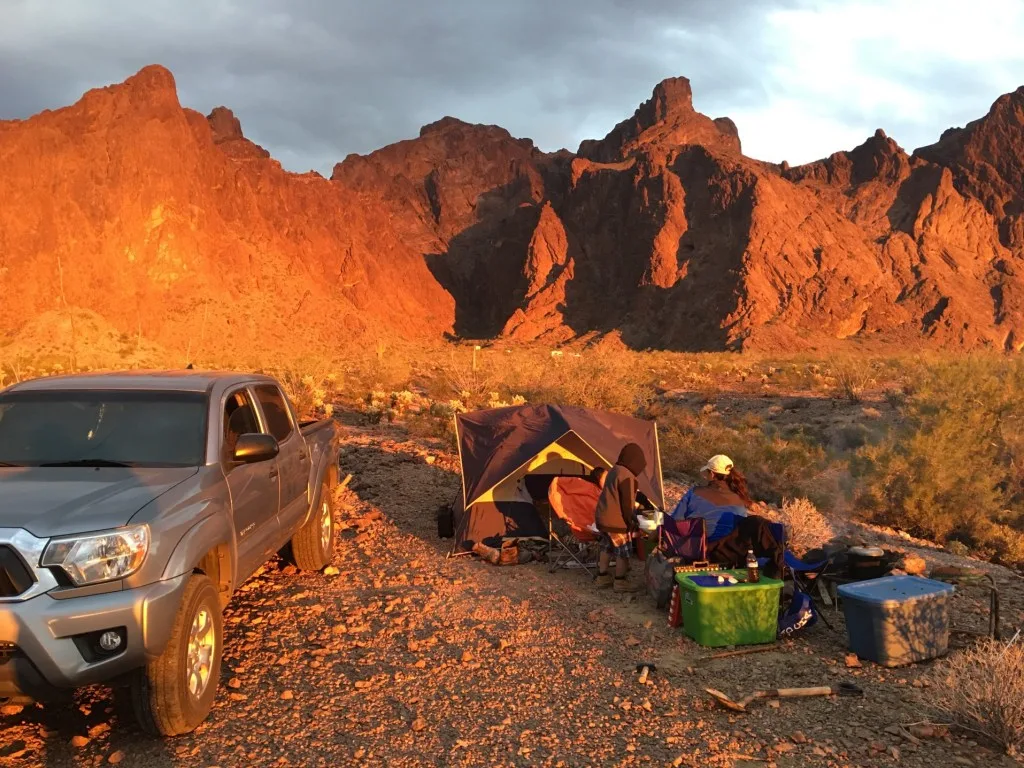 Can You Park Overnight In Native American Reservations?
If you want to stay on a Native American reservation, you'll want to contact the tribal office first. Each tribe has different regulations regarding visitors.
Some welcome guests with open arms, some welcome guests with parameters, and some don't welcome guests at all. Remember, a reservation is where these communities live, work, and play. It's home.
Do You Need a Permit to Camp On Indian Reservations?
As mentioned earlier, getting a backcountry permit to hike or camp on Indian reservations is required. However, some tribes have chosen to embrace tourists and established campgrounds or casinos on their land.
These locations help keep tourists off other remote Native American lands, thus protecting the sacredness of the land. But they also provide a way for guests to enjoy the natural beauty of these areas.
Top Native-Owned Campsites
If you want to stay at a native-owned property, you'll find more of them out west. Always make sure to pay attention to the rules and ordinances of the tribal community. When you choose to stay here, you're accepting the laws and honoring the desires of the native people.
Chewing Blackbones RV Park And Campground
Address: 3719 US Highway 89 W, Saint Mary, MT 59417
About: Close to Glacier National Park, the Chewing Blackbones RV Park and Campground is in a great location to explore hiking, wildlife viewing, and photography activities. Owned by the Blackfeet Nation, this campground is on the shores of St. Mary Lake. Amenities include a store, laundromat, showers, and full-service RV sites.
Guests can also rent a canvas tipi to enjoy stunning views of Glacier right in your backyard.
Pro Tip: If you're going to explore Glacier National Park, keep an eye out for these Most Dangerous Creatures in Glacier National Park.
Grand River Casino and Resort
Address: 2 US-12, Mobridge, SD 57601
About: Owned by the Standing Rock Sioux Tribe, the Bay at Grand River is down the hill from the casino. It includes six cabins, two boat ramps to Lake Oahe, and a camp store.
Everything you need to hunt, fish and camp will be at the convenience store. Adjacent to the bay is the campground which has 70 campsites with electrical hookups, showers, an RV dump station, and a playground.
Cottonwood Campground at Canyon De Chelly
Address: 1/2 mile South of Canyon de Chelly National Monument Welcome Center
About: Located near the entrance of Canyon de Chelly National Monument in Arizona, the Cottonwood Campground is a simple place to pitch a tent or park your RV for a night or two. There are picnic tables, barbeque grills, and restrooms available. No showers, dump stations, or hook-ups are at this location.
Instead, the Tseyi' Dine' Heritage Area is a place to enjoy the beauty of your natural surroundings. Managed by Navajo Parks and Recreation, you can book a guided tour of the area or take a self-guided tour of the South and North Rim Drives.
Big Cypress RV Resort
Address: 30290 Josie Billie Hwy, PMB 1002, Clewiston, Florida 33440
About: Owned and operated by the Seminole Tribe of Florida, the Big Cypress RV Resort is near the Everglades. It's convenient to take an hour's drive to Miami, Fort Lauderdale, or Naples. The resort provides paved RV sites with full hook-ups and air-conditioned cabins. Amenities include laundry facilities, a gas station, a general store, a heated outdoor pool, mini-golf, horseshoes, and a basketball court.
Boysen State Park
Address: 120 Boysen Drive, Shoshoni, WY 82649
About: Open year-round, the campgrounds at Boysen State Park welcome tent campers and RVers. There are 11 different campgrounds within the park, as well as three boat ramps and a marina. Boysen State Park is one of the largest in Wyoming.
There are three different entrances: US Highway 20 (east side), US Highway 26 (south side), and Bass Lake Road (west side). Restrooms are available at every campground, as well as several playgrounds.
There is a significant price difference between Wyoming residents and non-residents, so take note of that information when booking a reservation.
Pro Tip: No matter where you are camping, it is important to leave no trace. Find out why!
Is Camping on Native American Land Worth It?
The natural beauty of Native American land beckons visitors year after year. These tribes consider their land to be holy. Therefore, the land is well cared for by the people.
If you choose to camp on Native American land, make sure to follow the local regulations and honor the tribal communities' wishes. Follow the Leave No Trace principle and leave your campsite clean and free of trash.
Have you ever camped on Native American land? What was your experience? Tell us in the comments!
Discover the Best Free Camping Across the USA
To be honest with you, we hate paying for camping. There are so many free campsites in America (with complete privacy).
You should give it a try!
As a matter of fact, these free campsites are yours. Every time you pay federal taxes, you're contributing to these lands.
Become a FREE CAMPING INSIDER and join the 100,000 campers that love to score the best site!
We'll send you the 50 Best Free Campsites in the USA (one per state). Access the list by submitting your email below: