Many RVers park overnight in some unique places during their travels. Those who use their rigs to travel full-time often wake up in places they would never have imagined.
These places often include farms, wineries, and sometimes a Wal-Mart parking lot. One particular gas station, Buc-ee's, has become a hotspot for travelers, especially RVers.
So, can you park overnight at a Buc-ee's gas station? Let's see!
What Is Buc-ee's?
Buc-ee's is more than just a regular gas station or convenience store. Imagine a massive Cracker Barrel gift shop with some of the cleanest bathrooms, a massive amount of delicious food/snacks, and more fuel pumps than you can count. That's precisely what you get when visiting a Buc-ee's.
Travelers love this Texas-based chain of travel centers. While the travel centers at one time were only in Texas, recently, the company has branched out and begun opening stores outside of the Lone Star State.
If you see a sign for one of its locations, we recommend you make a pit stop. Your bank account may take a hit, but you'll find plenty of snacks and treats to stockpile for your adventures.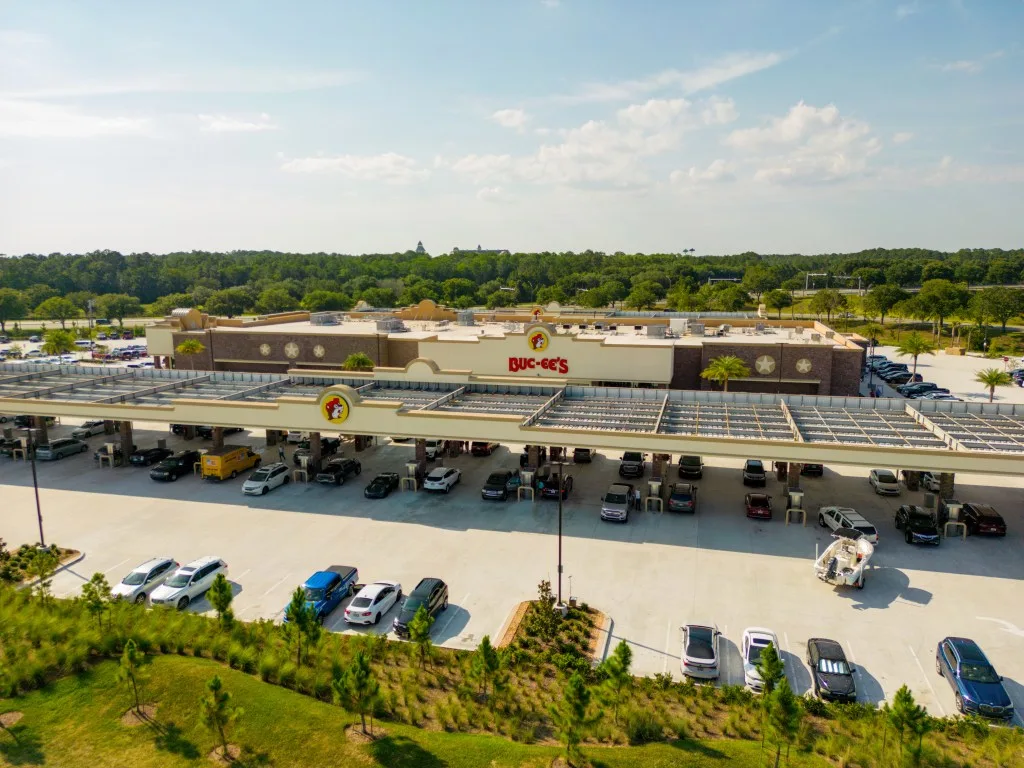 Can You Park Overnight at a Buc-ee's?
Unfortunately, Buc-ee's doesn't allow overnight or extended parking. Despite being open 24 hours a day, they prohibit vehicles from loitering in their lots. This is such a common question they receive that it's placed it on its list of frequently asked questions on their website.
Maintaining a safe and secure environment for customers is important to Buc-ee's. They're a convenience store and not a rest stop. They don't even have tables or chairs inside for guests to sit down and enjoy their food. Their goal is for you to get what you need to get back on the road as quickly as possible.
So while you can't stay the night, you can resupply your snacks, fill up on fuel, and get back on the road.
Are Buc-ee's Only in Texas?
Despite nearly four decades of the Lone Star State having bragging rights as the only place to visit a Buc-ee's, that's no longer the case. In 2019, Buc-ee's made the controversial decision among followers to open their first location outside of Texas.
Currently, you can find Buc-ee's locations in Alabama, Florida, Georgia, Kentucky, South Carolina, Tennessee, and Texas. Could the next Buc-ee's location be near you?
Why Is Buc-ee's So Famous?
Buc-ee's has earned a tremendous reputation for its high-quality and massive facilities. Some locations are over 74,000 square feet and have more than 120 fueling pumps. They pride themselves on creating a clean environment and offering excellent customer service.
As a result of their high standards, they've developed a massive and loyal following. While their locations are open 24 hours, you should expect huge crowds if you visit anytime between sunrise and sunset. It's a relatively constant stream of customers looking to snag beaver souvenirs and snacks and use the huge, clean restrooms.
When it comes to convenient store locations, it's hard to compete with Buc-ee's. We can confidently say that any fuel stations nearby likely experience a tremendous loss of revenue when Buc-ee's comes to town.
Where Can You Legally Park Overnight?
While you can't park at a Buc-ee's overnight, there are some places you can legally park for the night. Here are other options you might consider after stopping at a Buc-ee's to grab some Beaver Nuggets.
Walmart
One of the most popular spots for travelers to park overnight is at one of the nearly 5,000 Walmart locations across the country. These are great stops because they have massive parking lots that are easy to navigate, and you can stock up on any supplies you need in your RV. Make sure you park at the back of the lot and are out of the way of traffic passing through the parking lot.
While many Walmart locations allow guests to stay overnight, that's not always the case. Some areas have local rules and regulations that prohibit overnight parking. Get permission from the store's management before parking for the night. You don't want to get a knock on the door in the middle of the night.
Cracker Barrel
Another additional spot to consider for parking overnight is Cracker Barrel. These are great options because they're often off major interstate roads. Many locations have dedicated parking spots for RVs and other large vehicles. This can make it very easy to get in and out of the parking lot.
Similar to Walmart, not all locations can offer overnight stays. You should make sure you get permission before getting too comfortable. We also recommend that you support the restaurant monetarily by purchasing something from the restaurant. This can allow you to get a delicious meal at the end of a travel day or hit the road first thing in the morning with a full stomach.
Rest Stops
Many states maintain rest stops along their interstates. These are excellent spots for drivers to pull over to stretch their legs, use the restroom, and get some rest when needed. If you're choosing to get some sleep, make sure you park out of the way and are aware of any stay restrictions. Some rest stops limit how long visitors can park in their lots. You don't want to receive a citation or knock on the door telling you to leave.
While security at rest stops can be inconsistent from one location to the next, some offer night-time security. This can give you a bit of assurance that they'll address any seedy behavior that takes place while you're trying to get some sleep.
Truck Stops
While not the most glamorous place to stay, a truck stop can do the job in a pinch. You'll typically have to deal with large trucks coming and going all night. However, you can fill up on fuel, get some food, and even take a shower before getting comfortable in your vehicle for the night.
If you stay at a truck stop, make sure you park out of the way of semis. You don't want to be on the receiving end of an angry trucker trying to get in or out of a spot. They have an important job to do and often must battle restrictions regarding when they can drive.
How to Find Overnight RV Parking
If you're looking for overnight RV parking, a few great resources can help. We recommend getting familiar with using them before heading out on an adventure. You don't want the added stress of learning to use an app or resource when trying to find a place to park for the night.
Overnight RV Parking
The Overnight RV Parking app from TOGO RV is a great resource for finding overnight RV parking spots. The app has a database of over 14,000 spots where you can park your RV overnight for free. You'll also find several thousand locations that no longer allow overnight parking.
This can help save you from setting up camp in a spot that was once overnight-parking friendly. Download the app on your Apple and Android devices and start finding great spots to stay.
RV Parky
RV Parky is another useful app available for Apple and Android devices. In addition to finding free overnight parking spots, you can also find campgrounds and RV parks easily. Not only can you find places to stay, but you can plan out your entire trip within the app.
So you can stay organized and read reviews from other users to avoid any nightmares while on an adventure. Considering it's free, it's well worth downloading and familiarizing yourself with it.
Campendium
One of our all-time favorite apps and go-to resources for finding spots to stay is Campendium. It's loaded with so much information that it's hard to beat. There are both free and paid versions of the resource. Paid members get a few more map overlays, can filter by elevation, and also enjoy an ad-free experience.
Campendium allows you to filter results based on price. So if you're looking for a free place to stay, simply lower the maximum price to $0. However, some sites on public lands may require users to get a permit. If that's the case, ensure you acquire the proper permits before setting up camp for the night.
Grab Some Beaver Nuggets and Hit the Road
A stop at Buc-ee's is the perfect way to break up a travel day. You'll want to build in a considerable amount of time for your stop. If it's your first visit, you'll likely want to walk through all the aisles and see how many things you could buy with a beaver printed on them. It's pretty astounding!
Buc-ee's is a fun and exciting place to stop. We've always had a great time and left with some delicious food and snacks to enjoy during our travels. If you're looking for a spot to grab a souvenir for friends or family, you'll have no trouble doing so at Buc-ee's. You just can't stay there.
Discover the Best Free Camping Across the USA
To be honest with you, we hate paying for camping. There are so many free campsites in America (with complete privacy).
You should give it a try!
As a matter of fact, these free campsites are yours. Every time you pay federal taxes, you're contributing to these lands.
Become a FREE CAMPING INSIDER and join the 100,000 campers who love to score the best site!
We'll send you the 50 Best Free Campsites in the USA (one per state). Access the list by submitting your email below: