No one chooses to plan their vacation around destinations that just don't excite them. And a lake in the middle of a desert surrounded by nothing but rocks doesn't sound like a riveting travel trip.
Lake Mead is just that. However, it may be a good thing that it's so boring – it's one of those places you may need to avoid.
We dig into the specifics of this reservoir and why you may need to scratch it off your travel list.
About Lake Mead
Created by the building of the Hoover Dam across the Colorado River, Lake Mead is the largest reservoir in the United States. It supplies water to California, Arizona, Nevada, and parts of Mexico. It's 112 miles long, with a shoreline of 759 miles and a surface area of more than 247 square miles. When it's full to capacity, the lake can hold 28.23 million acre-feet of water. But suffering drought conditions since 1983, Lake Mead is currently only 26.63% full.
The reservoir got its name from Elwood Mead, the commissioner of the U.S. Bureau of Reclamation. He was head of the Boulder Canyon Project that built the Hoover Dam. The Bureau labeled the resulting lake as separate bodies for identification and location purposes.
Most of the water that fills Lake Mead comes from spring runoff in the Rocky Mountains of Colorado, Wyoming, and Utah. The Glen Canyon Dam upstream on the Colorado River modulates water coming into the lake. And, with drought conditions since 2014, Lake Powell and Lake Mead have been at all-time low capacities.
Pro Tip: Lake Mead isn't the only thing to see in the Mohave Desert. Check out these 9 Best Things To Do in The Mojave Desert.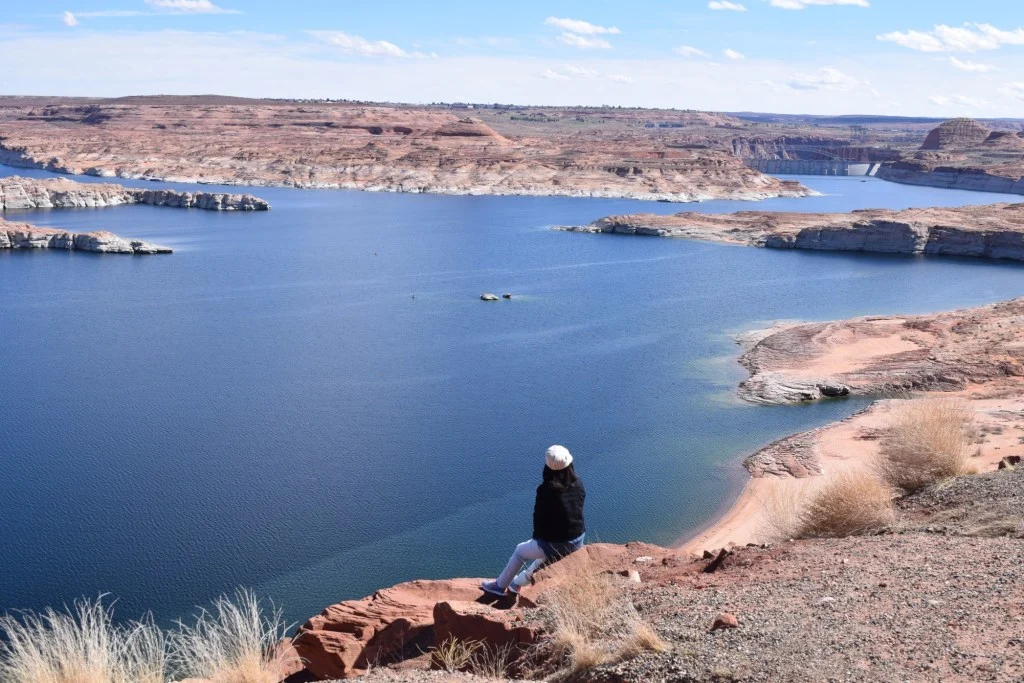 How Deep is Lake Mead?
When the lake is full, its deepest point is 532 feet. This means that a full Lake Mead would be 1,229 feet above sea level. So far, the lake has never been full, but the Bureau of Reclamation is currently trying to fill the lake and Lake Powell above it to prolong its life.
This would, however, require taking even more water from the Rocky Mountain States of Colorado, Utah, and Wyoming.
What's at the Bottom of Lake Mead?
Because of chronic drought conditions, Lake Mead has been getting lower. That reveals much of what was flooded during the building of the dam. St. Thomas, Callville, and Rioville in Nevada communities were told to evacuate before the reservoir filled up in 1938. You can see the remnants when the lake is at low levels.
During the construction of Hoover Dam, authorities laid tracks to bring in supplies, like aggregate rocks. Today, these too lie underneath the waters, along with a 125-foot-long concrete tunnel that advanced divers traverse in total darkness. Plane crashes like the one attempting a water landing in 1949 sit on the bottom of the lake, preserved for generations to come.
But the most mysterious plane wreck was a B-29 Superfortress that was on a classified mission. It carried a prototype guidance system for ballistic missiles. When flying over Lake Mead, the plane glanced off the water. That one move tore three of the four engines off the plane, requiring the pilot to ditch it in the water. Fortunately, the crew scrambled to safety, but the plane now hides in the lake's depths.
Shipwrecks are also well-known in these parts, with a common burial ground now named Wreck Alley, just off Sentinel Island. One of the most popular relics is a 38-foot wooden sailboat called the Southern Cross. World War II enthusiasts will want to see the Higgins craft that was once used to survey the Colorado River but now sits on the lake bottom.
5 Reasons to Avoid Lake Mead (Arizona & Nevada)
With so many opportunities for unusual activities in and around Lake Mead, it is hard to imagine any reason to bypass this desert lake. However, just in case you're looking for an excuse to get out of a trip here, we've listed all the reasons not to. But we're sure you'll choose to visit Lake Mead, even if only to prove your courage!
Algal Blooms
Cottonwood Cove and Nelson Landing have experienced blue-green algae blooms in the past. This particular type of algae can produce toxins that affect the human liver and can kill pets and livestock.
So it's best to stay away from the water. But, to their credit, the National Park Service (NPS) has quickly responded and marked areas that may harbor the algae.
Water Crisis
Lake Mead is currently at its lowest point since 1938. Its level is 1,044.03 feet above sea level. Yet, at full capacity, the water level should be 1,229 feet above sea level. The Bureau of Reclamation has marked a low point of 895 feet above sea level as a "dead pool."
This is where the lake won't have enough water in it to produce as much hydroelectric power. It won't be able to provide enough drinking water for communities in California, Arizona, and Nevada.
Dead pool is still years away from happening, but with prolonged drought, it's a concern.
Dead Bodies Found
Earlier this spring, when Lake Mead's waters continued to lower, boaters found a 55-gallon barrel with human skeletal remains inside. The estimation is the deceased was shot and killed in the mid-1970s or early 1980s, placed in the barrel, then into the lake.
Six days later, another body turned up in the Callville area of the lake. However, it appears there was no foul play suspected in that death.
Dangerous Wildlife
Its location in the Mohave Desert threatens dangerous animals. Additionally, even though Lake Mead is a water recreation area, you may still have contact with rattlesnakes, scorpions, and other desert wildlife.
Other reptiles and mammals still call this region home, but most will leave you alone if you don't disturb them. Watch where you place your hands and feet, and be mindful of your surroundings.
Pro Tip: Learn more about what are The Most Dangerous Creatures at Lake Mead.
Extreme Temperatures
Extreme temperatures can swing 70 degrees up or down within the same 24-hour period at Lake Mead. It can be challenging, especially in the summer season.
Staying hydrated is the first concern, and protecting yourself from the sun is the second. Hypothermia can be a real problem in the late fall and winter, as evening temperatures drop precariously low without warning.
Stay Away from Lake Mead
Lake Mead is a desert region where concerns about high temperatures, low water intake, and dangerous animals can be a bit scary. If you do decide to venture out there, be very conscious of your surroundings. Also, be careful of the water with its toxic algae and frigid temperatures in the winter.
Will you bravely take the trip to Lake Mead? Tell us in the comments!
Discover the Best Free Camping Across the USA
To be honest with you, we hate paying for camping. There are so many free campsites in America (with complete privacy).
You should give it a try!
As a matter of fact, these free campsites are yours. Every time you pay federal taxes, you're contributing to these lands.
Become a FREE CAMPING INSIDER and join the 100,000 campers that love to score the best site!
We'll send you the 50 Best Free Campsites in the USA (one per state). Access the list by submitting your email below: