Have you seen one of the most recognizable cooking implements in the world? It can produce some of the best barbecue out there. We're talking about the iconic Big Green Egg.
But as beloved as this device can be, not everyone knows how to use it correctly.
So toss a bit more charcoal on the fire, grab a cold drink, and let's crack the code of the Big Green Egg.
What Is a Big Green Egg?
The Big Green Egg isn't just a quality grill. This self-described "complete outdoor cooking system" can grill at high temperatures, smoke at low temperatures, roast various items, and serve as an outdoor oven.
This means it can replace several pieces of outdoor cooking equipment, condensing them into one stylish, green ceramic shell. This ceramic coating also helps keep the Egg relatively cool compared to other grills, making it more bearable during a hot summer cookout.
How Do You Break in a New Big Green Egg?
It's understandable to feel eager to start whipping up delicious food on your new Egg. But before you throw that steak or ribs on, you must first break in your Big Green Egg. Here's what you need to know.
Start Low and Let It Cure
In the same way you season a cast-iron skillet, you also need to cure the interior of your Egg. The most crucial aspect of this is ensuring the gasket adhesive sets right. The gasket will provide an airtight seal to maintain temperature for future cooking.
Start by applying low heat. You can even do this while preparing food on your Egg; just make sure it won't require too high of a temperature to cook. The company recommends your first few uses remain under 350 degrees Fahrenheit.
Use Lump Charcoal
Many charcoal grillers may grab a bag of supermarket match-light charcoal briquettes, but that won't work the Egg. You'll want to use all-natural lump charcoal at all times for several reasons. First, this charcoal can burn hotter and last longer, two crucial elements of grilling and smoking.
The all-natural charcoal is also free from potentially dangerous chemicals in lighter fluid and fillers. You want to avoid these things to prevent the porous ceramic interior from absorbing bad-tasting chemical byproducts. You shouldn't need lighter fluid in any case, as quality lump charcoal should light relatively quickly.
Pro Tip: Want to become the ultimate grill master? Use these tips on How to Start a Charcoal Grill, the Right Way.
Light It and Avoid Back Drafts
You'll want to use either a natural charcoal starter or an electric version without any chemical accelerants to get your charcoal going. Now's also an excellent time to learn of a crucial process known as "burping."
Fully opening a heated Big Green Egg can lead to a blast of heat ranging from uncomfortable to dangerous, as oxygen rushes in and hot air rushes out. Instead, you should initially open the lid just an inch or two and pause. Burping it allows cool, fresh air inside safely. Afterward, you can fully open the cover without risking a backdraft.
Open the Vents and Lid for 7-10 Minutes
Now that you've lit your charcoal, you can prepare it for cooking. Start by removing the lid and opening all of the Egg's vents. This allows maximum airflow to spread flames across the coals quickly. It should take roughly 7-10 minutes for the charcoal to fully light.
Close the Lid
Once your charcoal is set, close things up. Now, wait 15-20 minutes to get your Egg to your desired cooking temperature. For seasoning, simply allow the charcoal in your Egg to burn, coating the interior with a layer of smoke and helping set the gasket adhesive. You can cook your food at the perfect temperature. Then, when you're ready to extinguish the Egg, close the vents and allow the fire to burn itself out.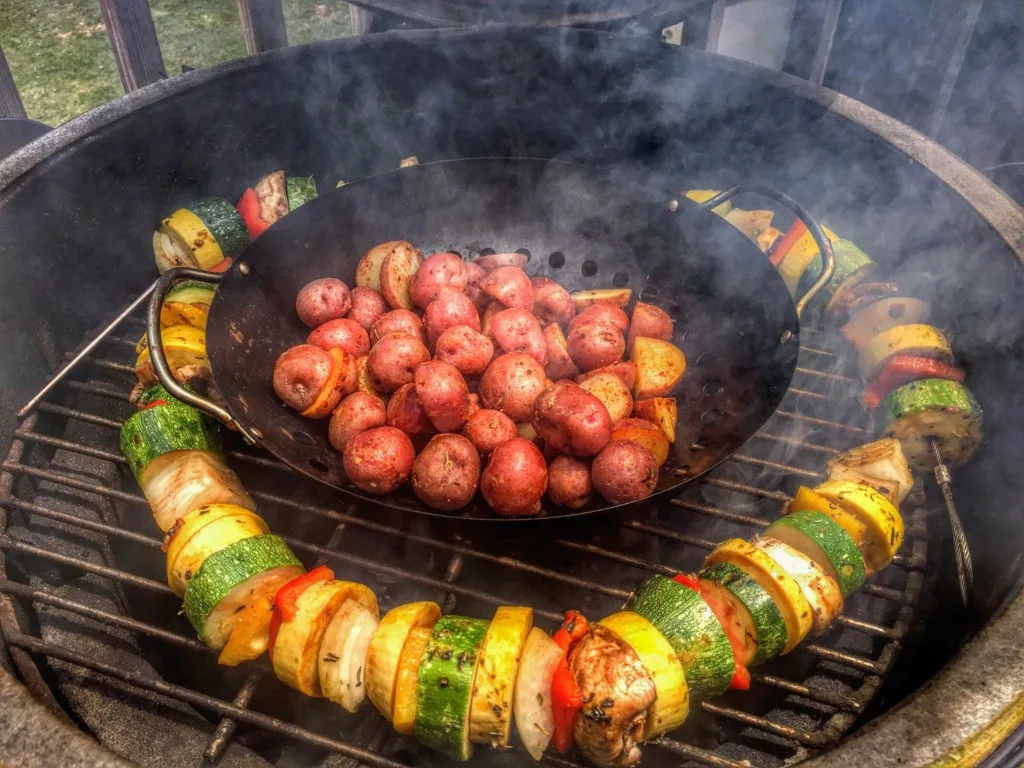 Do You Have to Season a Big Green Egg?
Seasoning may just seem like extra time between you and your first cookout. But don't skip this critical step. It's crucial to season your new Egg, or you may never achieve the proper seal and coating that helps this device do its best work. Taking a bit of extra seasoning time at the start will feel worth it during every future grilling or smoking session.
What Is the Best Thing to Cook on a Big Green Egg?
The best thing to cook on a Big Green Egg is, of course, your favorite dish. Eggs can handle steaks, chicken, pork chops, vegetables, and much more. Try out your favorite grill recipe and see how much more delicious it can be on an Egg. You can even cook pizza or other baked goods on an Egg. This outdoor oven, grill, smoker, etc., works great for bakers who want to take their game into the great outdoors.
What Is the Best Thing to Smoke on a Green Egg?
You can smoke so many things on a Big Green Egg — brisket, pork shoulder, wings, ribs. All benefit from the fantastic flavor and precise temperature control made possible by your Egg. You can even experiment with smoking other things, from vegetables to cheese to tofu.
Pro Tip: Do you have a propane grill? We found Where You Can Refill Your RV Propane Tanks.
Top Recipes on a Big Green Egg
Need a little inspiration for your next Big Green Egg session? Here are some of our favorite recipes to whip up on this incredible device.
Beef Wellington
Beef Wellington might seem like a dish best made in an indoor oven but think again. You haven't enjoyed this flaky, meaty delight until you've tried one made on a Big Green Egg. Through the help of a preheated pizza or baking stone, cooks can place the wrapped wellington in the Egg and let it work its magic. You'll be ready to eat in about an hour when the internal temperature reaches around 125 degrees Fahrenheit.
Grilled Asparagus
Veggies can benefit from some time on the grill as much as meat. Asparagus is one of the best choices. Lightly oiled and seasoned, they soften and earn a delicious char in just a few minutes. They're an excellent side dish for other grilled main courses or can add a perfect smoky-savory element to salads or other non-grilled meals.
Maple Pork Chops
For a sweet, porky, smoky main course that's about as simple as it gets, try these maple pork chops. You can whip up the marinade with ingredients already in your kitchen. Once on your Egg, the sugars in the maple syrup will begin to caramelize and char, creating an unforgettable sweet and savory flavor.
Is a Big Green Egg Worth It?
Infrequent grillers who don't use an Egg often enough may not justify the price. But for many others, from casual at-home grillers to serious smokers, the Big Green Egg is more than worth it.
It's among the most versatile outdoor cooking setups out there. It helps you combine your grill, smoker, and other cooking implements in one stylish package. But a Big Green Egg is about more than just great looks and good food. It's also a sign to other grillers and barbecuers out there that you know your stuff. Pull up a chair and get ready to chow down on something delicious.