Water is essential for survival, whether you're RVing or not. Keeping water in your RV tank doesn't have to be complicated. However, if you enjoy boondocking or off-grid camping, you'll eventually run low on water and need to fill your RV water tank.
While it can be nerve-wracking to run out of water, we have a few tips to help you fill your RV water tank for free. Let's dive in!
What Is an RV Water Tank?
An RV water tank is a holding tank you attach to the frame of an RV. While the sizes of these tanks vary by the RV, their functionality is nearly always the same. RVs use the water in this tank for faucets, showers, and toilets when you aren't connecting it to a water source.
RVers who spend most of their time in campgrounds or RV parks might not use their RV water tank often. However, those who enjoy boondocking on public lands or dry camping in campgrounds without water connections will always use them. Tanks allow them to bring water to use while camping.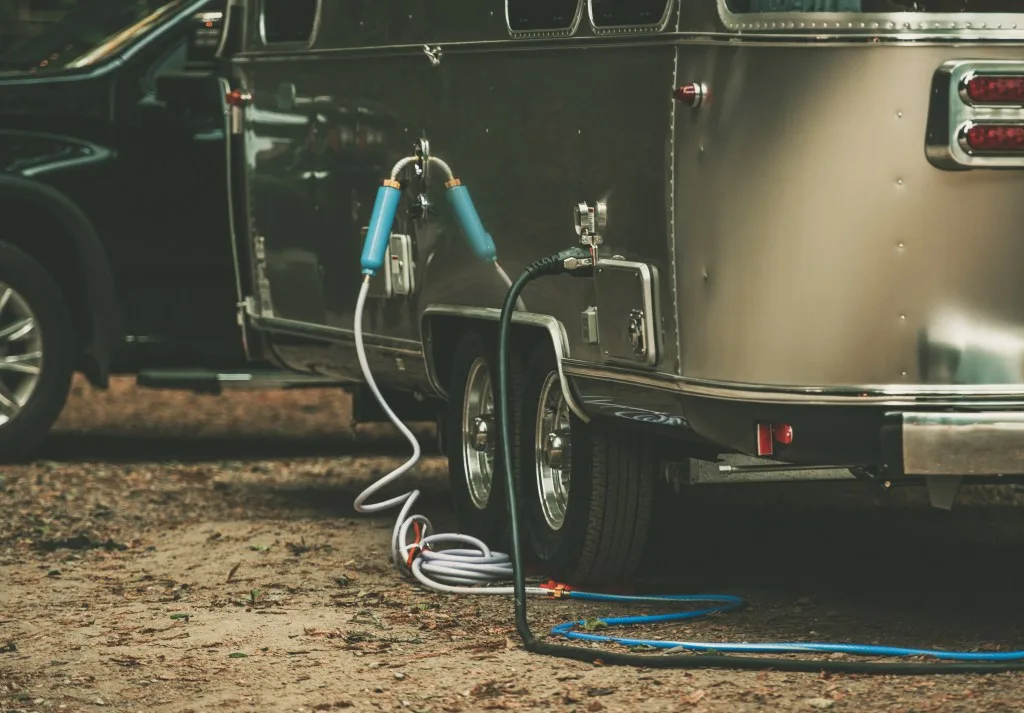 How Many Gallons Are RV Water Tanks?
RV water tank sizes typically range from 20 to 100+ gallons. Smaller rigs often have more minuscule RV water tanks, but that's not always the case. Toy haulers, fifth wheels, and motorhomes often have the most spacious RV water tanks. The roomier the water tank, the more time RVers can spend camping in places without access to water.
Manufacturers install water tanks when producing RVs, making it challenging to increase the capacity of an RV's water storage. However, most RVers learn to manage their water usage and can make their tanks last from days to weeks.
Can You Travel With a Full RV Water Tank?
Traveling with a full RV water tank is a hot-button topic in the RV community. Some manufacturers explicitly discourage it, but others assure owners that their rigs can handle it. You'll want to check the owner's manual for your rig or contact the manufacturer directly before hauling a full RV water tank.
A full-capacity RV water tank can easily add hundreds of pounds to an RV. If you're already close to your vehicle's towing capacity, you'll likely experience more issues when towing with a full RV water tank. Exceeding the towing limits on your vehicle is never a good idea and is not something we recommend.
Can You Fill Up Your RV Water Tank for Free?
Many places are available to fill your RV water tank; some are free. You can use apps like iOverlander, RV Life Trip Wizard, and Campendium to find locations. These are excellent resources because they have massive databases and provide reviews from other users.
Many users provide helpful information about accessing or navigating the water source. In locations with tight turns or high traffic, this information can help you avoid a sticky situation. Some sites may not be free or are only free if you purchase fuel or other merchandise.
Where Can You Fill Your RV Water Tank?
There are a handful of locations if you need to fill your RV water tank. Let's look at some familiar places for filling your water tanks. Let's get started!
Campgrounds
Even if you're not staying at a campground, there's a chance they'll let you fill up on water. Fees vary by location, but they often range from $0 to $10. Some will allow RVers to fill up their water tank when they pay to dump their waste tanks.
However, we've seen some campgrounds where the nightly rate isn't much more than reserving a campsite, including access to the dump station and filling up on water. If that's the case, it might be worth booking a spot at the campground overnight.
You'll want to call ahead and ensure the campground will allow you to dump your tanks or see if there are any special instructions. Some RV parks will let you use a pull-thru site to dump your tanks, fill up on fresh water, and go.
Travel Centers
It's exciting that many travel centers are embracing RVers. We're seeing more travel centers installing RV-specific fueling lanes. These lanes often have dump stations and access to potable water.
You'll want to be hesitant to use water fixtures too close to dump stations. It's nearly impossible to know there hasn't been cross-contamination from RVers when dumping their tanks. You should also know that the water truck lanes typically aren't safe to consume.
Rest Stops
It's not uncommon to see potable water available at rest stops. This is typically free, but you'll want to check with staff at the rest stop to ensure that it's drinkable and that you can use it.
Some states are more hospitable toward RVers and have dump stations with potable water at many rest stops. You won't find access to water at every location, but some of the resources we've shared can help you pinpoint those that do.
City/County/State Parks
During our adventures, we've found some convenient city, county, and state parks with potable water for visitors. Whether you're filling up a few jugs or your entire RV water tank, these can be excellent options. Costs will vary, but it's not uncommon to find free spots to fill your water tanks.
Check Campendium and the other resources for reviews to ensure you can access the water source without any issues.
What Do You Need to Fill Your RV Water Tank?
Filling your RV water tank is incredibly easy, and you don't need many supplies. Let's consider what you need to get water into your RV tank.
Potable Water Source
The most crucial factor in filling your tank is a potable water source. Never trust any random water spigot to fill your RV water tank. Unless a sign indicates potable water, you'll want to assume it's not. It could contain harmful chemicals for enhancing lawn growth or pesticides. Consuming contaminated water can lead to illnesses or severe health complications.
Some water fixtures are better than others. When you use a water bandit, you ensure a solid connection every time you connect your water hose to a spigot. It doesn't matter whether the spigot's threads are damaged, stripped, or no longer existent.
Using a water bandit ensures you can connect your hose to the water source and send water into your tank.
A drinking water hose may look like a typical garden hose, but it's not. These hoses are free of harmful chemicals that could get into your drinking water. You'll want enough hose to reach your RV's city water connection from the water source. Many RVers will carry 30 to 50 feet of water hose.
Depending on how often you're using it, you'll likely want to replace your hose every couple of years.
Water Bladder/Tank
Sometimes the best places to fill up your RV water tank aren't accessible with your RV. When this happens, you'll want to haul water from the source to your RV. Using a water bladder or water tank can allow you to transport the water to your RV easily.
These are popular options for those who enjoy boondocking or camping in areas where water may be harder to find. You won't have to pack your RV or worry about navigating low clearances while towing your rig.
Always Have H2O While RVing
We recommend always having some water in your RV water tank while traveling. This can allow you to pull over and use the restroom in your rig on travel days. Luckily, plenty of places let you fill up with water and avoid running out. Have the proper supplies, and you'll always have H2O while RVing.
How big are the water tanks in your RV?
Discover the Best Free Camping Across the USA
To be honest with you, we hate paying for camping. There are so many free campsites in America (with complete privacy).
You should give it a try!
As a matter of fact, these free campsites are yours. Every time you pay federal taxes, you're contributing to these lands.
Become a FREE CAMPING INSIDER and join the 100,000 campers who love to score the best site!
We'll send you the 50 Best Free Campsites in the USA (one per state). Access the list by submitting your email below: