Love them or hate them, Texans love their state, and it's not without reason. Texas is a massively large state with a tremendous amount to offer.
You'll have more trouble trying to squeeze everything into your schedule than finding something exciting to do. To help ease the burden on you, we've found some cool places in Texas you should visit.
Let's look at these five places you should visit the next time you're in the Lone Star State.
What Is Texas Famous For?
Texas has a reputation for its "Don't mess with Texas" attitude and for everything being bigger. The 72 oz Steak Challenge is just one of the many obvious signs that they do things bigger in Texas. In addition to the above-average portion sizes, the state is famous for its BBQ, extreme summer temperatures, live music, and passion for football.
Ranching and cattle have been common in the state since the 1800s and still have significant influences today. Oil was discovered in 1901 and has been a major part of its economy ever since.
The state produces not only a tremendous amount of oil but also country music stars.
Musicians like George Jones, Waylon Jennings, Willie Nelson, and Barbara Mandrell all are products of the Lone Star State. Country music often refers to it in its songs. Who can forget the Little Texas song "God Bless Texas?"
When Is the Best Time to Visit Texas?
Visiting Texas during the summer is only a great idea if you enjoy torture. Temperatures can easily reach triple digits and be dangerous if you're unprepared.
However, visiting in March and April can help you avoid the intense heat. These spring months are the perfect environment for wildflowers to bloom throughout the landscapes and allow for outdoor adventures before the intense summer heat arrives.
Are There Beaches in Texas?
One thing that attracts many visitors to Texas is the more than 370 miles of coastline with the Gulf of Mexico. You'll find incredible spots to sit in the sand, build a castle, or go on a deep sea adventure along the coast. Some of the most popular beaches in the state include Boca Chica, Padre Island National Seashore, South Padre Island, and Mustang Island.
Pro Tip: Get some well earned R&R time on one of these 7 Best Beaches in Texas (and Awesome Nearby Campsites).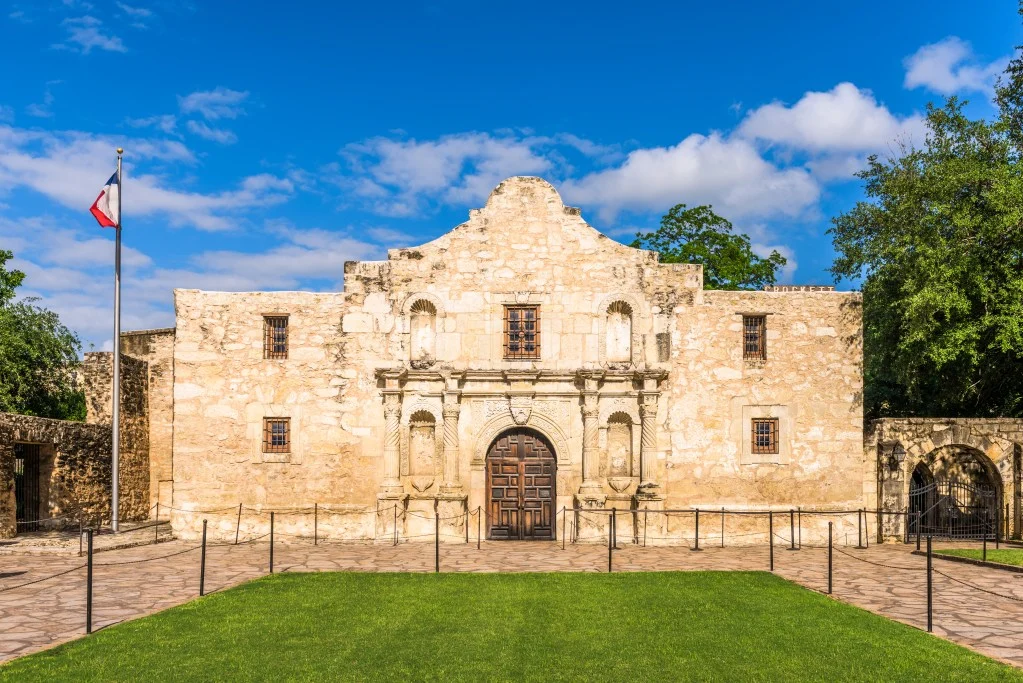 5 Cool Places in Texas
If you're looking for some places to visit in Texas, we've found a handful of cool places worth considering. Let's look at some places you should build into your itinerary that won't be a waste of your time.
Big Bend National Park
Located in the southwestern portion of the state and along the United States-Mexico border is Big Bend National Park, which offers incredible views, diverse wildlife, historic sites, and some of the darkest skies in the country. You'll never forget the steep mountains and cliffs combined with the rocky terrain to provide breathtaking views. Whether you enjoy hiking, canoeing, or a scenic drive, Big Bend National Park is a great place to visit.
The park is home to more than 450 species of birds, 75 different mammals, and 56 reptiles, some of which are venomous. Many animals are unique to the park; you can't find them at any other national park in the world. It truly is a one-of-a-kind place that you'll want to spend multiple days exploring.
San Antonio
San Antonio sits in south-central Texas and is one of several major cities in the state. You'll find popular tourist attractions like The Alamo, San Antonio River Walk, San Antonio Mission National Historical Park, and Natural Bridge Caverns.
You can spend weeks exploring the city and still not experience all it has to offer. While it may not be the largest city in the state, it packs a tremendous amount into a single city.
Fort Worth Stockyards
If you want to experience an authentic western experience, the Fort Worth Stockyards is the place to go! You'll see lassoing and shooting; if you come on a Friday or Saturday, you can enjoy a rodeo. You can even witness a Longhorn cattle drive twice daily down the cobblestone streets. Walk down to the Livestock Exchange Building, where you can view the steers up close before and after the cattle drives.
The Fort Worth Stockyards also has several museums and exhibits that help educate visitors about Texas history. You can see plenty of artifacts and documents that help paint a picture of what life was like in Texas during the days of the "Old West."
Don't forget to stop by the Texas Cowboy Hall of Fame or Texas Trail of Fame before you end your time at the stockyards!
Houston
Houston is the largest city in Texas, and it doesn't disappoint when it comes to cool places. You can visit the Houston Museum of Natural Science or NASA's Johnson Space Center. The only problem you'll have in Houston is finding time to see and experience all the city offers.
Houston loves its restaurants and offers more than 11,000 different restaurants. You'll find practically every type of food available, and it's easy to enjoy in the relaxed and laid-back city atmosphere. If you want to get gussied up, you can check out the theater district, which offers Broadway shows, symphonies, and ballets. You get the same great experience as you would expect in New York City, but without all the crowds.
Houston is a fun and exciting city that has developed quite a buzz and growth in recent years. Breweries, BBQ joints, and other fun atmospheres are constantly popping up around the city. You can experience this city by tasting its delicious foods and seeing incredible sights.
Guadalupe Mountains National Park
If you want the opportunity to visit the highest point in Texas, you'll need to visit Guadalupe Mountains National Park. It sits in the extreme western portion of the Lone Star State and borders southern New Mexico. The park is home to many diverse plants, animals, and birds and allows visitors to see rare fossilized reef mountains in a desert and prairie habitat.
The incredible landscapes provide a fantastic backdrop for hiking adventures. However, the drastic elevation changes around the park make many hikes here very challenging. Many visitors hike in McKittrick Canyon.
This is a 15-mile round trip hike but can be easily cut short to adjust for your needs. Another great option is Devil's Hall Trail, a 4.2-mile roundtrip hike with 500 feet of elevation gain. Despite its shorter distance and lower elevation gain, it's still a challenging hike. So come rested and ready for an adventure!
Pro Tip: Take your special someone on one of these 7 Romantic Getaways in Texas.
The Lone Star State Is Cool
The Lone Star State is incredibly fun and exciting. It offers a tremendous amount of culture for visitors to experience. Visitors of all ages will enjoy learning about the state's rich history and its role throughout our country's history.
Texas is a huge state, and with so much to see and do, you'll have to visit the state year after year to appreciate how cool it is.
What cool places have you visited in Texas? Tell us in the comments!
Discover the Best Free Camping Across the USA
To be honest with you, we hate paying for camping. There are so many free campsites in America (with complete privacy).
You should give it a try!
As a matter of fact, these free campsites are yours. Every time you pay federal taxes, you're contributing to these lands.
Become a FREE CAMPING INSIDER and join the 100,000 campers that love to score the best site!
We'll send you the 50 Best Free Campsites in the USA (one per state). Access the list by submitting your email below: