There's nothing quite like enjoying the recreational possibilities offered at many lakes as you travel. Most RVers relish the thought of a lakeside campsite. They also think of spending some time on the water, either fishing or exploring in a canoe or kayak.
But, finding a lake that's free from pollutants and looks inviting for swimming and water sports is getting more difficult to find.
That's why we have put together a guide to the 10 clearest and cleanest lakes in the United States. Use it to plan your next water adventure!
How Many Lakes Are There in the United States?
According to the National Lakes Assessment, there are 111,819 lakes in the United States. Of that number, more than half (58,700) are natural lakes. The rest are man-made reservoirs. The natural lakes are split pretty evenly between small and large lakes. Meanwhile, the man-made ones are almost all considered small reservoirs.
Freshwater lakes comprise a portion of those 111,819 lakes, numbering 250 with surface areas of 13,700 square miles or more. Of course, the U.S. borders the largest group of freshwater lakes in the world, with the Great Lakes on its northern border with Canada.
Which States Have the Most Lakes?
Even though Minnesota's claim as the Land of 10,000 lakes sounds impressive, it's not the winner of "The State with the Most Lakes" contest. That title is held by our largest state, Alaska, with 3,197 naturally formed lakes. And that number doesn't include the more than 3 million unnamed lakes in the Last Frontier.
Minnesota does, however, hold second place with 15,291 natural lakes within its borders. It seems that the Upper Midwest has a corner on the market for lakes, as Michigan, with over 11,000 natural lakes, and Wisconsin at 6,044 naturally formed lakes.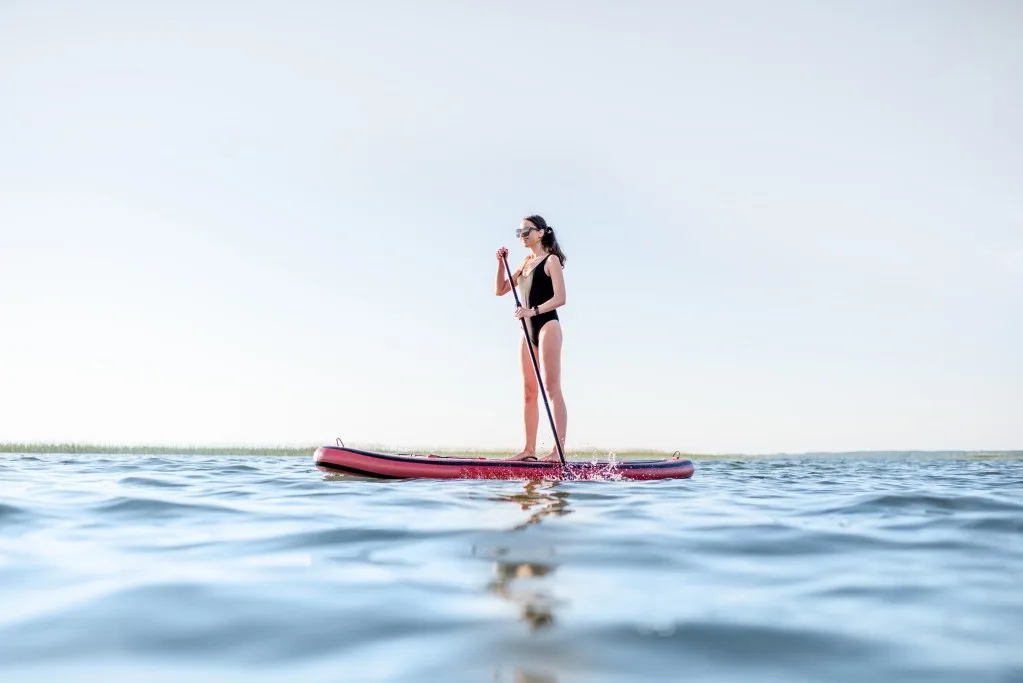 10 Cleanest Lakes in the USA You Should Visit
Since we know that America abounds with naturally occurring bodies of water, let's look at lakes with the cleanest, clearest water in the country.
#1 Crater Lake, Oregon
The central attraction at Crater Lake National Park, this lake is like no other. It's not only the deepest lake in the country at 1,943 feet in depth, but it has extremely clear water. This is because the lake has no inlet or outlet.
It's entirely dependent on rain and snow for its water, and no sediment is brought in through streams leading into the caldera. Crater Lake has visibility down to 100 feet below the surface. Today visitors can swim at the loading docks for the Wizard Island ferry, boasting about swimming in the cleanest lake in the world!
Pro Tip: Spend the night at one of these Best Free Camping Near Crater Lake National Park.
#2 Lake Coeur d'Alene, Idaho
This lake just south of the Canadian border has extremely stable, clear water in its naturally made basin. But over the last century, established mines have gone along some streams that feed Lake Coeur d'Alene. Additionally, many of the toxic chemicals leached from the tailings into the lake, settling at the bottom.
The current chemical makeup of the water has kept the lead, mercury, and arsenic toxins encased in the lake bed. Still, if disturbed, they can release poisonous contaminants to humans and animals.
So there's great care to ensure the water stays safe for those who recreate at the lake.
#3 Lake George, New York
Fed by underground springs, Lake George, north of Glens Falls, N.Y., is pristine in its appearance. The lake has over 300 islands within its expanse, and a trolley takes visitors around the lake's expanse to explore the many recreational opportunities.
Recently, officials discovered that road salt used to keep streets safe in the winter was leaching into the lake and increasing its salinity. Immediate action by those local transportation officials curtailed that problem, and locals and tourists continue to enjoy the deep blue waters of Lake George.
#4 Lake Chelan, Washington
East of Seattle lies Lake Chelan, a long sliver of a lake carved by glaciers. Its waters are clean and clear, as the lake has very low levels of phosphorus and other nutrients that bring with them the possibility of algae blooms.
The Lake Chelan Research Institute makes sure the waters stay free from contaminants like that. That's because this basin is the third deepest lake in the country and offers visitors great fishing and bird-watching opportunities.
#5 Hanging Lake, Colorado
Hanging Lake is an oft-visited lake just east of Glenwood Springs, Colo., but it requires a 3-mile hike to arrive at its shores. It formed in limestone deposits that broke off on a fault line in the Rocky Mountains. With beautiful turquoise waters suspended on the side of a mountain, it's well worth the effort to view this gem.
However, it's disconcerting to know that there are no official definitions of "lake" versus "pond." Hanging Lake is just under an acre and a half; if it were on a farm, its name would most likely be Hanging Pond!
#6 Newfound Lake, New Hampshire
Just southwest of Plymouth, N.H., lies Newfound Lake, a beautiful body of water that provides plenty of outdoor recreation to visitors. That includes a swim beach and non-motorized boating from its 22 miles of shoreline.
The lake is extremely clear due to its water sources – eight underground springs that recharge the water twice a year. It is, in fact, the cleanest water in the entire state.
#7 Lake Michigan, Illinois/Michigan
Officially the fourth largest freshwater lake in the world at 22,404 square miles, Lake Michigan is the largest lake. With 1,600 miles of shoreline, it has numerous beaches and ports, making it a transportation and tourist staple.
Its waters provide drinking water for Wisconsin, Illinois, Indiana, and Michigan. It offers a huge playground to water sports enthusiasts. From fishing to boating and paddleboarding to swimming, the lake is where Midwesterners head to cool off in sweltering summer heat.
#8 Lake Tahoe, California/Nevada
The second deepest lake in the country, at 1,645 feet deep, sits on the California/Nevada border. Lake Tahoe formed during the Ice Age, and its watershed is almost entirely made up of national forest land. So the water from runoff is clear, with few pollutants.
With a surface area of 191 square miles, Lake Tahoe looks convex in photographs because of the earth's curvature. Visitors to the lake take advantage of its serene waters to swim, boat, fish, or ski on its shores in the winter.
#9 Norris Lake, Tennessee
Located directly north of Knoxville, Norris Lake is a man-made reservoir created by the Tennessee Valley Authority when they built a dam on the Clinch River. So the lake provides water for electricity, while the dam ensures water storage and protects against flooding.
The water here is clearer than most reservoirs, as it doesn't have a high content of nutrients. This also means it's not an environment that is conducive for fish. Norris Lake is better suited for water skiing, swimming, and boating.
#10 Lake Champlain, New York/Vermont
Lake Champlain lies between the Green Mountains of Vermont and the Adirondacks of New York, just south of the border with Quebec. It's the 13th largest lake in the U.S. and is sometimes known as the "sixth Great Lake" because of its connection to the St. Lawrence Seaway.
Its clear waters come from draining Lake George and provide drinking water to 250,000 Vermonters. The lake has natural sand beaches and is a perfect location for canoeing, swimming, and boating.
Pro Tip: Avoid swimming in the Deadliest Lake in America.
Enjoy Your Time Exploring This Pristine Lakes
Clean lakes are more difficult to find, but they exist. Most lakes we found allow active outdoor sports within their waters, although a few (like Hanging Lake) just wish to be admired from afar. Either way, a visit to their shores will surely provide peace and enjoyment to your next RV trip.
Take note of these, and as you come across more serene and clear lakes, let us know so we can add them to the list!
Which lake do you want to go swimming in? Tell us in the comments!
Discover the Best Free Camping Across the USA
To be honest with you, we hate paying for camping. There are so many free campsites in America (with complete privacy).
You should give it a try!
As a matter of fact, these free campsites are yours. Every time you pay federal taxes, you're contributing to these lands.
Become a FREE CAMPING INSIDER and join the 100,000 campers that love to score the best site!
We'll send you the 50 Best Free Campsites in the USA (one per state). Access the list by submitting your email below: