If you're not careful, RVing can get very expensive. Every time you turn around, you pay another fee or need to buy something for your rig. With camping more popular now than ever, reservations are increasing at many parks.
You may consider an RV park with monthly rates to settle into an area for an extended period or save money. So do all RV parks have monthly rates, and are they worth it?
Let's find out!
What Is an RV Park?
RV parks vary significantly between locations but are not a traditional camping experience. These parks cater to RVs. You can expect power, water, and a sewer connection at your campsite. It's not uncommon for RV park management to cram hundreds of rigs into their parks.
There will often be minimal green space between sites to maximize the number of rigs they can accommodate. However, some parks do a fantastic job of maintaining a natural setting where you can get modern amenities and an outdoorsy experience. RV parks can be an excellent option for anyone looking to stay a single night or long-term.
Does Every RV Park Have Monthly Rates?
While you can expect the occasional RV park to have monthly rates, that's not always the case. Some RV parks will not offer monthly rates or only have particular sites designated for monthly rates.
If an RV park has no issues turning over areas, it will be less likely to offer monthly rates. In these instances, a park can generate more revenue through single-night or short-term stays booking a site.
How Much Do RV Parks Cost Per Month?
RV park monthly rates will vary based on the location of the park and any amenities they offer. However, you can find RV parks in some areas from $200 to $1500+ per month.
Many parks require guests on monthly rates to pay for their electricity usage. Depending on the season and where you're RVing, this could be an additional $50 to $200 per month.
Pro Tip: We crunched the numbers to uncover What's the Average Cost of RV Camping.
Which State Has the Most RV Parks?
There are thousands of RV parks across the country, but Texas is the state with the most RV parks. You'll find more than 450+ RV parks throughout Lone Star State. Other popular states for RV parks are Florida, California, and Arizona.
While these states typically have increased less-than-ideal summer temperatures, they become hotbeds for RV traffic during the winter as travelers and snowbirds escape colder temperatures and snow.
Which State Has the Most Full-Time RVers?
Some states are better than others for full-time RVers to establish residency. This is why Texas has more full-time RVers than any other state. It has no state income taxes, relatively low sales tax, no personal property tax on RVs or vehicles, you can renew vehicle registrations and driver's licenses through the mail, and it's straightforward to vote absentee by mail.
Some of the largest full-time RV clubs, like Escapees, have their headquarters in Texas. They provide help and resources to RVers establishing their residency in Texas. Other popular states for full-time RVers include South Dakota and Florida.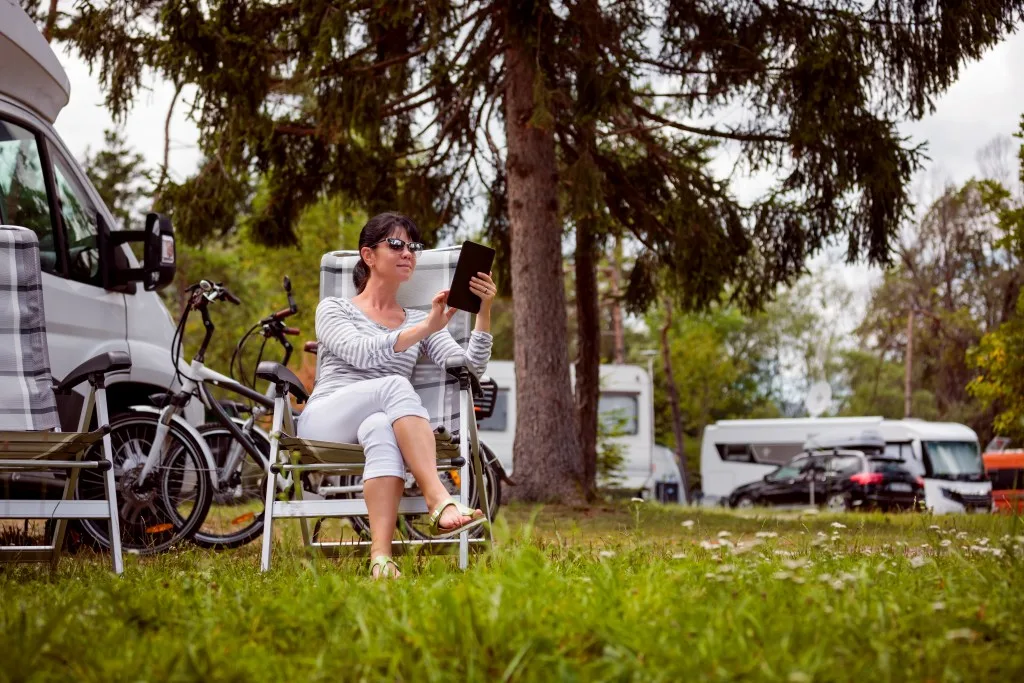 How Much Does It Cost Monthly to Live in an RV?
Monthly expenses to live in an RV can vary considerably, especially with the costs of a monthly RV and truck payment if you're planning to tow. These can add $1000+ a month to your budget. Moving an RV can require a tremendous amount of fuel, so you'll typically save the most money by staying longer each time you park your rig.
If fuel prices rise, it's easy to spend hundreds of dollars per month on fuel. This is one expense that many RVers drastically underestimate when setting their budgets.
If you're planning to stay in an RV park or campground, they will also come with fees. Staying as long as possible at a location will often get you the best deal. RV park monthly rates can save you hundreds of dollars in some instances. However, you'll have to pay for utility usage.
If you plan to live in an RV, you usually expect to pay around $500 to $2000+ per month. It will significantly depend on your expenses, especially if you own the truck, trailer, or land where you're parking your RV. However, living in an RV can be very budget-friendly.
Can You Camp Long Term in State Parks?
Most state parks do not allow long-term stays. They'll typically have stay limits preventing long-term camping for RVers and tent campers. Stay limits in state parks are generally anywhere from seven to 14 days.
However, some state parks relax or eliminate stay limits during the off-season. You'll want to check with the individual state parks to confirm.
Pro Tip: Make sure you know these Don'ts of RV Park Camping before you set up camp.
Are RV Park Monthly Rates Worth the Discount?
RV park monthly rates can provide a tremendous discount and be worth it, especially if you're planning to stay in the area. You'll likely save a few hundred bucks over the average rate, and you'll also save time, money, and energy by not moving your RV constantly. If you want to save money while living in your RV, consider taking advantage of an RV park with monthly rates.
Weigh all the amenities and benefits of each park when considering the costs. If you can pay a few extra bucks and gain access to a pool, a thriving community of fellow RVers, or a well-manicured landscape, then do it. It can allow you to live comfortably and fully enjoy the RV life.
Where would you stay if you could RV full-time? Tell us your dream destination in the comments!
Discover the Best Free Camping Across the USA
To be honest with you, we hate paying for camping. There are so many free campsites in America (with complete privacy).
You should give it a try!
As a matter of fact, these free campsites are yours. Every time you pay federal taxes, you're contributing to these lands.
Become a FREE CAMPING INSIDER and join the 100,000 campers that love to score the best site!
We'll send you the 50 Best Free Campsites in the USA (one per state). Access the list by submitting your email below: