Budget RVer Ayngell rides the roads in her trusty van, The Beast. Believe it or not, she's living her best life on only $900 a month.
Ayngell turned devastating news into a new life as a nomad. This caught our attention, and we want to know how she did it.
Let's jump in!
Who Is the Budget RVer, Ayngell?
Ayngell began living the nomad lifestyle in the fall of 2021. She loaded up her two trusty dogs in a rebuilt 1998 Dodge 1500 Mark III Ram Van and hasn't looked back.
You can follow Ayngell Adventures on her YouTube channel.
Cancer Diagnosis
In 2018, Ayngell got the devastating news that she had chronic myeloid leukemia. Treatments weren't working, and her doctors said she might only have six to eight months to live.
She also suffered from anxiety and rarely left home, disliking the judgment she often felt from others.
Ayngell's Dream
Dejected with the diagnosis, Ayngell sat isolated in her apartment in pain. She had a lifelong dream of traveling the world. So, she started living vicariously through other people by watching their YouTube channels.
Ayngell stumbled onto the budget RVer CheapRVliving channel and saw others living on six to seven hundred dollars a month. She decided she could live well on nine hundred dollars a month and decided to move into her Kia.
With the help of family and friends, Ayngell sold her Kia and got her trusty Dodge Van, affectionately called "The Beast." The van is still a work in progress. But it has all the necessary basics.
Setting Out on the Road
Ayngell says the first three weeks on the road were the toughest as she headed to Quartzsite, Arizona, for the winter. Like many nomads, she struggled with her mental health. She eventually overcame some of her agoraphobia and became more comfortable around the others she met living a similar lifestyle.
Through her nomadic contacts, Ayngell met a traveling partner. The two check in on each other to ensure they're doing well. She loves her new community as they accept her the way she is.
As a budget RVer, Ayngell had to give up a few things, like her favorite rocking chair. But she says she has gained so much in her freedom and independence.
Being on the road doesn't hamper her care. She can fill her prescriptions locally, has all her medical appointments online, and the nearest lab can check her stats. Ayngell continues to improve, and we're sure that living her dream must contribute.
How Does This Budget RVer Survive on $900 a Month?
Ayngell admits that living on $900 a month was tough at first. A strong support system is her rock. She has had to reach out to friends and family but ensures they're paid back. If the Beast has a problem, her ex-husband helps for free.
The significant point, Ayngell emphasizes, is that you must stick to a budget. You can't eat out all the time, and be aware that the prices of any given item can change drastically from place to place.
A little trial and error got her to a good place with budgeting correctly, though. In fact, she's actually saving a little bit each month.
"There is such abundance out here. I'm not lacking for anything," Ayngell told Budget RVer Bob Wells.
Who Is the Budget RVer, Bob Wells?
Bob Wells is a self-described promoter of nomadic tribalism in a car, van, or RV. His passion, for fifteen years and counting, is to inspire, educate, and motivate people on how to live their best life possible – on any budget. Bob is a noted authority on strategies for living in a vehicle.
Bob is featured on PBS, Time magazine, The Guardian, and many other news outlets. The golden globe nominated film, Nomadland, features Bob as a fictionalized version of himself.
In 2005, after seeing a woman and three children living in a car, Wells started his website to help people. He founded the Homes on Wheels Alliance to assist needy individuals in acquiring vehicles to live in. Bob's YouTube channel has over six hundred thousand subscribers.
How To Be a Budget RVer
We can readily identify with Ayngell and Bob. It took us a little while to gain some budget RVer tricks. Here are a few of the things we learned.
Free or Cheap Camping
To stick to your monthly budget, look for inexpensive or free campsites. The Bureau of Land Management (BLM) and the United States Forest Service (USFS) manage thousands of budget-friendly sites. You can even find free locations near popular tourist locations like national parks.
Do a little homework and join programs such as Thousand Trails, Boondockers Welcome, and Harvest Hosts. They have a lot to offer, locations across the country, and the potential to save you big bucks.
FYI: The 22 Best Free Campsites in the USA
Do Repairs Yourself
Don't be afraid to undertake basic vehicle repairs yourself. Regular maintenance is necessary and could potentially avoid costly repairs down the road.
You may find fixes that aren't as hard as you thought. We learned more about our trusty ride by doing things ourselves. We also learned what knocks not to worry about and those to pay attention to.
Keep in mind: These are the first systems that break in an RV, according to an RV Mechanic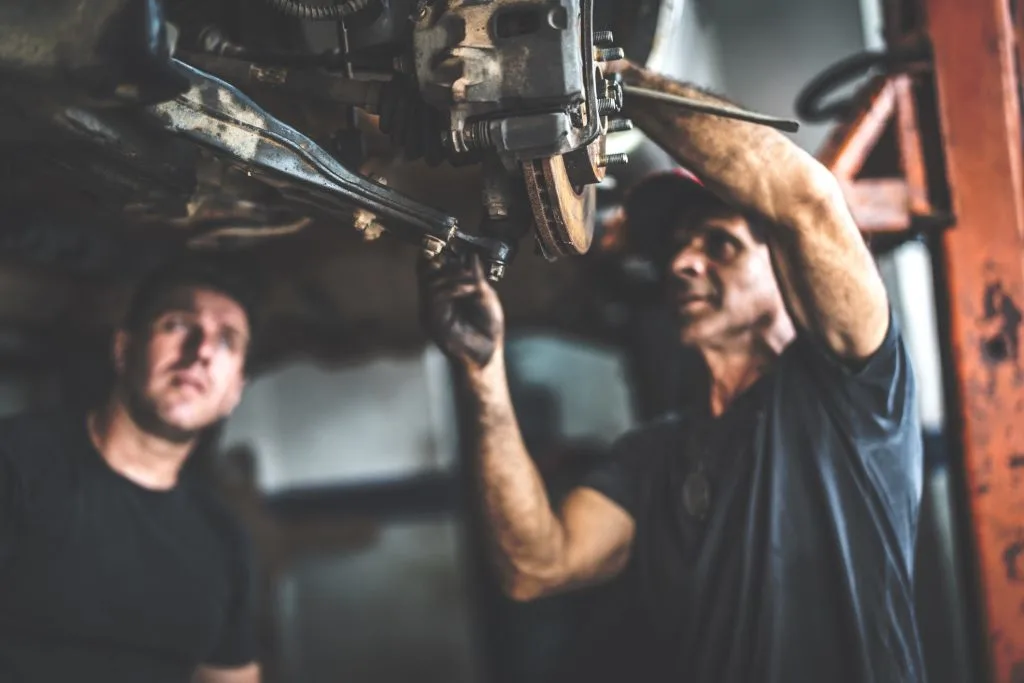 Cook Your Meals
Ayngell was right. Cook your own meals. We learned that eating out daily or even a couple of times a week was a budget killer.
You can prepare food for a fraction of the cost compared to eating out. Sometimes the best meal is the one by the campfire. For a treat, save your extra money for that unique restaurant you've always wanted to try.
Proof That Nomadic Living Doesn't Have to Break the Bank
In the summer of 2022, Ayngell announced she was hanging up her nomadic hat for RV parking at the end of the year. She wants to stay closer to family and good medical services. We can only wish her the best.
Ayngell proved to herself and everyone else that you can live your dream as a budget RVer. We suspect we may still find her on an adventure or two.
What's your favorite story of being on the road? Tell us about it in the comments below!
Discover the Best Free Camping Across the USA
To be honest with you, we hate paying for camping. There are so many free campsites in America (with complete privacy).
You should give it a try!
As a matter of fact, these free campsites are yours. Every time you pay federal taxes, you're contributing to these lands.
Become a FREE CAMPING INSIDER and join the 100,000 campers who love to score the best site!
We'll send you the 50 Best Free Campsites in the USA (one per state). Access the list by submitting your email below: