To spend time RVing in remote places, you must bring your own power source. It might be a tough pill to swallow if you're a tree hugger, but an RV generator is one of the most efficient and cost-effective ways to power an RV while off the grid.
The massive cost of alternative power sources simply can't provide the same bang for the buck that you get from a gas-powered generator.
What Is an RV Generator?
An RV generator is a portable power source RVers can use to power their rigs. These generators range in size and features, but larger ones create more power.
As a result, you can often use an RV generator to power your rig and only have to make minor adjustments to your power usage.
What Type of Generator Is Best for an RV?
The best type of generator for an RV is an inverter generator. These generators adjust their throttle based on the RV's power demand. You'll notice the generator rev up and run louder when running a microwave, coffee maker, or other power-hungry devices. However, the instant the power demand decreases, the generator will work less and quieter.
Don't confuse an RV generator with a construction generator. A construction generator will likely have an open frame and be more industrial-looking. The construction of an RV generator helps insolate the noise it produces to keep them as quiet as possible.
While they still will make a considerable amount of noise when running a heavy load, they're not nearly as loud as a construction generator.
You rarely see a quiet construction site. So, the last thing many manufacturers of construction generators worry about is how loud the generator will be. If you crank up a construction generator in a campground, you'll likely have an angry camp host or neighbor coming to your site soon.
Pro Tip: Make sure you know these 7 Things to Know About Camping Generators before you head out on your camping adventure.
What Size Generator Do I Need to Run My RV?
The size of the generator you'll need to run your RV will depend on how much power you'll need. If you want to run an air conditioner in your rig, you'll likely need an RV generator that produces over 3500 starting watts and over 3000 running watts. This will give you some room to use other appliances in your rig without pushing your generator to its limit.
You can make modifications and install EasyStart devices on your air conditioner to reduce the power draw when running your A/C. However, these modifications require installing equipment that costs hundreds of dollars, and you'll need to cut into the wiring of your current unit.
You would likely have to pay a professional to do this if you're not handy. If you're not regularly camping off-grid, dealing with the upgrade is probably not worth the hassle.
What Are the Benefits of an RV Generator?
Having an RV generator can allow you to create power wherever you go. This could mean boondocking on public lands in a remote location or setting up your RV in a dry camping spot at an established campground. An RV generator opens the possibilities of where you can use your RV.
You no longer have to worry about being within 30 feet to 50 feet of a power pedestal when using your rig. Many RVers will use their RV generators to take their rig to exciting new places and experiences. You can camp at sporting events and other destinations that weren't possible before.
Even if you're staying in a campground, you never know when a storm or other power issues could wipe out power for the entire campground. Having a generator can make it easy for you to be self-sufficient during circumstances that would otherwise be incredibly frustrating.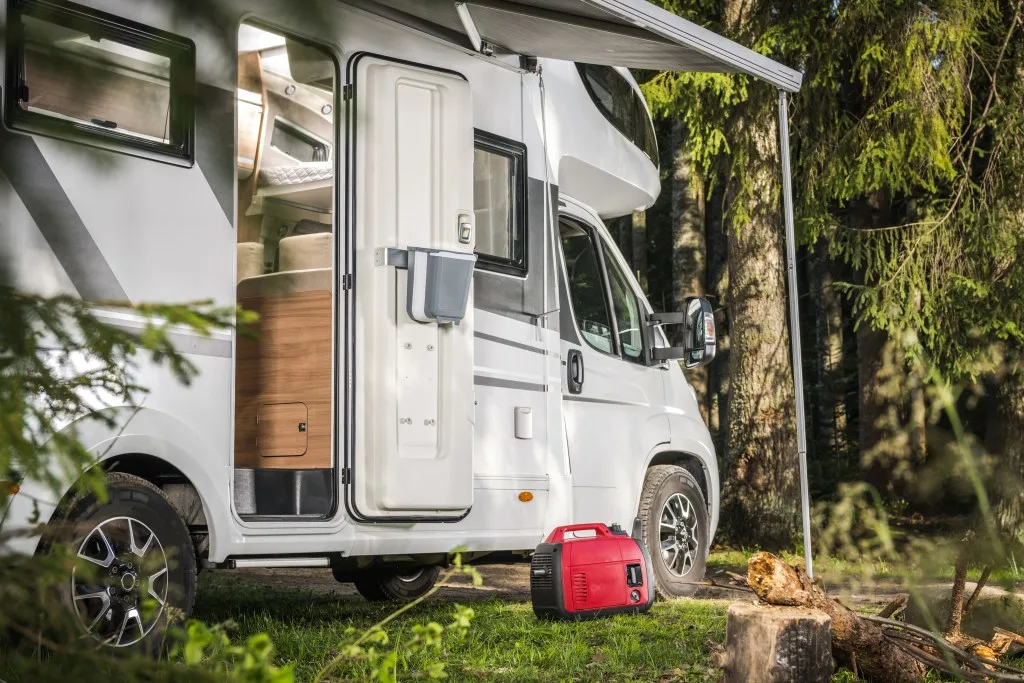 What Are the Disadvantages of an RV Generator?
One of the major disadvantages is that they're typically not very light. If you're getting a 3000-watt to 3500-watt generator, it will likely weigh upwards of over 100 pounds. When was the last time you lifted 100 pounds?
If you're anything like us, 100 pounds today seems a little heavier than we remember it being years ago. It can be challenging to move these beasts around your campsite or from the back of your truck or storage compartment to where you need them at your campsite.
Another disadvantage is it can disappoint you. Like any other internal combustion engine, it'll let you down occasionally. It could be frustrating if you're camping somewhere without power and your generator fails. You may pack up your entire campsite to seek shelter from the heat or to keep your batteries charged.
You also can't forget that you must always have fuel readily available for your generator. It's typically very fuel efficient. However, you'll burn through a lot of gas if you have to run it 24/7 during your camping trip.
How Often Should You Run Your RV Generator?
It's a good idea to run your RV generator for 10 to 15 minutes every 30 days, even when you're not using it. You want to avoid letting it sit for too long, which can cause various issues.
If you're not using it often, crank it up when you change the air filters in your home. Some RV generator manufacturers require you to run it regularly, or it voids the warranty.
Pro Tip: Before you drift off to dreamland find out Should You Run an RV Generator While You're Sleeping?
How Many Watts Does an RV Fridge Use?
A typical RV fridge will use anywhere from seven to 8 amps or approximately 900 watts to 1,000 watts. Typically, if you're using your generator, you'll want to switch your fridge over to run off propane if possible. This will help minimize the load on your generator. It will also allow you to use other devices you may not be able to run off propane, like air conditioners or microwaves.
If you try to run too much off your generator, you'll overload it. If all of the safety mechanisms on your RV generator work as they should, you'll likely have to reset a breaker and restart your generator. However, you could cause tremendous damage to your generator if things don't work as they should and you try to ask too much of your generator.
How Long Do RV Generators Last?
The key to a long life for your RV generator is using it regularly and keeping up on the maintenance. A typical RV generator should run every few weeks and change the oil every 100 hours. However, always check the documents that came with your generator, as the manufacturer may have a different recommendation.
Another way to extend the life of your generator is to follow the break-in procedure recommended by the manufacturer. Again, check the documentation that came with your generator to see what process the recommendation is from your manufacturer. It will likely require running your generator with a specific load and then changing the oil after so many hours.
Are RV Generators Worth It?
An RV generator is worth it if you plan to spend time camping outside established campgrounds or in places where there may not always be a power source. An RV generator can unlock an entirely new experience regarding how and where to use your RV. Even if you're not planning to use it to power your entire rig, it can be a good idea to have a small portable generator while RVing.
You never know when you'll find yourself without power, and it will come in handy. However, be considerate of your camping neighbors and always obey the quiet hours. Don't be "that" camping neighbor everyone hates.
Do you prefer to use an RV generator when camping? Tell us about your camping setup in the comments!
Discover the Best Free Camping Across the USA
To be honest with you, we hate paying for camping. There are so many free campsites in America (with complete privacy).
You should give it a try!
As a matter of fact, these free campsites are yours. Every time you pay federal taxes, you're contributing to these lands.
Become a FREE CAMPING INSIDER and join the 100,000 campers that love to score the best site!
We'll send you the 50 Best Free Campsites in the USA (one per state). Access the list by submitting your email below: