School buses are an integral part of many school-goers days, as they are the primary mode of transportation for many children. As these big yellow buses make their way through cities and neighborhoods, have you ever wondered about a school bus' weight?
If so, this article is for you! We'll be diving into the ins and outs of school buses and learning a little more about what makes these buses unique.
What Is the Average Weight of a Bus?
Before we can dive into learning about the unique features of school buses, we need to take a broader look at buses in general. As the size, shape, and make adaptation came from existing buses, we must take our investigation back to the source.
When looking at the average weight of a bus, we have to narrow down what type of bus we're talking about.
For example, a standard Greyhound bus weighs around 35,000 pounds when empty. It can weigh can weigh up to 48,000 pounds when full of passengers and luggage. The average city bus can weigh anywhere from 25,000 to 40,000 pounds.
The weight of each bus greatly varies. It depends on the length, the materials it comprises, the number of seats, and the special amenities provided. A bus with a bathroom and personal TVs will weigh more than a bus without a restroom and one singular TV at the front of the bus.
How Heavy Is a School Bus?
When looking at the weight of school buses, the same factors that determine the weight of an average city or greyhound bus also apply in this case. Is the bus a standard size? Is it shorter or longer? How many seats can the bus accommodate? Because of these factors, school bus weight ranges from 10,000 pounds to 25,000 pounds when empty.
The smallest school bus is known as a Type A. It carries only 10 passengers and comes in at the lower end of 10,000 pounds. Type B buses can seat up to 24 people but are the same standard size as Type A. This leads them to weigh around the same as Type A buses.
The most familiar type of school bus is the Type C school bus. This is the bus you would typically think of when someone is speaking about a school bus. While Type C refers to the average school bus, there are a few different models of Type Cs. These differing models and seating capacities mean that a Type C school bus can weigh anywhere from 15,500 pounds to 21,500 pounds.
The Type D style of bus varies very little from the Type C bus, so it weighs about the same.
Pro Tip: Want to turn an old school bus into your home on wheels? Check out this School Bus Renovation.
What Is a GVWR of a School Bus?
Though there are a few different types of school buses and various weights, a school bus's gross vehicle weight rating (GVWR) is pretty much the same across models. The GVWR determines how much weight the vehicle can take while still operating under safe conditions.
For buses across the board, their GVWR comes in at 10,000 to 25,000 pounds. These specifications line up with the type and class of each bus. The smaller buses land closer to the 10,000-pound classification, and the larger vehicles lean toward the 25,000-pound mark.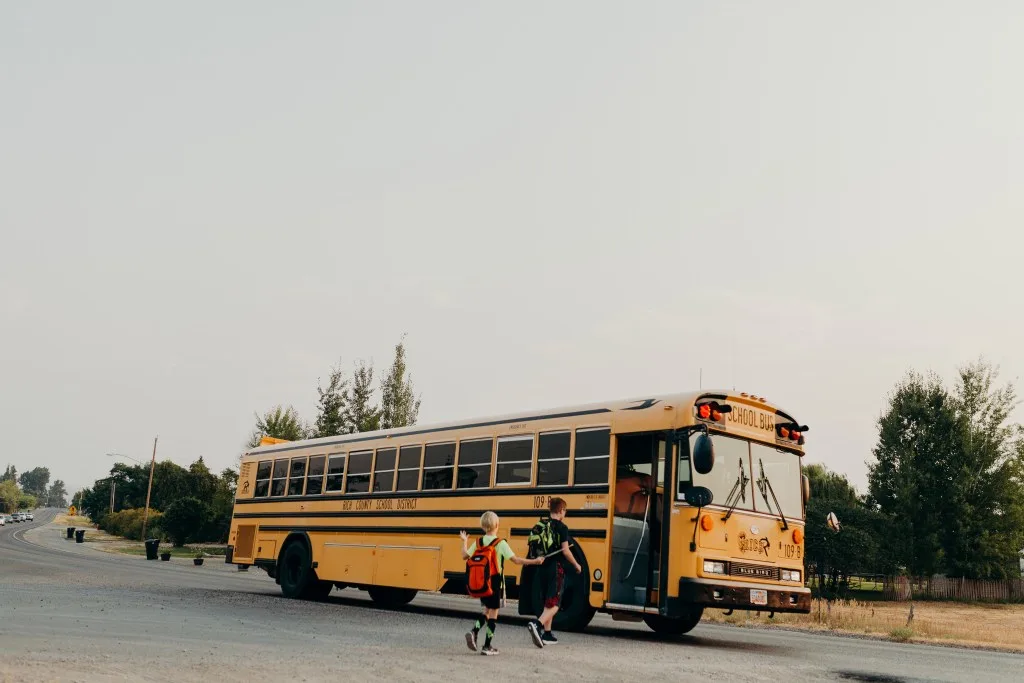 How Much Weight Can a Bus Haul?
Like many of the specific numbers above, the amount each bus can tow is determined by the size of the bus. Smaller buses can tow around 5,000 pounds, while some larger models can tow around 11,000 pounds.
An easy way to figure out how much a bus can tow is by dividing the weight of the bus in half. Typically that number is how much a bus can comfortably and safely tow.
What Is the Largest Capacity School Bus?
Gillig Transit Coach School Bus is the largest school bus ever produced. Developed in the 1940s, it was a popular option for schools on the West Coast. The bus was famous for its ability to carry over 90 passengers, capping its most number of passengers at 97.
These buses were in use well into the 1980s before the company discontinued the model in 1982. They soon fell out of circulation to make way for newer, more conventional models.
Pro Tip: Want to see where some school buses go after they are no longer used? Head to the School Bus Graveyard aka the Perfect Road Trip Destination.
What Weight Considerations Should You Take When Converting a School Bus?
When thinking about converting a school bus into a camper or home, it's important to consider towing capacity. If you plan to travel with both your converted bus and a passenger vehicle, you'll want to make sure the bus is well equipped to tow your size of vehicle.
Consider the type of tires used on the school bus and the amount of weight each can take to maintain a good safety level. The more you add to the bus, the more strain the tires will take on.
Is a School Bus Weight Critical to Tire Safety?
Tire safety is critical when converting a school bus. Make sure you cover all your bases. Not considering the amount of strain you put onto the tires can lead you into a dangerous and unfortunate situation.
School buses are built to last and to take a lot of wear and tear. However, it's important to keep safety at the forefront of your mind when renovating a pre-existing vehicle. While it may seem like a lot to keep track of upfront, it will no doubt save you a lot of heartache in the long run.
Would you ever consider converting an old school bus into a camper? Tell us your thoughts in the comments!
Discover the Best Free Camping Across the USA
To be honest with you, we hate paying for camping. There are so many free campsites in America (with complete privacy).
You should give it a try!
As a matter of fact, these free campsites are yours. Every time you pay federal taxes, you're contributing to these lands.
Become a FREE CAMPING INSIDER and join the 100,000 campers that love to score the best site!
We'll send you the 50 Best Free Campsites in the USA (one per state). Access the list by submitting your email below: