It's a hot debate: which chicken reigns supreme, Nashville Hot or Buffalo sauce? Some people are die-hard fans of one or the other, while others can't decide which is better. So, which is it?
And maybe more importantly, is there really a difference? Let's take a look at what makes each its own before you decide for yourself which chicken truly clucks the cluck!
What Is Nashville Hot Flavor?
As the name suggests, Nashville Hot sauce has a flavor with a heated kick to it. It's a spicy sauce relying heavily on cayenne peppers for the heat. However, it's mixed with other ingredients to keep Nashville Hot unique from other spicy sauces and flavorings.
Nashville Hot rose to prominence as a spicy coating and sauce for fried chicken in Nashville, Tenn. Legend has it that James Thornton Prince was famous for stepping out on his wife. Upon returning home one night, his wife served him fried chicken she rolled in cayenne pepper as spicy revenge.
But instead of reeling from her wrath, Prince supposedly loved the taste so much that he went on to open a chicken shack that served the dish. That was in the 1930s. Nashville Hot chicken is now a famous flavor across the United States.
What Is Buffalo Flavor?
Like Nashville Hot, Buffalo flavoring has the heat, but is more of a tangy hot sauce. It also derives its heat from cayenne peppers. But it's different from Nashville Hot by other ingredients that combine for its distinct character.
Again, just as Nashville Hot garnered its name from its origins in Tennessee, Buffalo sauce got its name from Buffalo, N.Y., where it originated. Teressa Bellissimo, the owner of the Anchor Bar, used to doctor up leftover wings with her own special hot sauce. She created it as a late-night snack for her son and his friends.
What Is the Difference Between Nashville Hot and Buffalo Hot?
Despite their similarities, Nashville Hot and Buffalo Hot have a couple of key differences. And, fair warning, don't you dare say to a fan of either sauce that they are the same. You may not make it out alive.
Both sauces derive their heat from cayenne pepper and use butter as a main ingredient. However, Nashville Hot utilizes more sugar, giving it a sweeter heat flavor. Nowadays, many frequently serve it over a Hot chicken sandwich topped with pickles.
Buffalo Hot has more of a tangy spice to it. This comes from its reliance on vinegar as a key ingredient.
Nashville spices are often also baked into the coating of the chicken. Meanwhile, Buffalo sauce is primarily a sauce slathered over wings, providing a wet coating of spiciness.
Pro Tip: Make sure to grab a bite at the Best BBQ in Nashville on your next Nashville RV road trip.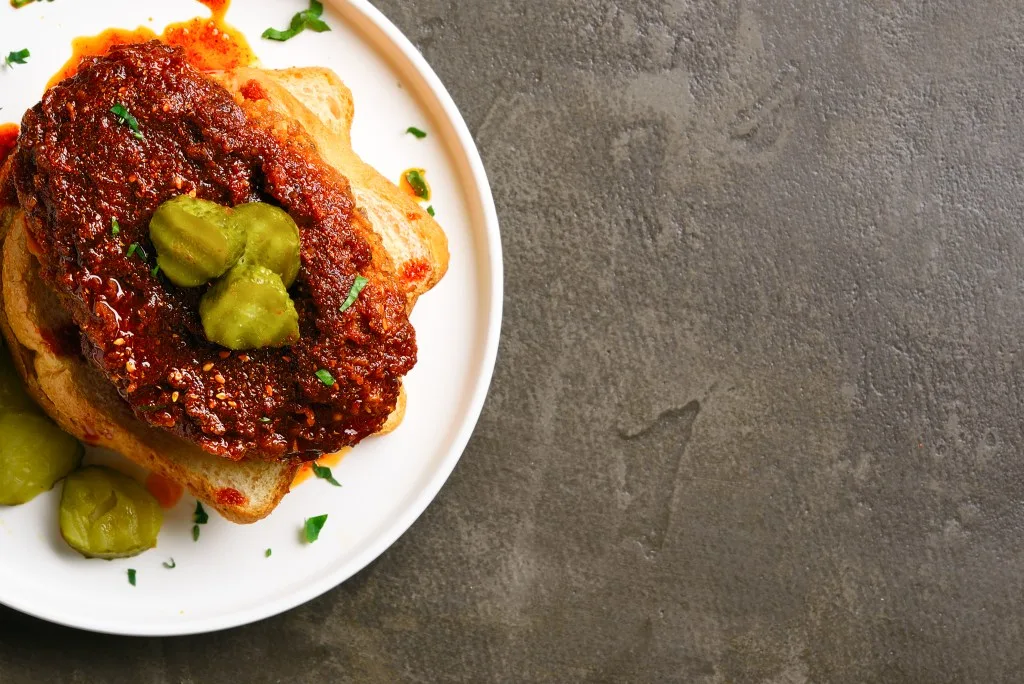 How Hot Is Nashville Hot?
There's no one answer to this question other than to say, "It depends." It depends on how the Nashville Hot chicken is prepared and/or what you order. There are many levels of heat, varying from somewhat mild to it'll burn the roof of your mouth off.
The milder versions generally have a sweet heat cut by a generous amount of sugar, balanced by a lesser amount of cayenne pepper. Even the mild is hot, but the original Nashville Hot chicken is hotter, relying more heavily on the cayenne pepper and other spices to elevate the heat.
Nashville Hot chicken has become so popular, it should come as no surprise that several establishments have taken the heat to the extreme.
There are now versions of Nashville Hot that use ghost peppers or Carolina Reaper peppers, the Hottest peppers on the planet. These elevate the heat to unpalatable levels to someone that hasn't spent hours, if not years, acclimating their taste buds to the heat.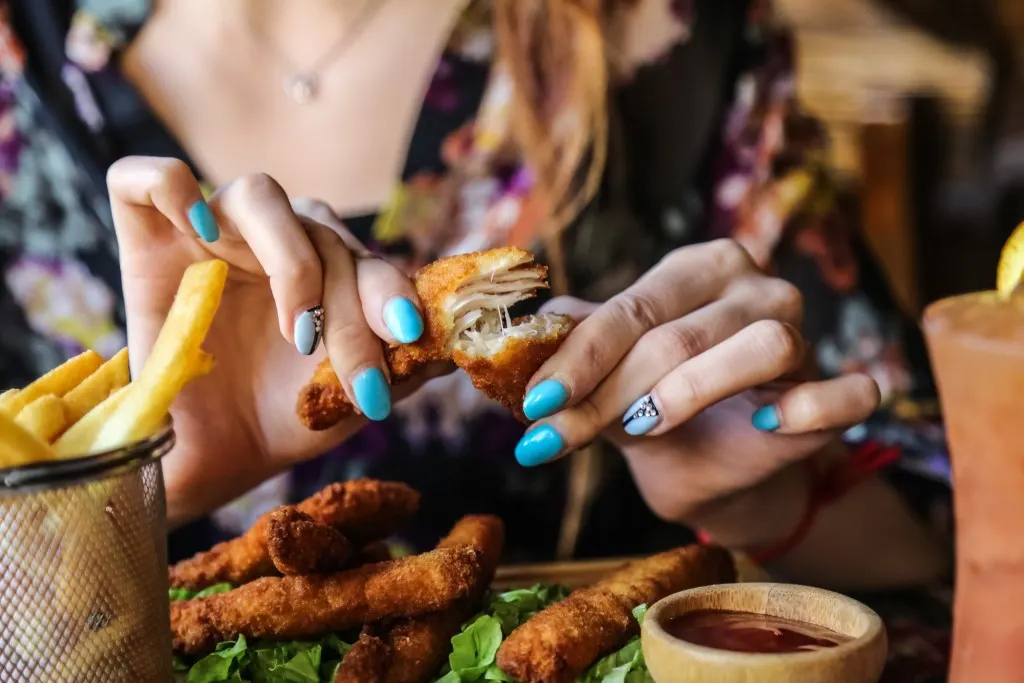 What Is Nashville Hot Sauce Made Of?
Nashville Hot sauce typically consists of a blend of cayenne pepper, brown sugar, paprika, and other spices. Butter is often a key ingredient as well, but it's sometimes a cook or chef will use oil – particularly a sweet, hot chile oil.
The exact recipe varies from place to place, but the result is always a spicy, slightly sweet sauce that packs a serious punch. The hottest versions add hotter peppers to the mix.
Pro Tip: Spend the night at one of these 7 Best RV Parks in Nashville, Tennessee.
Is Nashville Hot Chicken Sweet?
Again, the answer is a moving target. Yes, there is a sweetness to Nashville Hot chicken, but that's not to say that the sweetness is what will sit on your tongue. Make no mistake, especially for the uninitiated, even the milder versions of Nashville Hot chicken will leave some heat lingering on your tongue.
Is Nashville Hot Chicken Better Than Buffalo?
So now you know all about Nashville Hot chicken, where it came from, its ingredients, and how it differs from Buffalo sauce. Which will you choose the next time you're in the mood for some spice?
Do you want the sweet heat that Nashville brings to the table or the tangy spice from Buffalo? We think you should try both and decide for yourself. Let us know in the comments which one is your favorite.
Discover the Best Free Camping Across the USA
To be honest with you, we hate paying for camping. There are so many free campsites in America (with complete privacy).
You should give it a try!
As a matter of fact, these free campsites are yours. Every time you pay federal taxes, you're contributing to these lands.
Become a FREE CAMPING INSIDER and join the 100,000 campers that love to score the best site!
We'll send you the 50 Best Free Campsites in the USA (one per state). Access the list by submitting your email below: