Towing a trailer is a significant responsibility and one you should never take lightly, especially regarding safety. Luckily, most towing setups have ways to help in an emergency.
Chains are one safety tool drivers use when towing. However, there seems to be confusion among some drivers regarding whether or not they can tow without chains. So can you tow a trailer without chains? Let's look and see!
What Is Needed to Tow a Trailer?
While you'll need a trailer and a tow vehicle, you'll require a handful of other things when towing a trailer. First, you'll need a trailer hitch receiver on the tow vehicle. While most vehicles come with these from the factory, that's not always the case.
In addition, you'll need a ball mount. This will slide into the trailer hitch receiver on the back of the tow vehicle. You'll want to use a pin and a clip to secure it to the vehicle while towing.
You'll also need a ball on the ball mount that matches the size of the coupler on the trailer. These typically come in a handful of sizes, and some ball mounts will come with several positionings to allow the driver to adjust for various coupler sizes.
Finally, you'll need a wiring harness so your tow vehicle can power the trailer's electronics. This will allow the driver to use turn signals, brake lights, and a trailer's electronic braking system. Check the requirements where you live and plan to tow your trailer to ensure it has everything it needs to drive legally on the road.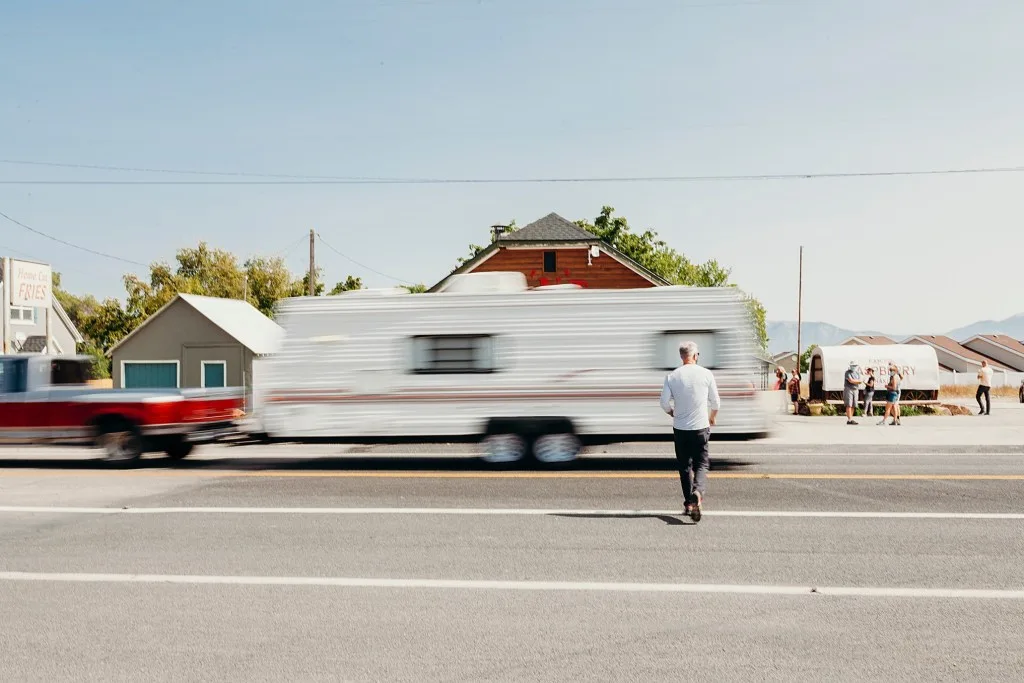 What Are Chains on a Trailer for?
Chains on a trailer are an essential safety feature that you should always use when towing. The chains connect the trailer to the tow vehicle and serve as a backup should the trailer detach from the tow vehicle. Chains for this purpose should be strong enough to hold the trailer's weight in case they become necessary.
Can You Tow a Trailer Without Chains Attached?
Safety chains are only one piece of equipment you should use when towing a bumper pull or gooseneck trailer. There are several safety tools you should use, but chains are often a legal requirement.
Most states require drivers hauling a trailer to use safety chains. While regulations vary by state, it's a good idea to use them regardless of the law. It's better to be safe than sorry.
How Many Safety Chains Are Required on a Trailer?
If you're towing a trailer, you should use two safety chains. Using two chains helps ensure your trailer stays secured to your vehicle. It would be best if you also verified that the chains have a rating to withstand the weight of your trailer.
You'll appreciate that they can do the job if you need to use them. You don't want to wish you had taken the time to check the rating on your chains while watching your trailer roll away from you.
How Long Should Trailer Chains Be?
You want your safety chains to be as short as possible to be effective. To ensure you have the proper length for your safety chains, hitch your trailer. Next, position the trailer and the tow vehicle in a near jack-knife position on each side. Measure the distance to ensure you have the right length of chain.
This method lets you know the longest possible need for your chains when towing. You don't want your chains to be too tight, but you also don't want too much slack. Chains dragging on the road can be a safety hazard.
Should You Cross the Chains on a Trailer?
For years, some drivers did not cross their safety chains. However, crossing your chains is so effective that most states require that drivers cross them when towing.
This method is very effective and can cradle the coupler should the trailer detach from the tow vehicle. If your chains are the appropriate length, you could minimize the damage to the tongue and frame of your RV.
Can Trailer Chains Drag?
Your trailer chains need some slack, but not so much that they drag the ground. If they do, they'll spark as you travel. These sparks could be enough during dry conditions to start a fire.
Lake Kickapoo Fire Chief James Mellard said, "Anytime they drag, they spark. And with the kind of conditions we have out here right now, a spark will ignite a fire." You should always ensure that your chains are long enough to do the job but not too long.
Are Trailer Chains Worth It?
Depending on the trailer you're towing, and where you're hauling it, you may have no other option but to use trailer safety chains. However, even if where you live or where you're towing your RV doesn't require it, we think they're worth using. You can never be too safe when towing an RV.
Do you use safety chains when towing your RV?
Discover the Best Free Camping Across the USA
To be honest with you, we hate paying for camping. There are so many free campsites in America (with complete privacy).
You should give it a try!
As a matter of fact, these free campsites are yours. Every time you pay federal taxes, you're contributing to these lands.
Become a FREE CAMPING INSIDER and join the 100,000 campers who love to score the best site!
We'll send you the 50 Best Free Campsites in the USA (one per state). Access the list by submitting your email below: