Are you always on the search for a bakery in town? Well, we figured out which national grocery store has the best one so you can get your favorite treats across the country. Because when you find a cookie or cupcake you love, you just have to go back for more.
Keep reading to learn which store it is. We also reveal the largest grocery chain in the U.S. and which customers rated the highest.
We hope you're hungry. Let's dive in!
Who Is the Largest Grocery Chain in U.S.?
Walmart takes home the prize for the largest grocery store chain in the United States. According to FoodIndustry.com, the chain accounted for more than a quarter of grocery revenue in the country in 2021. It includes sales at Sam's Club, which Walmart owns.
Walmart and Sam's Club have over 5,300 stores throughout the country. Second to them, in terms of sales, is Amazon's online grocery service. And Costco comes in third.
What's the Number One Grocery Store in America?
According to Consumer Reports, Trader Joe's wins the top spot for overall customer satisfaction. People who shop here rave about the selection of healthy foods, good prices, and excellent customer service.
Trader Joe's seems always staffed and stocked well. You can find an employee in nearly every aisle to answer your questions. It also has an excellent array of international foods, artisan cheeses, and wines.
People judged the grocery stores based on cleanliness, price, food quality, customer service and speed, healthy options, and a variety of multicultural foods. Trader Joe's came out as the customer's number one grocery store in America.
Pro Tip: Going shopping at Trader Joe's? Make sure not to commit any of these 7 Deadly Sins of Trader Joe's Shopping.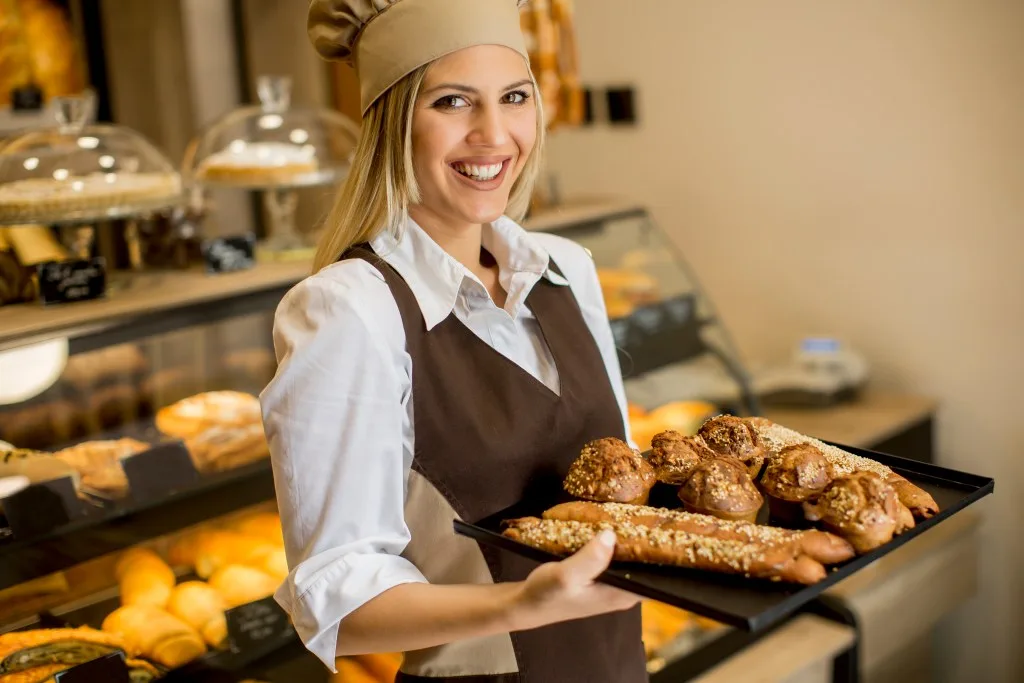 What National Grocery Store Has the Best Bakery?
Now, for the big reveal. The national grocery store with the best bakery is Walmart. Of course, who has the best bakery is subjective. It really comes down to personal taste and preference.
So why does Walmart's bakery come out on top? Price is one appealing reason to go to Walmart for cakes, bread, and other types of desserts. They offer fair prices compared to other grocery stores. And they have deals such as a free smash cake for kids' birthdays if you spend over $15.
Variety is another reason its bakery comes out on top in the national grocery store lineup. You can get nearly anything, from cupcakes to Italian artisan bread and birthday cakes to bagels.
Walmart also has sweet and moist cakes at a reasonable price. But Walmart doesn't bake their own cakes. They come frozen from Pillsbury and other brands.
Who Makes Walmart Bakery Bread?
Like its cakes, Walmart's bakery doesn't make its bread in-house. It sources the bread from distributors. For example, Walmart's Great Value bread comes from Sara Lee.
Artisan bread in Walmart's bakery comes from distribution companies such as Midstate Bakery Distribution, Inc. In addition, brands like Walmart's Marketside bread come from distributors and aren't made in-house.
However, associates may make baguettes, cookies, and rolls in-house at some stores. But most bakery goods will come frozen from vendors.
What Is in the Bakery Section of a Grocery Store?
A bakery section in a grocery store has a broad range of products. In contrast, a stand-alone bakery typically has a niche that they specialize in. For example, they might only serve cupcakes and cookies. Or the bakery may only make and sell bread.
A grocery store bakery usually has cupcakes, cookies, various types of bread, tarts, pies, muffins, doughnuts, bagels, and more. You can usually find any kind of sweet baked goods, including large birthday cakes. Many grocery store will even personalize the birthday cake for you.
Some grocery store bakeries take special orders. For example, Walmart and Kroger allow you to order a cake for any occasion online and will customize it to fit your needs.
However, like Walmart, Kroger doesn't bake their own cakes. They get frozen sheet cakes from a third-party vendor and then customize them.
Pro Tip: Before you head to Walmart, make sure you know these 10 Unwritten Rules for Shopping at Walmart.
Is a Grocery Store Bakery Worth It?
Bakeries used to be separate specialty shops. Today, you often walk past the wonderful smelly bakery first in a mega-grocery store. But does the large warehouse-style grocer take away from the fun of walking into a small, local bakery to pick out a cupcake?
It's largely personal preference on where you get your baked goods. But we think grocery store bakeries are worth it. They often have tasty and unique treats that are just as good as privately owned bakeries. They're also much more affordable.
So, while we think grocery store bakeries are good enough, we also want to support local shops. And going into a local bakery to get a doughnut can also become a social or cultural experience.
While grocery store bakeries are convenient and often inexpensive, don't forget to buy from your local bakeries occasionally. Oh, and remember to brush your teeth after all those sweets!
Which national grocery store bakery do you like best? Tell us your opinion in the comments!
Discover the Best Free Camping Across the USA
To be honest with you, we hate paying for camping. There are so many free campsites in America (with complete privacy).
You should give it a try!
As a matter of fact, these free campsites are yours. Every time you pay federal taxes, you're contributing to these lands.
Become a FREE CAMPING INSIDER and join the 100,000 campers that love to score the best site!
We'll send you the 50 Best Free Campsites in the USA (one per state). Access the list by submitting your email below: