The idea of snow in Sedona, Arizona, sounds crazy to most people. Images from news stories about melting trash cans and scorching hot summers are synonymous with the state.
However, a well-kept secret about the region is that extreme temperatures in summer give way to mild winters. We all know about ski havens like Taos in New Mexico. But what about Sedona?
Today, we're digging into the climate and winter options in the high-mountain town of Sedona.
Let's get started!
The History of Sedona, Arizona
High in the northern Verde Valley, nestled in towering red rock formations, lies the city of Sedona. Straddling the border between Coconino and Yavapai counties, the community sprang up near the Oak Creek Canyon in 1876.
Known for peach and apple orchards, the post office opened in 1902 with fifty-five residents. Named for the first postmaster's wife, Sedona Schnebly, the town grew from 155 residents in 1955 to over ten thousand in the last census.
Known mainly for the iconic rock formations in the area, tourists flock to Sedona to experience nature. Situated halfway between Phoenix and the Grand Canyon, it's the perfect stopover for road trippers.
Filmmakers also love the rock formations. Over sixty films use the Sedona area as their backdrop. Angel and the Badman, Desert Fury, and 310 to Yuma are just a tiny sampling. In 2012, the film Sedona showed the town's legacy as the film industry left.
Two of the most picturesque rock formations in the area are just south of town, between Sedona and the Village of Oak Creek. Bell Rock and Cathedral Rock reach high into the sky just off Highway 179. Some people drawn to the area say the formations draw cosmic energy; some say it's just the elevation. We'll let you decide.
Another tourist draw is the Tlaquepaque Arts and Crafts Village featuring native arts and crafts. You could easily spend hours perusing the shops but be sure to stop at the restaurants and breweries too.
Perched in the red rock formations is another wonder, this one human-made. The Chapel of the Holy Cross is an architectural marvel. Built in 1956, the impressive structure rises seventy feet from the rocks. Simple on the inside, the chapel is a perfect spot for contemplation before heading out on a hike.
Pro Tip: Here are the 7 Best Things to Do in Downtown Sedona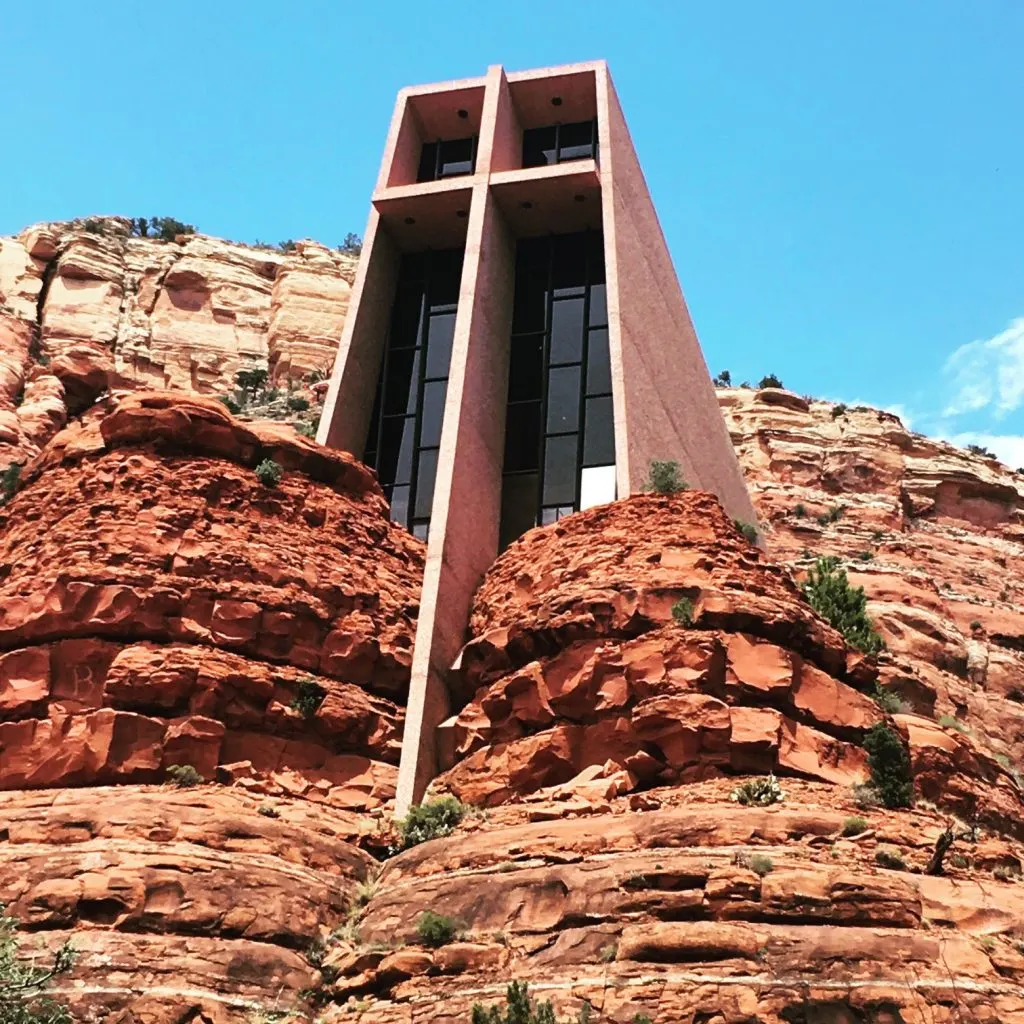 How Much Snow Falls in Sedona?
As with any town in a desert climate, temperatures range widely in any season. During winter months in Sedona, you can expect average high temperatures in the 50s and 60s. At night things get much colder, even below freezing.
Sedona gets around 3.5 inches of snow yearly, but it usually doesn't last long. That said, ice and dangerous conditions may linger on hiking trails until the early afternoon. Dress appropriately, and you'll be fine. And if you're lucky enough to be in Sedona during snowfall, the views are unbeatable.
When Did it Snow the Most in Sedona?
Rules are made to be broken, and one week in February 2018 broke them all. Over three days, February 17th, 21st, and 22nd, more snow fell than at any time in recorded history. Twenty-five inches of snow blanketed the red rocks surrounding Sedona.
This amount of snow isn't typical by any means. However, be prepared if you visit in the winter. Temperatures are regularly below zero, and snowstorms are becoming more regular.
Best Hikes Near Sedona – Sun or Snow
More than anything, the area around Sedona is known for its incredible hikes. With unique landscapes and stunning views, it's no wonder that trails cover the hillsides. These are some of the do not miss trails.
Pro Tip: Here is a complete list of the best hiking in Sedona.
Oak Creek via Huckaby Trail
The Huckaby trailhead branches in several directions just east of Sedona, off Schnebly Hill Road. The Oak Creek branch of the route takes hikers and runners on a three-mile out-and-back. With views of the landmark red rock formations to the south, this easy hike is one of our favorites.
A little over 500 feet in elevation gain means you'll be hiking uphill on the way out. Even in winter, you should plan to bring enough water for the exposed hike. If you feel adventurous, you can go past the turn-around point and check out Oak Creek, just a half mile further down the trail. Dogs are welcome, but make sure you keep them on a leash.
Submarine Rock and Devil's Dining Room Trail
Southeast of town near the picturesque Twin Butte rock formations, this trail has the best views around. Just 2.8 miles round trip, most users rate the path as easy. Keep in mind this is easy by Arizona standards, and it's rocky and has over 300 ft of elevation along the way.
Extremely popular with hikers, the route is also popular with Jeep tours. If quiet contemplation is your goal, there might be better options.
You'll have excellent views of Submarine Rock on the trail, so bring your camera. The cavernous Devil's Dining Room is a unique feature you'll also want to see. And don't get too close to the edge!
This path is open year-round and dog-friendly as long as they're on a leash.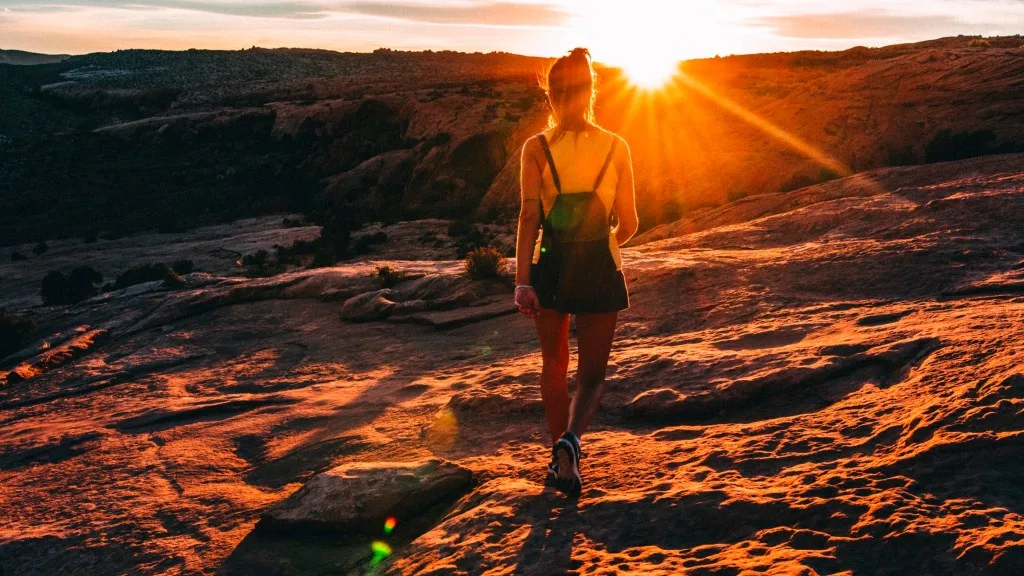 Best Camping Near Sedona
With all this outdoor adventure calling, camping close to nature makes the most sense. There are several RV parks and primitive camping areas. These are a couple of our favorite spots to enjoy Sedona's winter snows.
Pro Tip: Here's a complete list of Sedona's best campgrounds.
Rancho Sedona RV Park
Within walking distance of downtown Sedona, Rancho Sedona balances the town and country perfectly. Surrounded by the cottonwood and sycamore trees that grow along Oak Creek, the year-round park offers something for everyone. Nearby hiking and biking trails tempt campers into the hills, while fishing and swimming in the creek keep you close to home.
Rancho Sedona amenities include laundry, swimming, open fields, Wi-Fi, and cable access. The park also offers exceptional pricing for overnights and a reasonable monthly rate for adult campers. In addition, most sites have concrete patios, cable hookups, picnic tables, and sewer.
Javelina Dispersed Camping Area
If boondocking is more your style, the Javelina Dispersed Camping Area is also close to Sedona. Due to ongoing drought conditions in the Coconino National Forest, some new restrictions are in place. There are now only eight designated camping areas in the Javelina DCA, and fires of any kind are strictly prohibited.
Don't let that discourage you from exploring the forest, though. If your rig can handle boondocking for a few days, you'll have direct access to the national forest. We can't overstate how beautiful this area is. And while you aren't within walking distance of downtown Sedona, you'll still be able to hit the town easily.
Is a Road Trip to See Snow in Sedona Worth It?
Winter in Arizona is a sight to behold. You won't be disappointed if you visit Sedona during the snowy time of year, usually around February. It's not a ski location by any means, but the cooler temperatures mean you'll be able to enjoy the sites without the dangerous heat.
And after you enjoy the mountains, make your way to town and explore the local attractions. Between the art and the food, you'll head home happy.
Discover the Best Free Camping Across the USA
To be honest with you, we hate paying for camping. There are so many free campsites in America (with complete privacy).
You should give it a try!
As a matter of fact, these free campsites are yours. Every time you pay federal taxes, you're contributing to these lands.
Become a FREE CAMPING INSIDER and join the 100,000 campers who love to score the best site!
We'll send you the 50 Best Free Campsites in the USA (one per state). Access the list by submitting your email below: