In a world saturated with sickly sweet, overpriced options, sometimes all you want is a nice soothing cup of medium roast coffee. We get it. For your everyday cup o' joe, medium roast just hits differently.
When you're on the road, finding the right coffee is key. You deserve the perfect cup, even out of your RV. Spending $25 on a pound of boutique coffee might be fine occasionally. But we find the offerings at Walmart hit our wallets just right.
Join us as we dive deep into the seven best medium roast coffees we've found at our local Wallyworld. Maybe you'll discover a new favorite.
Let's check it out!
What Is Medium Roast Coffee?
One of the things that excite us most about coffee is that the beans carry the flavor of where they originate. Like wine, specialty coffee has a terroir that varies based on its growing regions. Mid-priced brands offer single-origin coffees where the beans are sometimes grown on one farm.
Modern roasters focus on three different roasts: light, medium, and dark. For a long time in America, there was only one roast available, dark roast. As the name implies, dark roast spends the most time in the roaster and has the most consistent flavor across brands; burned.
Don't get us wrong, on cold mornings, an espresso roast may be precisely what we need. But on a slow morning, medium roast is where it's at.
Medium roast offers the most variety when it comes to different brands. In a medium roast, roastmasters try to bring out the sweetness of a specific bean.
This means we get to experience the terroir of the coffee side by side with the sweet caramel notes a longer roast imparts. In fact, medium roasts are full-bodied, sweet, less acidic, and have a round flavor profile.
The newest roasting profile, light roast, is the most challenging of all coffee roasts. Those who prefer beans roasted in this method will find the brightest, most acidic flavor in the final cup.
True coffee lovers flock to blond roasts because they taste so much like the earth. Perfect for impressing someone with your coffee knowledge but a little rough on the stomach.
So, for the best, bargain medium roast coffees, we picked out these seven brands you can find at your local Walmart.
Pro Tip: Make sure you can always wake up with a warm cup of coffee no matter where you roam. Find out How to Make Coffee in an RV Camper.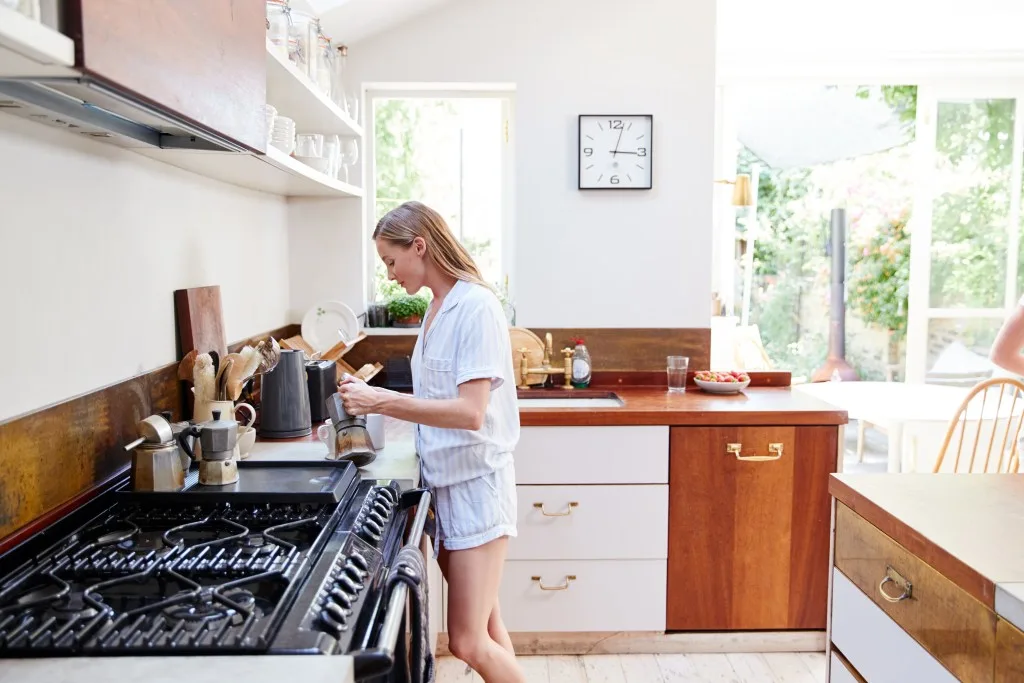 #1 Peet's Big Bang
One of America's oldest craft coffee roasters, Peet's opened up shop in 1966 in Berkeley, California. At that time, expectations for coffee were frighteningly low.
But Alfred Peet changed all that with his exciting roasts introducing customers to new possibilities. You can easily say he started a fresh coffee revolution in America.
In celebration of the 50th anniversary of Peet's, they released Big Bang. A medium roast that's full-flavored and bright, Big Bang is a blend of premium coffee beans roasted to perfection. Also added to this blend is the Ethiopian Super Natural, which brings an aromatic, citrus note to the final mix.
Coffee geeks love brewing Big Bang in a Chemex, drip, or pour-over method. But you can also brew it in a Moka pot or espresso machine if you feel fancy.
#2 Seattle's Best Coffee Portside Blend
Our number two brand hails from the Pacific Northwest coffee mecca, Seattle. A sub-brand of Starbucks, Seattle's Best offers up their Portside Blend as a strong second.
It's also one of the more affordable options on our list. That means you can enjoy premium coffee without the higher price tag.
Portside Blend is a medium roast coffee with a hearty flavor and well-rounded cup. Like the clouds over Seattle, the blend has notes of brightness, like the sun peeking through the clouds.
A smooth mouthfeel and some roasty notes make this blend one of our favorites. Sourced from Latin America, Portside has citrus notes that make us dream of the tropics.
#3 The Coffee Bean and Tea Leaf Costa Rica La Cascada Tarrazu
As craft and boutique coffee came to dominate the market in recent years, brands like The Coffee Bean & Tea Leaf jumped to national prominence. Folks willing to pay premium prices for exclusive roasts pushed for more transparency in trade with coffee farmers.
Supporting individual farmers and growing regions guarantees the availability of roasts like the La Cascada Tarrazu. In fact, these tasty beans are only available through The Coffee Bean & Tea Leaf company.
This medium roast coffee is made possible through exclusive partnerships with local farmers in Costa Rica. Grown at 4,500 feet above sea level, the land's rich volcanic soil produces exceptional beans.
Coffee Master Jay Isais ensures that each batch comes out roasted to perfection. When you crack into a bag of this coffee, the aroma is the first thing you'll notice.
In this roast, you can expect bright flavors with a clean, crisp finish. Perfect in a drip coffee maker, if you get whole beans, you can grind and brew however your heart desires.
Pro Tip: Brew the perfect cup of coffee while on the road in one of these 5 Best RV Coffee Makers.
#4 Starbucks Pike Place Roast
From America's most recognized brand comes their signature Pike Place Roast. Starbucks opened at the Pike Place Market in Seattle, an iconic portside spot bringing the best of the world together. Now brewed in every Starbucks store daily, this blend is a favorite of customers worldwide.
Packed with flavors of cocoa and praline, this is one of the darker medium roast coffees on our list. Made up of Latin American beans, this roast is perfect in a drip coffee maker. Consistent and delicious, you can almost hear the sounds of the sea as you sip this well-balanced cup.
#5 Dunkin' Original Blend
This nostalgic flavor can't be confused with anything else. If America, in fact, runs on Dunkin', we're happy to jump on board! Dunkin' Donut shops all over the world brew this Original Blend and serve it up piping hot every day. If this is your choice, you won't be disappointed.
Balanced and well-rounded, it's perfect for your everyday cup. Known as a delicious and drinkable blend, this craveable coffee is exactly what you need.
Especially if you're out boondocking and can't make it to a shop for your morning cup of joe. Rich and smooth, you'll want to run on Dunkin' too.
#6 Eight O'Clock The Original
Eight O'Clock brings The Original to the medium roast party, and we couldn't be happier. One of the iconic coffee brands, this blend helps us understand why they've been around so long. Sourced from Latin America and East Africa, this blend is one of our go-to medium roasts.
The Latin American beans bring sweet, caramel flavors that compliment the fruity notes of the East African beans. While it's easily one of the more consistent roasts, The Original is perfect any time of the day.
If you like playing around with different brewing methods, The Original is here to play. Whether drinking this coffee with a full breakfast or alongside a chocolate croissant, you'll be in love.
#7 Sam's Choice Main 105
Named for the original street address of what would become Walmart, Sam's Choice Main 105 is a winner. Importantly, while a store brand, this coffee surprised us with its complex flavors and consistent cup. Main 105 is an award-winning, medium roast coffee dripping with nostalgia and memories of journeys long passed.
This premium roast has flavors of plum, lemon, and sweet cocoa. You'll surely appreciate the consistent flavors and price point on this one. Perfect in a drip brewer, this is an excellent start to the day!
A Burst of Flavor in Every Cup
If you ever thought you couldn't find quality coffee at Walmart, hopefully, we've changed your mind. They carry everything from boutique, single-origin roasts to bargain blends that still pack in the flavor.
The best thing about medium roast coffee is the mild, layered flavors you get in each cup. And there are plenty of choices at Walmart to enjoy!
Discover the Best Free Camping Across the USA
To be honest with you, we hate paying for camping. There are so many free campsites in America (with complete privacy).
You should give it a try!
As a matter of fact, these free campsites are yours. Every time you pay federal taxes, you're contributing to these lands.
Become a FREE CAMPING INSIDER and join the 100,000 campers who love to score the best site!
We'll send you the 50 Best Free Campsites in the USA (one per state). Access the list by submitting your email below: