There are plenty of RVers out there telling you what you should and shouldn't do while RVing, ourselves included. However, out of all the RV rules and recommendations we've suggested, there is one that we think is the most important.
By doing so, you may discover that RVing is much more exciting and freeing than you ever imagined. So what is this important RV rule?
Give boondocking a try. Why? Let's take a look!
What Is Boondocking?
Boondocking is a type of camping in an RV on public lands where the camper is self-sufficient. There are no water, electrical, or waste connections. Some boondocking locations allow boondockers to camp anywhere they can find a spot, but others require campers to only use established campsites.
While many people prefer to use their RVs in RV resorts and campgrounds, that's not everyone's cup of tea. Boondockers have many reasons why they choose to embrace this camping style, and we'll dive into them a little later.
Where Can You Boondock?
As we said, boondocking involves camping on public lands. This could be land owned by the local, state, or federal government. Some of the most popular boondocking locations are managed by the Bureau of Land Management (BLM) and the United States Forest Service. Locations may be seasonal, and restrictions can change with or without notice.
You can't just set up camp anywhere you want. You must be aware of any restrictions or requirements for boondocking in an area. Failure to do so could result in potential fines or legal troubles.
Pro Tip: Want to give boondocking a try? Make sure you know all of these 22 RV Boondocking Tips.
Is RV Boondocking Safe?
While many of the best boondocking spots are in relatively remote areas, you're typically no less safe than any other camping style. Can bad things happen to a small number of campers while boondocking? Absolutely. However, if you take the proper security measures, you can stay safe while boondocking.
You should always research a location. Not only do you need to worry about seedy activity from humans, but any potentially dangerous wildlife or road conditions. Using resources like Campendium, iOverlander, and some large Facebook groups can help provide you with the most up-to-date information on a boondocking site.
Call the local agency and officials that manage the land when in doubt. They'll likely be happy to answer any questions you have for safely and responsibly boondocking in a specific area.
What Do You Need for Boondocking?
You'll need some things to have a smooth boondocking experience. One of the most essential items will be a power source. Boondockers use portable generators, solar panels, and large battery banks to power their electronics while boondocking. Since solar and large battery banks can cost thousands of dollars, a portable generator is a budget-friendly and good option for those looking to try boondocking.
Another important thing you'll need while boondocking is water. You can use Campendium and iOverlander to find potable water sources near your boondocking location. You'll want to fill up your freshwater tank before heading to your boondocking site.
You should conserve water as much as possible while boondocking, but also have a way to add water to your tank when needed throughout your trip. This could be by using water bladders or jugs to make it easy to transport water from the water source to your campsite without packing up camp.
Finally, the last thing you must have to boondock is a plan for your waste. While campgrounds and RV parks have dumpsters and dump stations to help you dispose of your waste, boondocking sites aren't going to have these amenities. You should never leave any trash behind when boondocking, and it's your responsibility to ensure that you properly dispose of any waste.
Take it with you and find a dumpster and dump station on your way home or to your next camping location.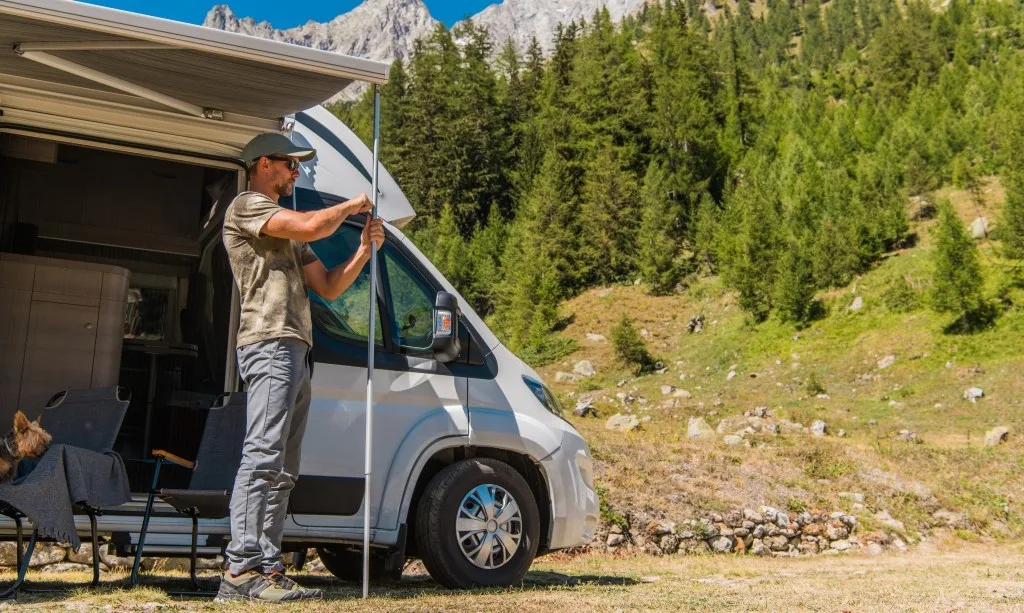 Reasons to Give Boondocking a Try
Still on the fence about boondocking? There are several reasons why we think every RVer should give boondocking a try. Let's dive in!
Saves You Money
Boondocking sites are almost always free. Some locations require you to purchase a permit, but these are typically inexpensive and worth it. With the increased interest in RVing recently, we've seen campground fees skyrocketing.
Considering that most boondocking sites have 14-day stay limits, a single boondocking trip can save you hundreds of dollars in some areas. If you're trying to enjoy RV life on a budget, boondocking is the way to go!
You Don't Need Reservations
If you've tried to snag a reservation at a campground recently, you've likely noticed that campsites are more expensive and harder to get.
Luckily, boondocking sites are first-come, first-served, so you won't have to worry about managing reservations or remembering when a reservation window opens so you can book your site. Many of the best boondocking sites have plenty of space for campers to spread out and enjoy themselves.
Increased Privacy and Space
Many boondockers fall in love with the lifestyle because they're tired of spending their trips crammed like sardines into campgrounds and RV parks. Some boondocking spots will provide incredible amounts of privacy and space that established campgrounds simply can't offer.
Being able to spread out and enjoy the peace and quiet away from the crowds is a massive benefit of boondocking.
Plenty of Epic Views
Because most public lands are in the country's western portion, the views can be pretty epic. Once you get out west, you start to see and experience the drastic changes in elevation and the landscapes.
You can find some incredible boondocking spots that provide gorgeous views of deserts, mountains, and lakes. If you've ever scrolled through #boondocking posts on Instagram, the epic views that many boondockers enjoy make it extremely easy to embrace the lifestyle.
Great for Groups and Families
Boondocking can be great for groups and families that want to camp together. Instead of being in individual campsites spread out at a campground, these boondockers can establish a communal gathering point in the middle. This can make it easy to enjoy activities together, and everyone will still have plenty of space.
Boondocking is great in these situations, especially if you're worried about your noise levels. While you'll still want to consider any neighbors while boondocking, they're likely not going to be nearly as close as if you were in a campground or RV park.
How Do You Find Boondocking Spots?
Finding boondocking spots can be challenging in some places, but our go-to resources for finding the boondocking spots are, once again, Campendium and iOverlander. These are very user-friendly resources that are both mobile apps and websites.
You can research possible locations around you or in a certain area where you want to boondock. Both of these resources allow other users to leave reviews and information that might be helpful to others looking to boondock at the location in the future. In addition, these apps also allow you to find resources like dump stations and many other commonly used resources boondocking requires.
Pro Tip: Make sure to never commit any of these 7 Deadly Sins of Boondocking.
Is Boondocking Worth It?
Our completely biased opinion is that boondocking is the best possible camping style. With the proper gear, equipment, and knowledge, it can help you create some unforgettable camping experiences. We think it's something that every RVer should try at least once or twice.
You might just find that you fall in love with it as we have. However, make sure you save us plenty of room if you camp in any of our favorite boondocking spots!
Discover the Best Free Camping Across the USA
To be honest with you, we hate paying for camping. There are so many free campsites in America (with complete privacy).
You should give it a try!
As a matter of fact, these free campsites are yours. Every time you pay federal taxes, you're contributing to these lands.
Become a FREE CAMPING INSIDER and join the 100,000 campers that love to score the best site!
We'll send you the 50 Best Free Campsites in the USA (one per state). Access the list by submitting your email below: