There's truly no place like Waffle House. This iconic greasy-spoon restaurant has fed travelers, night owls, and early birds for over 50 years.
It's famous for no-nonsense food and outstanding customer service. But does that commitment to satisfaction extend to the parking lot?
Many retail and restaurant chains allow RV drivers to camp overnight. We decided to find out if Waffle House is one of them.
Let's go!
What's the Story Behind Waffle House?
The first Waffle House opened in 1955 in a suburb of Atlanta, Georgia. Founders Tom Forkner and Joe Rogers, Sr. decided that their Avondale Estates neighborhood needed a diner open 24 hours a day, seven days a week. The restaurant was popular and quickly expanded outside of Georgia. Today, there are more than 1,900 locations in 25 states across the U.S.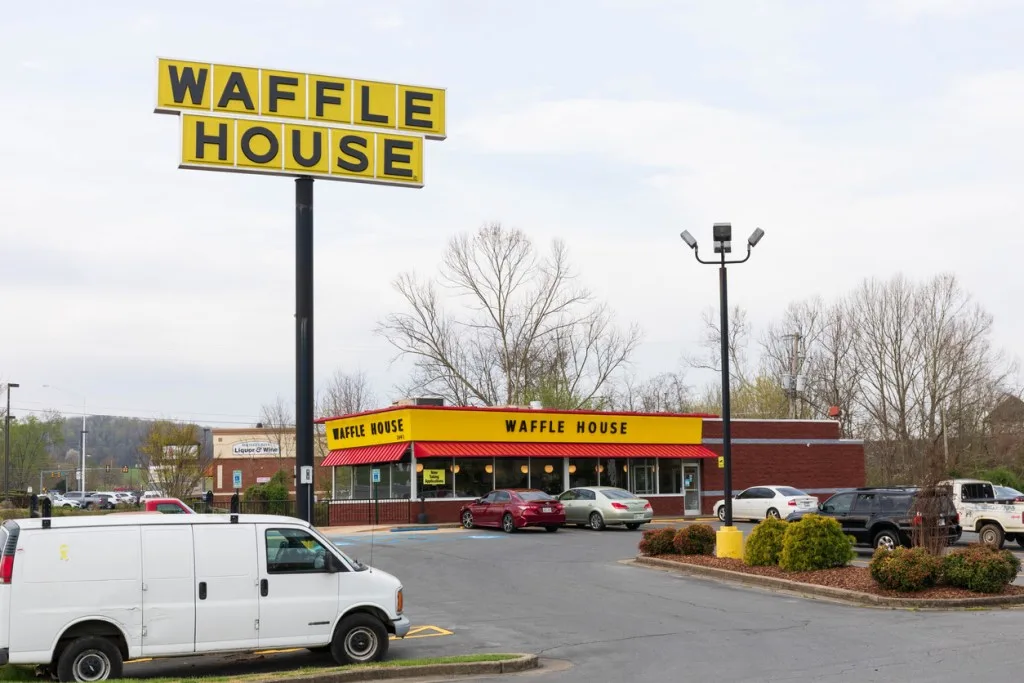 Waffle House is known for its emphasis on customer service. Cooks and servers frequently chat with customers from the galley-style kitchens, which are typically open to the dining area. The chain is also famous for its diner lingo and unique menu customization options.
Customers can order their hashbrowns "scattered, smothered, and covered": cooked crispy on the grill top and topped with onions and melted cheese.
Over the years, the restaurant evolved into a cultural icon. The original location now serves as the Waffle House Museum, containing memorabilia from the last six decades. Multiple TV shows and magazines featured the museum. Tours of the flagship location are available for groups of 10 people or fewer.
Waffle House even boasts its record label, Waffle Records! Almost every location has a jukebox, a tribute to the chain's 1950s roots. The jukeboxes offer pop, rock, and country standards. They also provide original themed songs from Waffle Records. Songs include "There are Raisins in my Toast" by Danny Jones and "Waffle House Steaks" by Northwest Territory.
Does Waffle House Have a Secret Menu?
Starbucks isn't the only chain that offers secret specialty items. If you're in the know, you can order a slew of delicious entrees from Waffle House's hidden menu.
One classic secret option is known as Double D's. This breakfast dish consists of two hash brown patties topped with sunny-side eggs.
Another is the waffle sandwich, which is precisely what it sounds like. It's a sandwich filled with breakfast items using waffles instead of bread.
The most formidable item may be the Heart Attack, a burger on Texas Toast topped with hash browns, chili, and sausage gravy.
The secret menu contains plenty of sweet options as well. The sausage, egg, and cheese on raisin toast puts a sugary twist on a classic breakfast sandwich. For waffle lovers, the custom choices are endless: Fruity Pebbles, peanut butter pecan, and apple cinnamon waffles, to name a few.
Folks avoiding sugar can request the restaurant's sugar-free syrup, which supposedly tastes as good as the real thing.
The secret menu may vary slightly by location. But even Waffle House employees agree that if the restaurant has the ingredients, pretty much anything is possible.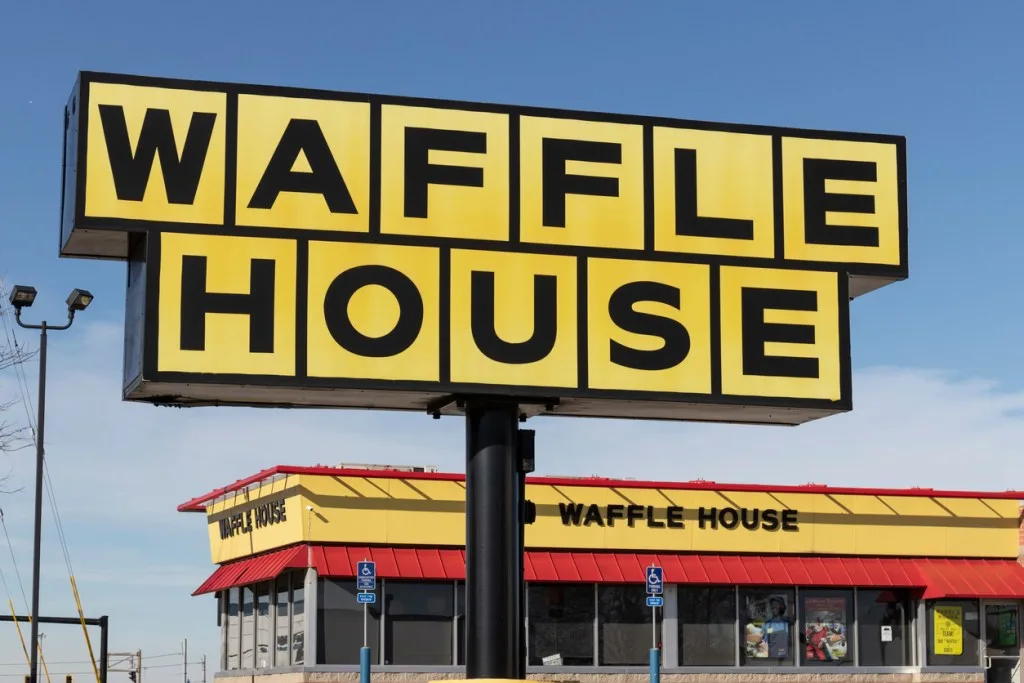 What is the Waffle House Index?
Waffle House is one of the most distinctive brands in the U.S. But its most intriguing claim to fame isn't its record label or secret menu. It's the Waffle House Index.
The chain has long had a reputation for being well-prepared for inclement weather and natural disasters. With hundreds of locations on the southeast and gulf coasts, Waffle House is no stranger to hurricanes and tornadoes.
The restaurant maintains a limited menu that can be offered without running water or electricity. Emergency crews known as "jump teams" are kept on standby to reopen locations after weather events.
FEMA Administrator Craig Fugate took notice of Waffle House's practices in 2011. That year, Fugate was in charge of the agency during the devastating tornado that hit Joplin, Missouri. The tornado caused more than 150 deaths and injured over 1,100 people. But Joplin's two Waffle House locations stayed open despite the catastrophe.
In response, Fugate developed a system based on the restaurant's practices. The Index contains three levels: green, yellow, and red.
If the restaurant is open and serving its full menu, it's green. The yellow level signifies the restaurant is serving a limited menu, meaning power or supplies have been affected. A rare, critical red level implies the restaurant is closed, indicating severe flooding or structural damage.
Does the Company Have a Policy on Overnight Parking?
Few franchises are as committed to serving their customers as Waffle House. But does that commitment extend to overnight parking?
Waffle House doesn't have an openly stated company policy regarding overnight parking. As with many retail chains, that decision is up to individual store managers. Local parking ordinances may also influence store policies. We suggest you check with restaurant managers before setting up camp for the night.
Always use best practices when parking overnight in a company parking lot. Stay only for the allotted time, pack out supplies and trash when you leave, and be respectful of customers' and employees' vehicles. While you're at it, make a point to eat at least one Waffle House meal as a thank-you for the hospitality.
What Are the Alternatives to Parking Overnight at Waffle House?
Since Waffle House doesn't have an official policy on overnight parking, it's best to camp elsewhere. But what are your other options?
Many popular retailers do have policies allowing overnight parking. Walmart and Sam's Club are well-known for allowing RVers to sleep in their lots as long as they park away from store entrances. These stores have so many locations that you're likely to find one even in a pinch.
Other retailers like Cracker Barrel, Bass Pro Shops, and Camping World have reputations for allowing overnight parking. However, each retailer has different rules for campers. Be sure to check with management before setting up for the night.
When in doubt, it's best to consult well-known RVer resources for overnight parking solutions. Websites and apps like Campendium, Overlander, and Allstays contain this information and are updated frequently.
So, Is Parking Overnight at Waffle House Worth It?
Waffle House is an attractive choice for overnight parking. The iconic yellow sign is a familiar, comforting sight. The classic diner menu isn't diet-friendly, but it's delicious. And the restaurant's commitment to staying open 24-7 guarantees you'll never go hungry.
However, the chain's lack of official company policy means you should exercise caution. One location's parking lot may be RV-friendly, but another may not. Always ask permission before parking at a restaurant overnight. Think of it as the Waffle House Golden Rule: Give Waffle House the same consideration it gives its beloved customers.
Discover the Best Free Camping Across the USA
To be honest with you, we hate paying for camping. There are so many free campsites in America (with complete privacy).
You should give it a try!
As a matter of fact, these free campsites are yours. Every time you pay federal taxes, you're contributing to these lands.
Become a FREE CAMPING INSIDER and join the 100,000 campers that love to score the best site!
We'll send you the 50 Best Free Campsites in the USA (one per state). Access the list by submitting your email below: