There are more than 5,000 Walmart stores across the country. Not only do many of these stores provide shoppers with everyday low prices, but many also provide travelers with a spot to park for the night.
However, safety should be a top priority no matter where you're camping (especially with so many recent tragedies at their stores).
So is it safe to camp at Walmart? Let's look and see!
Can You Legally Camp at Walmart?
When it comes to legally camping at Walmart, it can be hit or miss depending on the location. Walmart, as a corporation, leaves overnight camping up to the location to decide whether they'll allow overnight camping in their parking lot.
However, many communities and cities are creating rules and regulations prohibiting overnight parking in public spaces, including Walmart parking lots.
As a result of these new rules and regulations, it has become incredibly challenging for many travelers to find spots to park for quick overnight stops. You must verify the legalities of overnight parking at each location. You don't want to get a knock on your door in the middle of the night and potentially receive a citation.
How Do You Find Walmarts That Allow Camping?
One of the easiest ways to locate the nearest Walmart is to punch it into your favorite map software on your cell phone. You can also download the Walmart app, making it extremely convenient and easy to find the nearest Walmart based on location.
Many RVers use apps like FreeRoam, Campendium, iOverlander, and AllStays to find Walmart locations that welcome guests. These are great resources because they allow users to leave reviews based on their experiences. This can be helpful for future guests to know what to expect or how to access the parking lot.
The reviews also include the date the most recent camper stayed overnight, which we find extremely useful.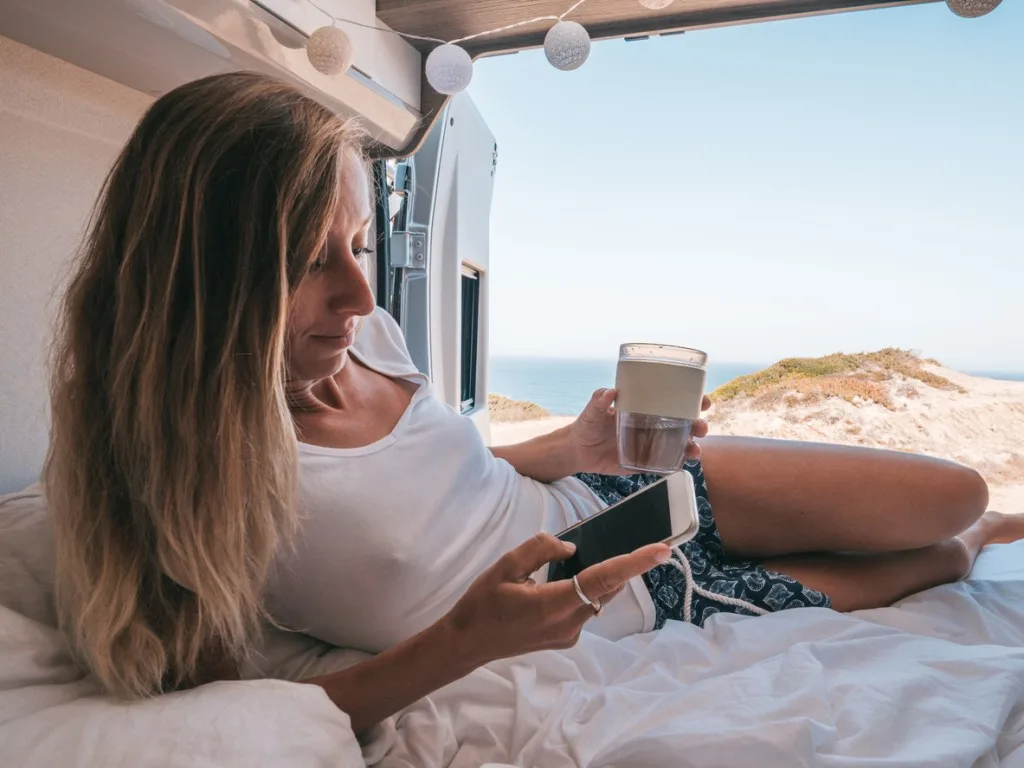 Is It Safe to Camp at Walmart?
If you decide to camp at Walmart, you're (almost) no less safe than camping elsewhere. Because Walmart has security lights and cameras, you could make a case that you're potentially safer than in many other camping spots.
However, safety is something that you should take seriously and will vary based on the location. The "safety wildcard" at Walmart is that you're literally a sitting duck for all the public to see during the wee hours of the night.
Using the apps we previously recommended can be a great way to research the safety of an area. Users on these apps are typically great about leaving detailed reviews, especially when it comes to safety.
We'll share some tips with you later about staying safe while camping at Walmart!
Should You Get Permission when Camping at Walmart?
You should never camp on private property, including Walmart parking lots, without permission. We recommend calling ahead to confirm that the location allows overnight parking. You don't want to waste your time, fuel, or energy if overnight parking is illegal at the location.
Once you arrive, you should find a spot to park out of the way and go in and speak with a manager or assistant manager. You want to make sure to get permission from the store before getting too comfortable. It's a good idea to check and see if there is a specific spot they'd like for you to park or anything that you might need to know. Walmarts typically ask overnight guests to park towards the back of the parking lot.
Safety Tips for Camping at Walmart
You can never take safety too seriously when camping at Walmart or any other location. An unsafe situation can quickly ruin your travel plans and leave you in a sticky situation. Let's look at some things you can do to stay safe while camping at Walmart.
Lock Your Stuff
You need to avoid making yourself an easy target when it comes to your valuables. It's not enough to just have locks, you need to use them. Always double-check to ensure you've locked all of your stuff and that any valuables are out of sight.
Locks may not always prevent a thief from stealing your stuff, but it will slow them down or cause them to think twice. Breaking through a lock will take time and could draw attention to anyone up to no good.
Park near Lights and Cameras
Choose your parking spot wisely when camping at Walmart. Not only do you want to park out of the way, but near lights and cameras too. This will increase your safety and help reduce the chances that anyone up to no good tries to mess with you and your stuff.
Seedy people will try to keep their activities under cover of darkness and away from security cameras. They don't want to take any chances of someone spotting them or recording their misdeeds. If you do experience a situation, law enforcement can get the footage from the store to help track down whoever was responsible.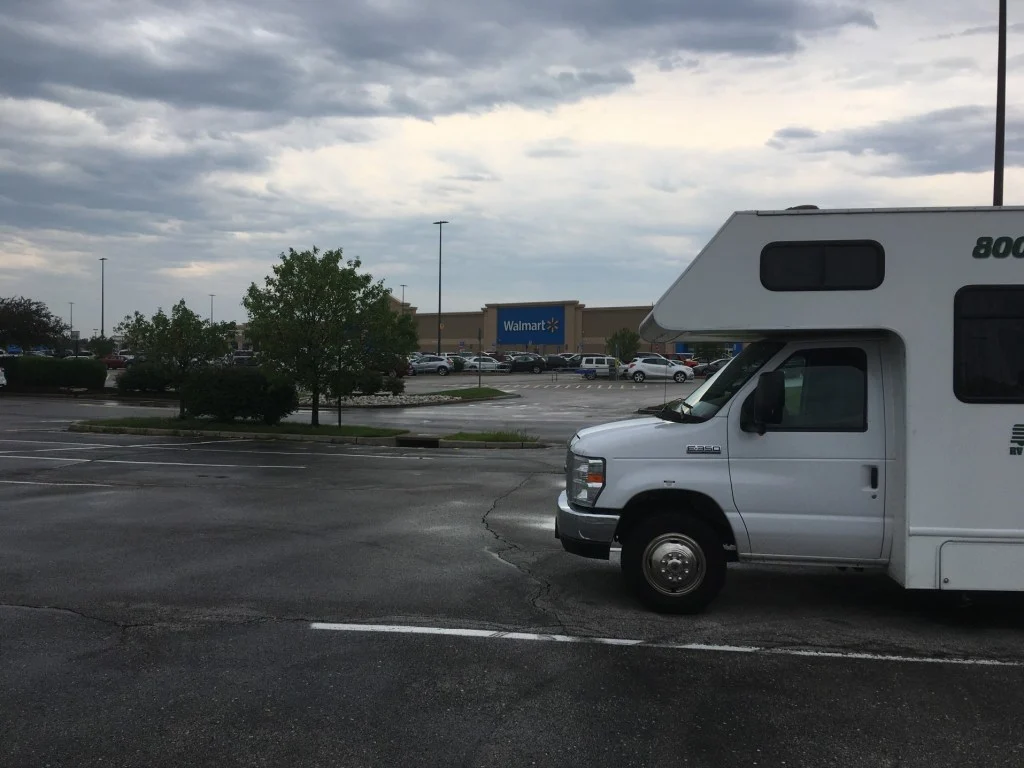 Know the Laws
You need to do your research when selecting a Walmart to camp for the night. Rules and regulations vary based on the location, and they can change with or without notice. This may be shocking, but not everything you read online is true. Just because you find someone telling you that they stayed at a specific Walmart, doesn't mean that it was or is legal to do so.
You are responsible for knowing the rules and regulations wherever you're trying to camp. Ignorance is not an excuse for violating the law. If you are unfortunate enough to receive a citation, your free overnight parking spot can become incredibly expensive.
Do Your Research
Not all spots are created equal, and if you want to have a smooth experience, you'll need to do some research. Read reviews and familiarize yourself with the spot, so you know whether it's safe or not. Campendium, iOverlander, and AllStays are great resources to help you research.
You want to pick a safe and easy spot to get in and out of during your stay. If not, you'll be in for a painfully frustrating experience during your stay. Take the time to do plenty of research to avoid any hassles.
This also means parking in a position that anticipates early shoppers and first-shift employees. If you're in a large rig, park defensively – leaving an easy departure for the morning.
Leave If Necessary
Don't let yourself feel the pressure to stay if circumstances change or you feel uncomfortable. Trust your gut and leave when necessary.
No Walmart camping spot is worth putting you and your fellow campers in an unsafe situation. Don't be afraid to report illegal or seedy behavior when you see it.
Camp Safely at Walmart
Camping at Walmart is a great opportunity to stock up on supplies and any other gear or equipment you might need during your travels. Many RVers use these locations as overnight stops on their way to the next campsite or adventure.
Use common sense and stay aware of what's going on around you, and you're sure to enjoy a safe and smooth camping experience.
Discover the Best Free Camping Across the USA
To be honest with you, we hate paying for camping. There are so many free campsites in America (with complete privacy).
You should give it a try!
As a matter of fact, these free campsites are yours. Every time you pay federal taxes, you're contributing to these lands.
Become a FREE CAMPING INSIDER and join the 100,000 campers who love to score the best site!
We'll send you the 50 Best Free Campsites in the USA (one per state). Access the list by submitting your email below: