Towing an RV can be extremely challenging, especially if you're new to towing a trailer. Many drivers admit that their biggest fear is hitting something with their RV.
Many RVers never consider that something could hit their RV while parked at a campsite. However, this situation happened at a campground in Carthage, North Carolina.
Let's dive in and see how this chaotic event unfolded!
What Happened at Farm Pond Campground in Carthage, NC?
A couple had their quiet Saturday afternoon interrupted by the rear end of a Buick LaCrosse crashing into their RV. At approximately 5 PM, local authorities were called to the scene of this unusual accident. They rushed to the scene to make sense of the chaos and to assist anyone needing help.
According to Sandhills Sentinel, authorities noted that the vehicle had left the road and driven into the campground before crashing into the RV. The driver claimed they had lost control of the vehicle. After losing control, the vehicle spun through the front of the campground and stopped after smashing the rear end into the RV.
As one would imagine, a witness to the accident noted that the chaotic event made "an awful lot of noise." Thankfully, there were no life-threatening injuries as a result of the accident.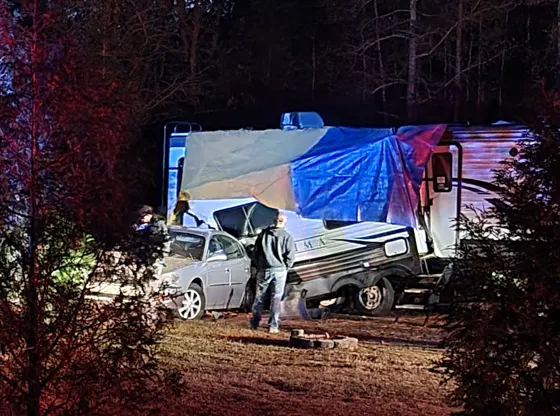 Photo by Sandhills Sentinel Reporter Abegail Murphy
Were There Any Injuries From the Car Crash?
While there were no life-threatening injuries, there were injuries from the car crash. The driver escaped the encounter with no notable injuries and declined treatment from the emergency services.
However, a woman inside the RV reportedly took a trip to the local hospital, FirstHealth Moore Regional Hospital. The last report indicated she was in stable condition.
How Did Fellow RVers in the Campground Help?
When fellow RVers saw and heard the accident, they sprung into action. As soon as the chaos died down, RVers worked with first responders to cover the damaged RV with tarps. They did this to help protect it from any further damage that could occur due to inclement weather.
Are RVers Always Good Samaritans?
The RV community is an incredible community that looks out for one another. When these kinds of things occur, many RVers understand that it could have easily been them. They often take a "treat others as you wish to be treated" approach and lend a hand. However, not all RVers are always good Samaritans.
RVers are no different than non-RVers or any other large group of people. There are always a few old soreheads in the bunch that could work on being better at being good Samaritans. Some RVers are selfish, egotistical, and immoral.
In general, most RVers who saw or heard the events take place would have quickly sprung into action and helped however they possibly could, like many did in this situation.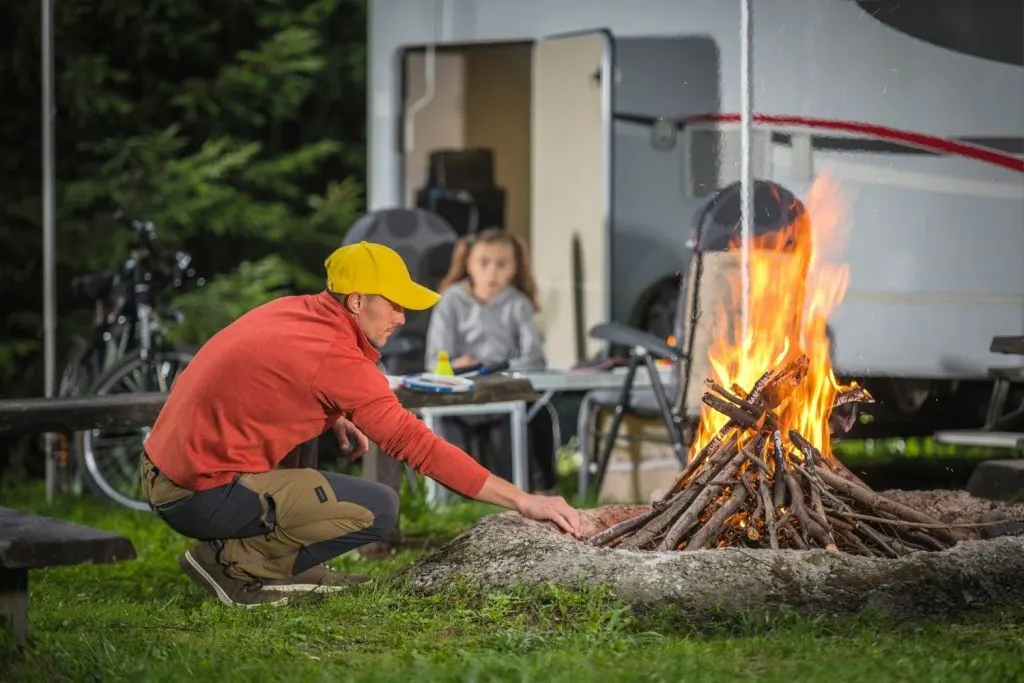 What Should You Do If Your RV Is in an Accident?
Knowing what to do when you and your RV are in an accident is important. Because the scene will likely be incredibly chaotic, it can be easy to forget or overlook some crucial items that you should make sure to do. Let's look at what you should do if your RV is in an accident!
Check on Yourself and Any Passengers or Other Vehicles Involved
The first thing you should do following the accident is to assess yourself for injuries. Before trying to help others, take a few deep breaths and inspect yourself. You'll likely experience a tremendous adrenaline rush, which can mask the pain from some injuries. You may have a broken limb or other serious injury and not realize it.
Once you finish assessing yourself, move on to helping others involved in the accident. You should ensure everyone gets evaluated before you start rendering aid to anyone. This is important because you'll need to prioritize injuries quickly. You don't want to waste time helping someone with minor bumps and bruises when someone else is severely bleeding.
Get Everyone to Safety If Possible
After checking yourself and others in the accident, you should get everyone to safety. If there are serious injuries, you want to avoid moving anyone. If you do, you could risk further injuring the individuals. However, if there is a fire or a serious fire risk, you may have no choice but to move the individuals to a safer location.
You want to get to a safe place away from the accident. You never know when someone not paying attention could run into one of the vehicles and cause further carnage at the scene.
Once everyone is in a safe location, have everyone sit down. Any adrenaline from the accident will wear off after several minutes. Any pain or injuries masked by the adrenaline will start to surface. The best thing is to sit down and relax as much as possible.
Call 911 and Wait for Help
Finally, someone needs to call 911. Since emergency services can take several minutes to respond, this should happen as quickly as possible. The 911 operator will likely ask the caller questions to help assess the situation and how emergency services should respond.
The operator will ask the caller to describe the situation, give information about the location, and whether or not there are any injuries. Once they have this information, they'll quickly alert the proper authorities, and help will be on the way.
One mistake many people make is to overlook calling 911. People often assume that someone else has called 911 to report the accident. When people assume that others have called, it can delay the arrival of emergency services by several minutes. In some serious accidents, several minutes could mean the difference between life and death.
Exchange Insurance Information If Another Vehicle Involved
Emergency services will help control the chaos when they arrive on the scene. They'll help calm everyone down and ensure that everyone receives care. However, it's important that those involved in the accident exchange insurance information.
Law enforcement will typically collect all the information for their reports and ensure that both parties have the appropriate information. However, you want to ensure that you and your insurance company have access to the necessary information.
Unfortunately, in some situations, you'll need to pass the insurance and contact information on to an attorney. This is especially true if the accident involves serious injuries that may require a legal situation in court.
Are RV Accidents Common?
Because there are fewer RVs on the road than standard passenger vehicles, there are fewer RV accidents than accidents involving passenger vehicles. However, accidents like the one that occurred at Farm Pond Campground are extremely rare. While these accidents obviously can occur, the risks are exceptionally low.
Are RVs Safe in a Crash?
Some RVs are safer than others when it comes to crashes. Drivable RVs, especially large Class A motorhomes, are some of the safest vehicles for most minor accidents. This is because of their beefy size and monstrous weight. They'll likely inflict a tremendous amount of damage on whatever they hit. However, the passengers will likely be incredibly safe.
Travel trailers and other towable RVs don't fare nearly as well in crashes. While they may look and feel incredibly sturdy, they typically explode into pieces when involved in a crash. Since we hope you never encounter the situation, you'll have to take our word that an RV crash can be quite a mess.
While some inevitable risks are involved with RVing, they are typically minimal. The fear of an accident like this should not stop you from enjoying yourself while RVing. Thankfully, the incidents are rare, and RVing is typically a safe hobby you and your loved ones can enjoy.
Discover the Best Free Camping Across the USA
To be honest with you, we hate paying for camping. There are so many free campsites in America (with complete privacy).
You should give it a try!
As a matter of fact, these free campsites are yours. Every time you pay federal taxes, you're contributing to these lands.
Become a FREE CAMPING INSIDER and join the 100,000 campers who love to score the best site!
We'll send you the 50 Best Free Campsites in the USA (one per state). Access the list by submitting your email below: