Taco Bell takes a lot of heat and is often the butt of many jokes, but it might be a good spot to park overnight.
It's not uncommon to see multiple cars waiting in line at their drive-thru at any time of day. And, you can get tasty treats all through the night. Still, can you park overnight there?
We're making a run for the border to see what we discover!
Let's go!
What Is Taco Bell?
Taco Bell is a large fast-food retailer under the parent company of Yum! Brands Inc., and is siblings with Pizza Hut and KFC brands. Their menu is inspired by various Mexican foods and contains tacos, burritos, and a variety of unique treats created for their customers.
The fast-food chain has earned a reputation for being a budget-friendly establishment to grab a quick bite to eat. Their "value menu" items are popular for those looking to save a few bucks while filling their bellies and pleasing their taste buds.
How Many Taco Bell Locations Are There?
There are nearly 7,700 Taco Bell stores in the United States. With that number of stores, it's surprising how much negative publicity the franchise takes. Honestly, it sounds like many people are ashamed to admit that they frequent Taco Bell.
California has no room to talk or hate on Taco Bell because, at one point, it had almost 1,000 Taco Bell restaurants and took the crown for the state with the most Taco Bell locations.
Is Parking Your Vehicle Overnight to Sleep Legal?
There are some places where you can sleep overnight in your parked vehicle and some places that prohibit it. Many cities and local municipalities prohibit the act to maintain a more positive look and feel for their community and to fend off any seedy behavior that could accompany nomads passing through their community.
Just because you don't see signs saying "no overnight parking" doesn't mean it's legal to park there. Most parking lots are private property, and you must have permission anytime you're parking there. When in doubt, call the local law enforcement's non-emergency phone number and ask about the rules and regulations.
If it's illegal to park there, explain your situation. Say you'll be leaving in the morning, and ask if there are any areas they might suggest you park to get some rest before heading out in the morning.
Does Taco Bell Allow Overnight Parking?
Taco Bell has no official statement or policy when it comes to overnight parking at their restaurants. As a result, it's typically up to the individual locations to follow the local rules and regulations and do what's best for their local establishment. So overnight parking is typically on a case-by-case or location-by-location basis.
You can find Taco Bell locations in various situations, including truck stops. Many of these locations enjoy that truck drivers stop in the parking lots for the night. They'll come in off the road and fill their stomachs before retiring for the night to wake up and do it all again the next day.
While it can be frustrating, you'll need to check with each location where you plan to stay. You don't want to make any assumptions and find yourself in a bad situation because you didn't ask permission before settling in for the night.
Rules for Overnight Parking at Taco Bell
There are several rules that we think everyone should follow while parking overnight. Doing so can help ensure you stay safe and that overnight parking spots remain available for others looking for a safe and quiet place to park for the night.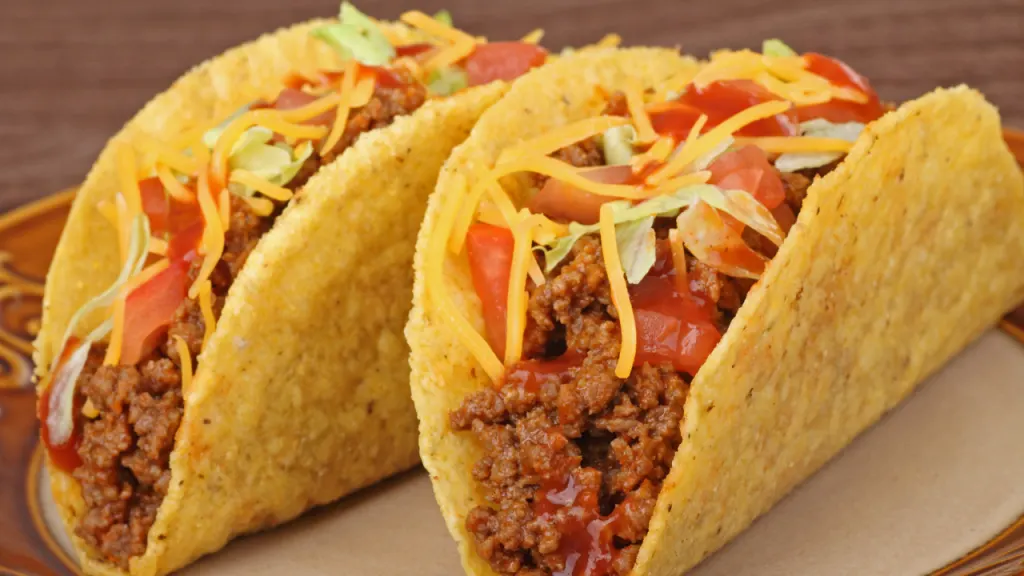 Get Permission for Private Property
We don't live in the wild west anymore, so you can't set up camp anywhere you please. The owner of the property might not like some stranger coming and parking themselves on their property for the night.
If you plan to park somewhere for the night, you must first get approval. Parking at a Taco Bell would mean getting permission from the manager. They're likely the only ones in the restaurant with the authority to let you to park for the night.
Stay One Night
You should never stay more than one night in these situations. An overnight parking spot is exactly what its name implies – an overnight parking spot. You should leave as soon as possible in the morning, get back on the road, and head towards your destination. Don't stay any longer than necessary in these types of parking situations.
Lock Your Stuff
While it would be nice if people would keep their hands off of anything that doesn't belong to them, that's not typically been our experience. If you have locks on your stuff, use them when parking overnight at Taco Bell or any other public space. Locks are useless if you're not using them.
While locks may only slow down a determined thief, they may be enough to cause a thief to think twice about whether or not it's worth the effort to get to what's inside. They may not want to take the chance of creating noise and getting caught in the act.
Respect the Place
We beg everyone that uses overnight parking spots to respect them as if they were their own. Take care of the parking lot and leave the area cleaner than when you found it. This may mean picking up trash left behind by others and helping it to find its way into the trash can. It's not a glorious job, but it helps ensure spots remain available for future use.
It's amazing how much garbage and trash people leave behind at some overnight parking spots. When we see a trashed spot frequented by nomads, we understand why some authorities create rules and regulations prohibiting overnight parking. They're tired of dealing with waste and trash left by people passing through their communities.
Keep the Noise Down
You don't want to be a distraction for the business or anyone using it. Keep to yourself and avoid making a lot of noise. Be aware of those around you, and avoid playing loud music or running a noisy generator.
If you need to run a generator, you should probably consider finding a different place to stay that's away from others. They don't want to listen to your generator hum along while trying to get some sleep too.
Tacos, Burritos, and Overnight Parking
Depending on the Taco Bell location, you just might be able to get some tacos and burritos with a side of overnight parking. However, that's not always the case, and you'll want to make sure you get permission and check with the proper authorities before getting too comfortable in the spot.
Don't just assume Taco Bell or the restaurant won't mind. While they might not care, the local authorities who enforce the rules and regulations will and will most likely have something to say to you about it. So be a good overnight parker and follow all the rules and regulations!
Discover the Best Free Camping Across the USA
To be honest with you, we hate paying for camping. There are so many free campsites in America (with complete privacy).
You should give it a try!
As a matter of fact, these free campsites are yours. Every time you pay federal taxes, you're contributing to these lands.
Become a FREE CAMPING INSIDER and join the 100,000 campers who love to score the best site!
We'll send you the 50 Best Free Campsites in the USA (one per state). Access the list by submitting your email below: