Visiting Lake Havasu can be a fantastic way to beat the scorching heat, but the area does have some dangerous animals you should be aware of.
Whether you're swimming in the lake or hiking one of the many local trails, knowing what might harm you is a good idea.
Today, we're discussing what to watch out for when chilling out in and around this popular vacation hotspot.
Let's dive in!
About Lake Havasu
Spanning the boundary of western Arizona and California, Lake Havasu is one of the better-known reservoirs in the Southwest. The federal government built it in the 1930s to store water, and it has gradually developed into a significant tourist destination.
Formed by a dam on the Colorado River, the artificial lake covers about 19,000 acres in the Mojave Desert. The long, narrow waterway is about 26 miles long and almost three miles across at its widest point. It's about 90 feet deep in places, but the average depth is around 35 feet.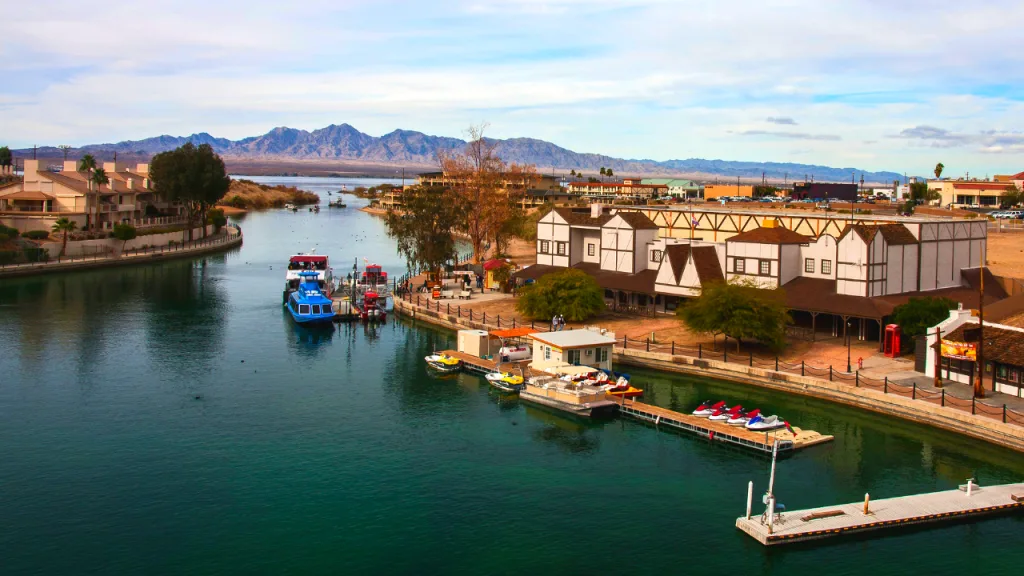 The largest community on the lake is Lake Havasu City, which has a population of almost 60,000. To make things a bit confusing, the similarly named community of Havasu Lake is on the California side. Located in San Bernardino County, it's tiny by comparison, with just under 5,000 people.
What Is So Great About Lake Havasu?
Naturally occurring lakes are extremely rare in the Southwest, but many reservoirs exist. Their purpose is to provide water for drinking, agricultural, and industrial uses, but they also offer many recreational opportunities. To name just a few, these include boating, fishing, hiking, and camping.
Some people love visiting Lake Havasu because it's a smaller alternative to busier destinations like Lake Mead, farther upstream. It has plenty of distinctive charms of its own, though.
The white-sand beaches and palm trees against a mountain backdrop give the place an almost tropical feel. There are also numerous decorative lighthouses along the shores and a significant attraction that often leaves visitors shaking their heads.
That's the legendary London Bridge, which an enterprising businessman relocated from the River Thames far across the pond to Lake Havasu. The entrepreneur, Robert P. McCullouch, saw it as a valuable promotional investment. He paid $2.4 million for the historic bridge in 1968 and opened it to pedestrians in Arizona three years later.
Can You Swim in Lake Havasu?
Another popular place to visit in the area is Lake Havasu State Park. Because of its beaches, it's one of the best places to enjoy Lake Havasu's waters.
The park has a large area for swimming and wading, and it's not a good idea to venture beyond it. There is more traffic from watercraft in the deeper open waters, and the water can be much colder, too.
Do Rattlesnakes Swim in Lake Havasu?
Besides the anglers and boaters, it's also wise to keep an eye out for snakes. You should especially be careful around structures like boat docks and piers.
Over the years, visitors have taken photos and videos of rattlesnakes swimming in Lake Havasu. However, wildlife officials say it's not common, and there is no significant cause for alarm.
The Most Dangerous Creatures Around Lake Havasu
While seeing a snake in the lake is possible, you're more likely to encounter potentially dangerous creatures on land. These are a few insects and reptiles you may run across in the lake Havasu area. While we're just visitors, they're the ones that call this wonderful place home.
Rattlesnakes
Arizona, including Lake Havasu, has more kinds of rattlesnakes than any other state. According to the Arizona Game and Fish Department, there are 13 different species, all potentially deadly. They include the Mojave rattlesnake, the western rattlesnake, and the western diamondback.
A non-venomous snake called the gopher snake is similar in appearance but lacks its venomous cousins' large, triangular head.
Sidewinders get their name from the way they move. It's a distinctive slither that winds from side to side. They can cover lots of ground fast, too – up to 18 mph, often on the hunt for rodents or lizards to eat. In the process, they leave unmistakable J-shaped tracks in the sand. Another unique feature is the scales over their eyes that look like horns.
Black Widow Spiders
These black spiders are about the size of a dime and have a distinctive hourglass pattern on their abdomen. Black widows prefer to eat insects they trap in their nests, but they will bite humans if they feel threatened. They probably won't kill you, but they can cause severe nausea, cramps, and dizziness.
Gila Monster
These large lizards can grow up to two feet long and weigh as much as five pounds. They're generally black with orange, yellow, or pink splotches and are about as venomous as rattlesnakes. Their bites are rarely fatal to humans, though. They must chew on their prey for a while to successfully secrete their venom if that's any consolation.
Tarantula
Tarantulas may seem like something out of a horror movie, but they're very real in Lake Havasu. What's not to like about them? Well, they're hairy and big – up to four or five inches, including the legs. They're venomous, too, but thankfully they don't pack enough poison to kill you. They can cause severe allergic reactions, however, so keep your distance.
Should I Skip Lake Havasu Because of Its Dangerous Creatures?
Snakes, spiders, and giant lizards may not be your idea of a desert wonderland. However, they're facts of life when it comes to the outdoors and shouldn't keep you away from Lake Havasu.
On the positive side, this is a fantastic area where the sun shines most of the year, and there's always plenty of water. Yes, it's pretty crowded at times. But it's almost quaint when compared to other bustling places in the region.
Discover the Best Free Camping Across the USA
To be honest with you, we hate paying for camping. There are so many free campsites in America (with complete privacy).
You should give it a try!
As a matter of fact, these free campsites are yours. Every time you pay federal taxes, you're contributing to these lands.
Become a FREE CAMPING INSIDER and join the 100,000 campers that love to score the best site!
We'll send you the 50 Best Free Campsites in the USA (one per state). Access the list by submitting your email below: