Migrants have been landing at Dry Tortugas National Park in "chug" boats for years.
However, over the holiday weekend, the park experienced waves of individuals fleeing their home countries in pursuit of a better life.
We discovered what happens to one of America's most unique national parks when hundreds of migrants unexpectedly show up. And we checked out the park while we were at it.
Let's explore!
Hundreds of Migrants Arrive at Dry Tortugas National Park
Not everyone was anxiously waiting to countdown the start of a new year over the holiday weekend. While many were enjoying holiday treats and thinking of their resolutions, hundreds of migrants landed at Dry Tortugas National Park. They arrived one boat or raft at a time throughout the weekend.
National Park Service (NPS) officials decided to close the park for the safety of all involved. In a tweet posted by the official Twitter account of the park, officials stated the cause and purpose of the closure.
The tweet stated, "Dry Tortugas National Park will temporarily close to the public on January 2 at 8 am while law enforcement & medical personnel evaluate, provide care for & coordinate transport to Key West for approximately 300 migrants who arrived in the park in the past couple days."
The closure will likely last several days while law enforcement and medical personnel sort out the situation. In these situations, migrants typically get transported to Miami, where officials determine their legal status and either allow them to remain in the United States or send them back to their country of origin.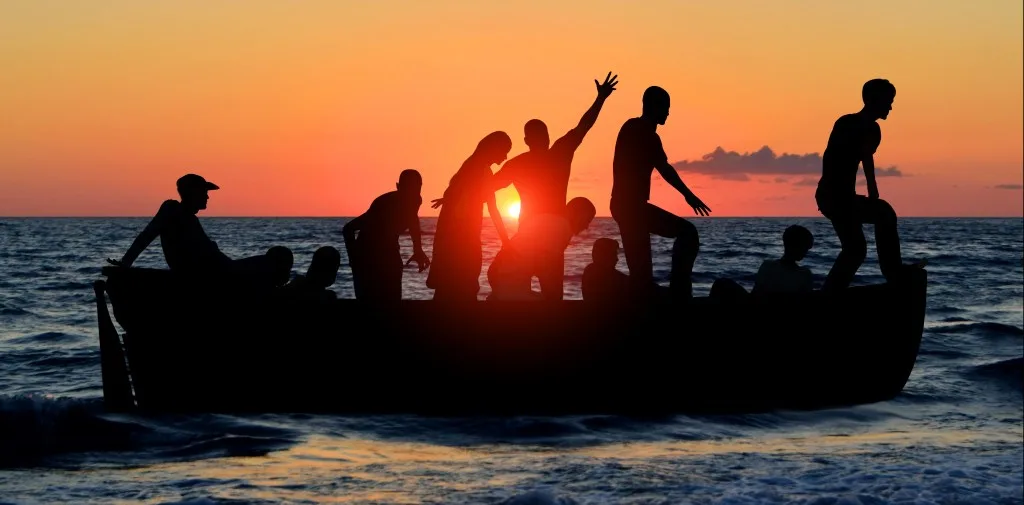 What is Dry Tortugas National Park?
Dry Tortugas National Park is one of the 63 designated national parks managed by NPS. As the park sits 70 miles west of Key West, Florida, it's one of the most remote parks in the country. It is approximately 64,000 acres and comprises seven different islands. In addition to an abundance of plants, animals, and corals, the park is also home to Fort Jefferson.
Juan Ponce de Leon visited the island in June 1513. Many believe Ponce de Leon caught more than 160 sea turtles while visiting the islands. The United States acquired Florida, including Dry Tortugas, in 1819. Many saw the potential for the islands to increase the military defenses of the United States, and construction began on Fort Jefferson in 1847.
While it was never finished, Fort Jefferson was used by the Union during the civil war and as a prison before the military abandoned it in 1874. While the Navy established a base in the 1880s, it didn't last long. The Carnegie Institution of Washington operated a high-tech marine biological station on Loggerhead Key from 1903 to 1939.
In January 1935, President Franklin D. Roosevelt designated Fort Jefferson as a national monument. The monument expanded its borders in 1983, and in 1992 Congress designated Fort Jefferson National Monument as Dry Tortugas National Park. The purpose of the designation was to protect the island and its fragile ecosystem while allowing regulated public access.
What Is There To Do at Dry Tortugas National Park?
Like many other national parks, Dry Tortugas National Park offers something for everyone. Because it's an island, the most popular activities are water activities. However, most visitors to the park have very little trouble filling their schedule with fun and excitement.
Fishing
As Ponce de Leon discovered, this area offers some incredible fishing opportunities. Fishing is allowed at the seaplane beach, main dock, westernmost finger piers, and dinghy beach. In addition, guests can fish outside the Historic Use Area but not in the Research Natural Area. Because there are specific rules and regulations for anglers in this area, you'll want to do plenty of research before casting a line.
The Florida Fish and Wildlife Conservation Commission sets rules and regulations for this area. As a result, anglers 16+ must have the appropriate Florida fishing license while fishing. Trust us; you don't want to get caught fishing without one or violating any of the regulations.
Pro Tip: How To Get a Fishing License at Walmart.
Boating
Because this national park is an island, one of the best ways to see and experience it is by boat. However, keep in mind that there is no food, water, or gasoline available in the park. So you want to ensure you have enough supplies, especially fuel, to last while exploring the park. Make sure you stop at Garden Key dock house to get a permit.
Boat permits are necessary for kayaks, dinghies, or any commercial boating purposes. They're not needed if you're just passing through the park. However, you must purchase one to recreate in Dry Tortugas. Depending on your boat, you can reach some incredible spots that aren't possible otherwise.
Camping
Have you ever wanted to camp on an island in the middle of the ocean? Here's your chance! Dry Tortugas National Park has eight primitive campsites available at Garden Key and an overflow area. Sites are $15 per night for individual sites and $30 per night for group sites.
This is an incredible opportunity to view some of the darkest skies, enjoy beautiful sunsets, and snorkel until your heart's content. These campsites are on a first-come, first-served basis. However, all campers are guaranteed a site once they arrive.
Snorkeling/Diving
Because only 1% of this national park is dry ground, snorkeling and diving are popular activities. The waters are home to an abundance of marine wildlife. However, as your parents told you as a kid, you can look, but don't touch them. The park's coral, reef fish, and artifacts are protected. Trust us; watch for fire coral, jellyfish, sea urchins, or lionfish. They'll ruin your day!
The park has ample snorkeling and diving opportunities for guests to enjoy. Whether you want to swim through a coral reef or a historic shipwreck, you'll find it here. So bring your snorkel and diving gear with you!
How Do You Get to Dry Tortugas National Park?
Dry Tortugas National Park, like many national parks, charges an entrance fee. The park is $15 per person, but those under 16 are exempt. In addition, those with the National Park America the Beautiful Pass can present their pass for free admission.
The National Park Service offers free entrance days throughout the year. These days typically coincide with holidays like Martin Luther King Jr. Day, Veterans Day, and the birthday of the National Park Service. Check the NPS free entrance day schedule for the most up-to-date list of free days.
The cost of visiting Dry Tortugas National Park is much more than the park entrance fee. There are a variety of other expenses you must consider. Camping on the island is inexpensive for lodging, but you can't forget to consider the costs of traveling there. Since it's only accessible via boat and seaplane, it can get expensive.
How Much Does It Cost to Visit Dry Tortugas National Park?
While many national park guests enjoy driving through the entrance station or going on a scenic drive through the park, you won't find that here. The only ways to access the park are via personal boat, charter services, or a ferry. Which is best for you will greatly depend on your unique situation.
There are charter services in the area for seaplanes and boats. As you can expect, it can be costly for these services. Depending on the length of the trip, you can expect to pay $200 to $700 per person for these services. However, they offer once-in-a-lifetime experiences that you'll never forget.
Another option for getting into the park is via a personal boat. However, as we stated earlier, this is a very remote area. You'll need to come with all of the necessary gear and equipment to last until you get back to shore. You don't want to find yourself without sufficient fuel or resources for your trip.
When Is the Best Time To Visit Dry Tortugas National Park?
Like the rest of Florida, the best time to visit Dry Tortugas National Park is between October and February. The temperatures are cooler, and families are in school, which generally means less sweating and fewer crowds.
Summers in this part of the country can be a miserable experience. The heat and humidity can make it challenging to enjoy your time, especially considering you must bring your own supplies. If you're a large family, you may need a truckload of water just to survive a single day.
Be Patient and Compassionate Until Dry Tortugas Reopens
Dry Tortugas National Park is one of the country's most unique and fascinating national parks. However, the park will remain closed until the officials can resolve the issue of hundreds of migrants landing on its shores. The closure won't last forever, and it will likely open again soon.
It's a circumstance that seems inconvenient, but only until you picture yourself in the shoes of those individuals who landed on the shores. Anyone with empathy and compassion will quickly see the solution to the situation isn't as clear as the waters at Dry Tortugas National Park.
Discover the Best Free Camping Across the USA
To be honest with you, we hate paying for camping. There are so many free campsites in America (with complete privacy).
You should give it a try!
As a matter of fact, these free campsites are yours. Every time you pay federal taxes, you're contributing to these lands.
Become a FREE CAMPING INSIDER and join the 100,000 campers that love to score the best site!
We'll send you the 50 Best Free Campsites in the USA (one per state). Access the list by submitting your email below: