RVs aren't always the best-made products. RVers are always fixing issues, from broken door handles to loose trim pieces.
However, there are a few companies that stand out from the rest for their well-built American-made RVs. Let's take a closer look at what makes these RV manufacturers the best!
Where Are RVs Made in the USA?
The vast majority of RVs are made in Elkhart, Ind. Many know this area as "The RV Capital of the World." That's due to the large number of manufacturers that have their facilities here.
Alliance RV, Forest River, Thor Motor Coach, Keystone, Newmar RV, East to West, Jayco, Winnebago, and Grand Design RV are just a few of the brands that have production facilities in Indiana.
How Many RV Manufacturers Are in the United States?
According to IBISWorld, a global company researching thousands of industries, there are currently 585 RV manufacturing businesses in America. Over the last 10 years, 2017 saw the highest number of American manufacturers, with 642. Forest River and Thor Industries lead the way in sales and family of brands. They're two of the largest manufacturers of recreational vehicles in the world.
Pro Tip: Looking to buy products from the USA? We uncovered Are American-Made Tires Superior?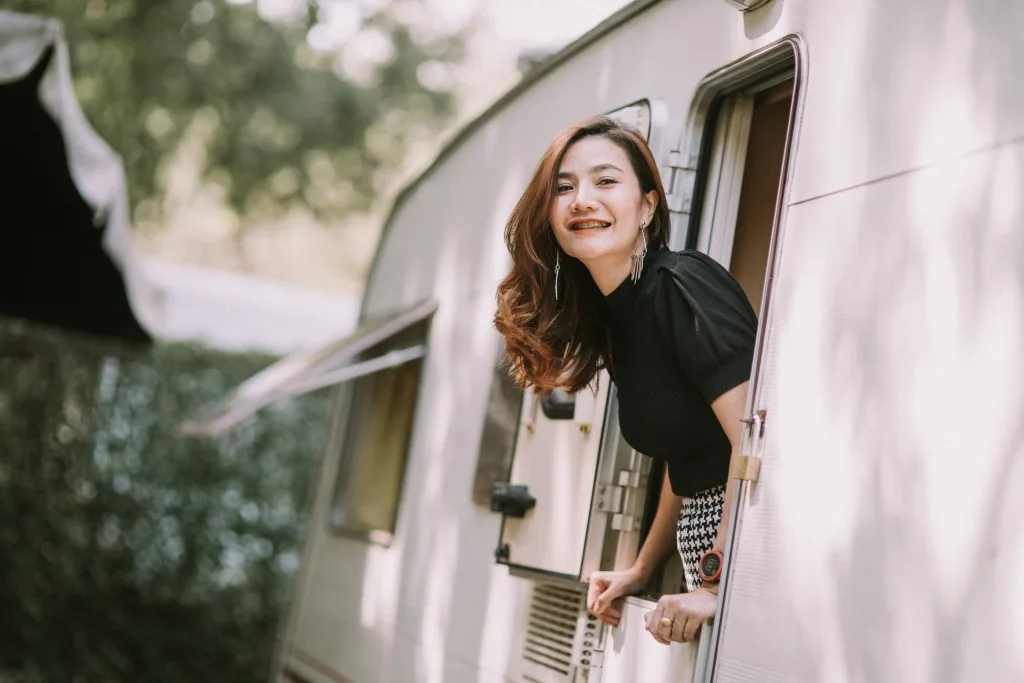 5 Well-Built (and American-Made) RVs
By the end of 2021, the total RV shipments for the year surpassed 600,000. Over 544,000 of those RVs were towable RVs. But with the increased wholesale shipments, there were concerns over the quality of the builds. However, these five American RV manufacturers are leading the way in top-quality products
1. Airstream Travel Trailers
About: Wally Byam started Airstream in 1931. He weathered the economic storm of WWII, and the company even outgrew its facility in Los Angeles by 1952. He bought another production plant in Jackson Center, Ohio, where Airstream continues its production today.
Airstreams have been handed down from generation to generation because of their top-quality design. Everything about these travel trailers is crafted by hand, from the walls to the furniture. As a result, these iconic silver bullet trailers retain their value longer than other travel trailers.
Features: The aerodynamic, low-profile shape leads to better fuel efficiency for towing vehicles. No slide-out rooms mean less maintenance and repair since there are no additional motors or seals. The flooring is Transcore, a waterproof composite that reduces the chance of mold, mildew, and water damage.
Models: There are nine different travel trailer models, each with a variety of floorplans. The REI Special Edition Basecamp is the smallest at 16 feet in length, while the Classic, Airstream's flagship model, is the largest at 33 feet. Pricing ranges from $46,000 for a Basecamp to over $188,000 for a Classic.
2. Newmar Motorhomes
About: Owned by Winnebago Industries, Newmar has been producing RVs since 1968. The company entered the Class A market during the 1980s. Newmar was the first company to create motorhomes with slide-outs and the first to offer full-body paint.
In 2012, Newmar stopped manufacturing fifth wheels to focus on developing the best Class A motorhomes possible. This renewed focus helped employees to craft each piece by hand and custom build each motor coach, producing top quality, luxurious homes on wheels.
Features: Like Airstreams, Newmar motorhomes stand the test of time. Each chassis is precision-welded to the STAR Foundation, a Newmar-engineered and assembled steel superstructure. Heated tile surfaces are available in luxury models, and high-quality adhesives prevent cracking and lifting of the flooring. Custom-made wood cabinetry is available in every motor coach and flush floor slide-outs.
Models: Newmar offers five "luxury" models that include the New Aire, which starts at $597,000, and the King Aire, which starts at over $1.6 million. The diesel motorhomes include the Dutch Star, Ventana, Kountry Star, and Canyon Star.
Two gas motorhomes are the Bay Star and Bay Star Sport, and two Super C motorhomes are the Super Star and Supreme Aire. Some coaches are over 45 feet long, and the Bay Star Sport is the shortest unit, around 27 feet. It's also the least expensive option, starting at $197,000.
3. Grand Design Fifth Wheels
About: Grand Design offers the most affordable lineup of well-built American-made RVs. They include travel trailers, fifth wheels, and toy haulers. President and CEO Don Clark explains that every one of Grand Design's units undergoes a 300+ point inspection before leaving the manufacturing plant.
In addition, all Grand Design towables are "extended stay" approved, which means they have residential appliances and amenities owners want in a home.
Features: Not only are the sidewalls framed with aluminum, but the rear wall, slide-out sidewalls, and slide-out roofs are also laminated. The fully enclosed and insulated underbelly means protection from the elements so owners can camp even in wintry conditions. Grand Design also builds ductless flooring to reduce dirt and debris from getting into the vents.
Models: The fifth wheel lineup includes the Reflection 150 Series, Reflection, and Solitude. The Momentum G-Class and Momentum toy haulers are also fifth wheels by Grand Design. The lightest units are the Reflection 150 series, designed to be half-ton towable.
The most luxurious line is the Solitude, which includes 15 different floor plans. Like most RV pricing, the Grand Design fifth wheel lineup varies tremendously based on size and amenities. A new Solitude can cost over $100,000, while a new Reflection can start around $66,000.
Pro Tip: Buying your first RV? Make sure you know these Don'ts of Buying an RV.
4. Oliver Travel Trailers
About: Perhaps one of the least-known companies on this list is Oliver. This company, based in Tennessee, has been specializing in fiberglass travel trailers directly sold from the factory since 2008. These trailers are tough and will perhaps outlive their owners because of their top-quality materials and craftsmanship.
Like an Airstream, you won't find slide-outs in an Oliver. But you'll still experience comfortable camping with all the amenities you need for a memorable experience.
Features: The doubled-hulled fiberglass shell prevents leaks and water damage, so owners can enjoy camping without worrying about repairs. The fully enclosed tanks, plumbing, ducts, and mechanical systems mean owners can camp year-round.
Each Oliver travel trailer has options and upgrades available for owners to make their camper a perfect fit for their needs. You can choose from decor options, lithium power packages, backup cameras, Wifi boosters, and more.
Models: Oliver makes the Legacy Elite and Legacy Elite II. The Legacy Elite is 18 feet 5 inches with a GVWR of 5,000 pounds, while the Legacy Elite II is 23'6" with a GVWR of 7,000 pounds. The standard floor plan includes a rear and side dinette that convert to sleeping spaces. These models also have a kitchen and full bathroom.
5. Tiffin Motorhomes
About: A family-operated business since 1972, Tiffin has been part of Bob Tiffin's family for generations. The company builds motor coaches and fifth wheels in Mississippi and Alabama. Due to the wide range of products, pricing can vary from $250,000 to over $700,000 for a Class A motorhome. In 2020, Tiffin joined the Thor Industries family of brands but still operates as an independent company.
Features: Tiffin is known for its PowerGlide chassis, which includes an independent front suspension working in tandem with a parallelogram rear suspension. Laser axle alignment ensures accurate alignment, while the air leveling system provides superior maneuverability.
Hand-crafted cabinetry, innovative multiplex wiring, energy-efficient lighting, and climate control technology all define the Tiffin motorhome construction.
Models: Tiffin makes seven Class As, one Class B, and three Class Cs. This motorized RV lineup ranges from the 19-foot 5-inch Cabana Class B to 45-foot Class A options. The Zephyr is the most luxurious Class A, outfitted with premium amenities like four flat-screen TVs, 7-foot ceilings, residential appliances, quartz countertops, and more.
On the other end, the Open Road Allegro and Tiffin's flagship motorhome are the most affordable options.
Are American-Made RVs Worth It?
When you have the option of purchasing from an American manufacturing company, we hope you do. These five companies offer quality construction and a wide range of products, such as travel trailers, fifth wheels, and motorhomes to fit the needs and budgets of all RVers.
So the next time you're looking for an RV, check out the towable and motorized options from Airstream, Newmar, Grand Design, Oliver, and Tiffin. You'll be surprised at the luxury and craftsmanship and travel in peace knowing a quality company has your back.
Is there a well-built American-made RV manufacturer that you would add to the list?
Discover the Best Free Camping Across the USA
To be honest with you, we hate paying for camping. There are so many free campsites in America (with complete privacy).
You should give it a try!
As a matter of fact, these free campsites are yours. Every time you pay federal taxes, you're contributing to these lands.
Become a FREE CAMPING INSIDER and join the 100,000 campers that love to score the best site!
We'll send you the 50 Best Free Campsites in the USA (one per state). Access the list by submitting your email below: