Scammers will look for any opportunity to take advantage of others, including those looking to buy an RV.
For example, Reddit user dappurmappur was worried that his in-laws were getting scammed out of $19,000 while trying to buy a used RV.
If you're in the market for a used RV or another vehicle, there are some essential things you need to know to avoid becoming a victim of an RV scam.
Let's dive in and look at this messy situation!
Are There RV Scams?
Buying an RV can be an exciting process. Unfortunately, RV scams can and do happen to many individuals. It's easy for someone to get caught up in the excitement and imagine their future RVing adventures.
If you don't ask the right questions or are too trusting, you could make a significant financial mistake that could derail those adventures and destroy your finances. Always proceed cautiously and use common sense when making any large financial transaction.
How Do RV Scams Work?
There are many different types of RV scams. However, they typically involve a few scenarios that take advantage of vulnerable, gullible, or more trusting individuals.
Scammers often attempt to convince a potential buyer to send money in advance, or they will be dishonest about the condition of an RV. Either way, the victim is ultimately the one getting the short end of the stick.
Some shoppers find a deal that seems too good to be true when shopping for an RV. Unfortunately, it's almost always a con if something sounds too good to be true.
Pro Tip: Avoid RV scams by knowing these things You Wish You Knew Before Buying an RV Camper.
What Are RV Scammer Red Flags to Watch For?
If you're shopping for an RV, there are some red flags you should watch for during the process. Being aware of these red flags can greatly reduce the chances of you getting scammed.
You're Required to Send a Deposit Sight Unseen
Walk away from any listing that asks you to pay a deposit before seeing a rig. This is a major red flag for any RV transaction. Unfortunately, if you've yet to see the unit, it may not even exist. Even if they're sending you pictures of the unit, they could have easily swiped pictures off the Internet from an actual listing.
The only time you should pay a deposit on an RV is once you have seen it and met the seller. It may take a few days to secure financing, and paying a deposit helps the seller know you're serious. However, you should never pay a deposit or send money without seeing the RV and meeting the seller in person.
You're Contacted Out of the Blue
You should consider it a red flag if someone contacts you regarding an RV listing for sale. This is especially true if it's an online interaction. They could have found a post where you indicated you were shopping for an RV and saw the opportunity to scam you.
It doesn't matter what sob story they tell you or how good of a deal it is, don't buy into the con. They're likely trying to test the waters and see if they can get you to take the bait. They will say and do whatever they can to earn your trust to the point where you'll send them money.
You're Asked to Send Money via Wire Transfer
Wiring money is one of the easiest ways to transfer a large sum of money from one individual to another as quickly as possible. However, scammers often use this method after convincing victims that they need to send money. Unfortunately, recovering money sent via this method can be nearly impossible.
A wire transfer can be an acceptable way to pay for an RV during a private sale. However, you should only send the money when taking possession of the rig. If not, you could arrive at the pick-up location and discover that the RV and your money are both long gone.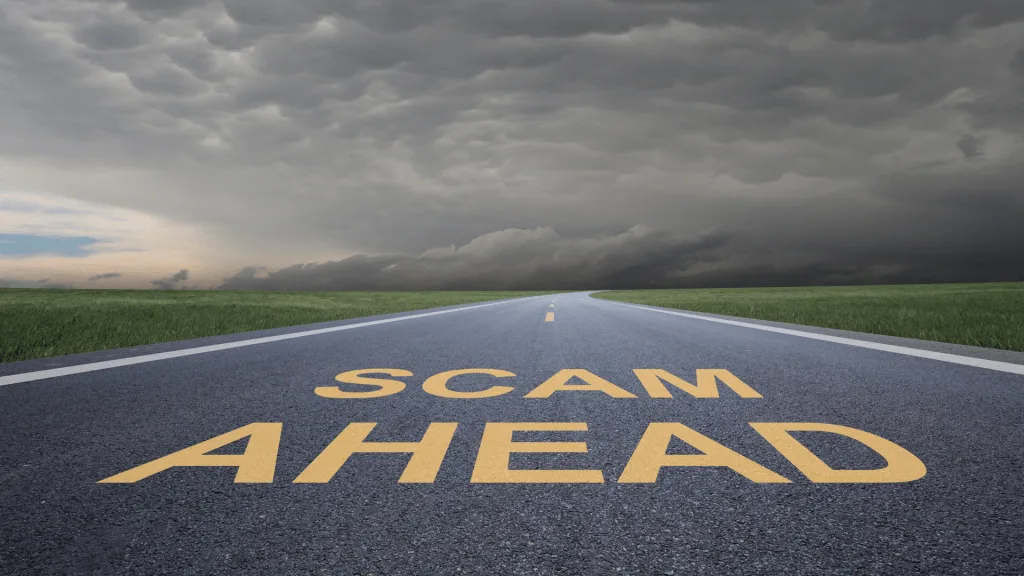 You're Required to Give Personal Financial Information
A seller does not need your Social Security number, bank information, or your mother's maiden name. It should be a serious red flag if they ask too many personal questions, especially regarding your finances. Since you'll be giving them money, they should provide you with the necessary financial information to initiate the exchange of funds.
If the seller has a lien on the RV they're selling, have your bank work with their bank. Your bank will likely send the total pay-off amount to the bank the seller used to finance the purchase. Once the loan is paid in full, they'll send the remaining balance to the seller.
This helps ensure the funds get used to repay the loan and that the seller doesn't bet it all on red in a quick trip to the casino. Once they've paid off the loan, how they choose to spend any excess funds is entirely up to them.
The Address or Email of the Seller Don't Line Up
It's a red flag if you notice inconsistencies with names, addresses, and emails. Scammers often use fake names and are constantly changing their stories. It's often challenging for them to keep their stories straight as they're likely navigating multiple targets simultaneously.
One popular scam for RVs is telling the buyer that the RV is out of state, which means it's too far to see in person. They'll use a fake address for the listing and provide a detailed story about why it's not currently there. Don't fall for their story and run away from these encounters.
The Seller Refuses to Get on a Phone Call With You
You should have multiple conversations with the seller over the phone or in person. It's a major red flag if the seller refuses to get on the phone or meet you in person. They're likely trying to pull one over on you. You should run away from the deal.
In addition, the seller should be willing to answer any questions you have about the RV. If you feel you're not getting clear answers or they're not being transparent, back out of the deal. You're making a significant financial decision, and the seller should understand that you will have a few dozen questions.
Pro Tip: Make sure you know these 11 RV Buying Tips You MUST Know if you're a first-time buyer.
What Can You Do If You're Scammed?
If you think you're the victim of a scam, you should call to report it to your local law enforcement. Provide them with the evidence you have for the situation, including records of conversations, contact information, and anything that might help catch the scammers.
Unfortunately, far too many frauds get away with their dirty deeds. In some instances, law enforcement may not be able to catch the scammers or recover any monies paid to them. This is why you must do your due diligence in confirming you or any of your loved ones are not walking into a scam.
How Can You Prevent Family Members from Getting Scammed Into an RV Purchase?
The best way to help prevent family members from getting conned during an RV purchase is to educate them. Share this article with them so they know the red flags they should look for during the process.
If your family members don't mind, participate in the process. Scammers typically want to limit the number of people involved to make it as easy as possible to scam someone. Having an extra set of eyes and ears during the process can be highly beneficial.
Are There Scams on RVTrader?
RVTrader is one of the best sources for shopping for a used RV. Sellers must pay a fee for each RV listing they create. Depending on the package, prices range from $69 to $249. Because scammers want to make money while spending as little as possible, this drastically reduces the amount of fake or misleading listings on the website.
However, this doesn't mean that scammers aren't on RVTrader. Some will be willing to spend a little bit of money to make a lot more because of the listing. Even if you're shopping on RVTrader, you should still be on the lookout for any of the red flags we've discussed.
How Can You Stay on Top of Current RV Scams?
The best way to stay on top of current RV scams is to join some of the many large groups on Facebook and other social media platforms.
The RV community is incredible and looks out for one another. As a result, they're constantly sharing their sketchy stories and encounters they have, especially when it comes to scams. This can help you be aware of any potentially new cons or methods scammers use to target the RV community.
Discover the Best Free Camping Across the USA
To be honest with you, we hate paying for camping. There are so many free campsites in America (with complete privacy).
You should give it a try!
As a matter of fact, these free campsites are yours. Every time you pay federal taxes, you're contributing to these lands.
Become a FREE CAMPING INSIDER and join the 100,000 campers that love to score the best site!
We'll send you the 50 Best Free Campsites in the USA (one per state). Access the list by submitting your email below: