There's a place in North Carolina where modern forestry began, secret tunnels hide, and over 100 locations are on the National Register of Historic Places. It's a city where about 40 breweries welcome residents and visitors alike.
Have you figured it out yet?
It's Asheville, NC. This mountain city seems to have it all, but there are reasons to avoid hitting the Blue Ridge Parkway or I-40. Let's dive in!
Where Is Asheville, North Carolina?
Sitting right off I-40 in western North Carolina, Asheville is one of the most popular tourist destinations in the Tarheel State. Easily accessible by I-26, Asheville is nestled in the Blue Ridge Mountains about 70 minutes west of Hickory and two hours northwest of Charlotte.
If traveling by plane, the Asheville Regional Airport is about 20 minutes from downtown.
What Is Asheville Known for?
Many people know Asheville as a quirky city in the Appalachian Mountains, where the thriving art scene lures visitors year after year. Even local North Carolinians enjoy the drive to this beautiful city. They can take in the architecture, art galleries, and live music events throughout the year. There are also plenty of outdoor recreational opportunities, from skiing in the winter to river tubing in the summer. Visitors enjoy hiking and biking all year long.
One of the most popular attractions in Asheville, NC, is the majestic Biltmore Estate. The owners arranged the construction of the house in the late-1800s. Biltmore Estate was the home of George and Edith Vanderbilt. Famous for its title as America's Largest Home, the Biltmore Estate has 35 bedrooms, 65 fireplaces, an indoor pool, a bowling alley, and more within its 175,000 square feet.
Do You Need a Car to Visit Asheville?
If you plan on visiting the Biltmore Estate or hitting the trails in the mountains, you'll probably want a car. There is limited public transportation in Asheville, making driving almost a necessity. However, there are alternatives like Uber to get you from place to place.
But if you want to stay in Asheville's downtown area, you won't need a car. You'll find everything you want, from museums and restaurants to breweries and shopping, as you journey on foot.
Pro Tip: After visiting Asheville, check out these 7 Amazing Waterfalls in North Carolina.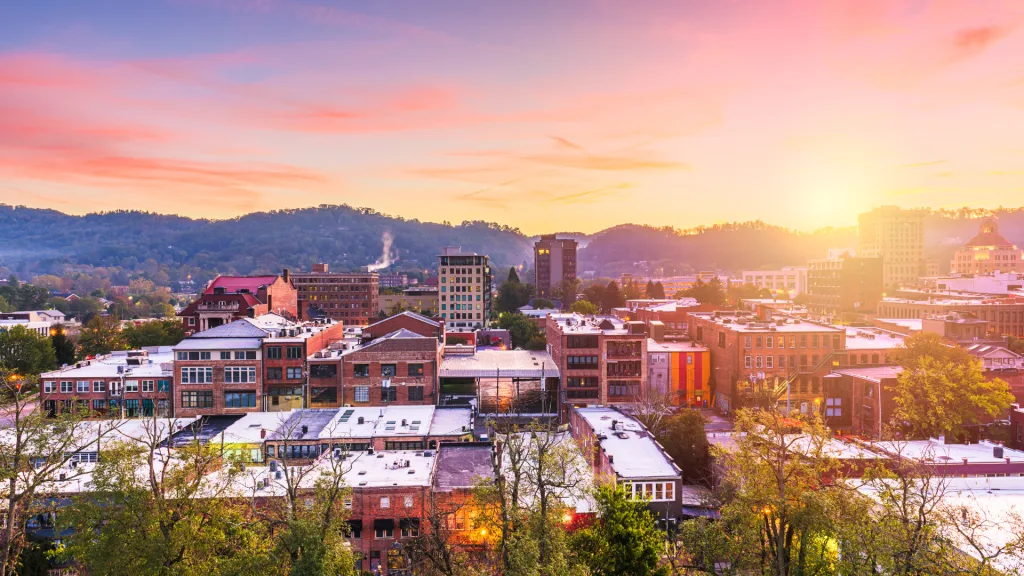 5 Reasons to Avoid Asheville, NC
Even though there are reasons people love to travel to this mountain city in western North Carolina, there are five reasons you might want to reconsider your travel plans to Asheville.
It has a unique and eclectic culture which may not be appealing to everyone who visits.
1. The Traffic
First, because public transportation is limited, traffic is awful. If you want to take the bus, your commute may take twice as long as driving yourself.
So while Asheville seems to be a city striving for environmental friendliness, its public transportation does not reflect a sustainable mindset. In addition, I-26 and I-40 near Asheville have lanes busy with construction. It's a massive headache to drive into Asheville from outside the city.
2. The Homelessness
Homelessness isn't unique to Asheville, NC. However, it seems above average because Asheville is much smaller than larger, more expansive cities. After dark, you'll find high congregations of unhoused people in local parks and under bridges.
3. The Cost
Owning a home in Asheville isn't like owning a home in other parts of the state. It can be pretty expensive. The high cost of living in Asheville also affects tourists because local prices at restaurants, grocery stores, attractions, and other places tourists visit will also be high.
The eclectic atmosphere of this mountain town means the area seems to have adopted an appetite for expensive things.
4. The Tourists
Although 469,000 people call Asheville "home," 11 million tourists visit the city yearly. This is a significant part of Asheville's economy, but it adds to the problems with heavy traffic and crowds.
If you tour the Biltmore Estate, you'll share the experience with hundreds of others. If you want to visit a popular microbrewery, you must prepare for a wait much of the time.
5. It's Just Weird
Finally, there's a vibe to Asheville that may not appeal to everyone. The phrase "Keep Asheville Weird" has been a famous slogan for years, invoking a hippie-era vibe.
However, some weirdness can be surprising. At any point during your stay, it's possible that you might see a topless woman protesting or a man high on drugs. While this culture appeals to many, it isn't comfortable for others.
Pro Tip: You'll love spending the night at these 7 Best Free Campsites Along Interstate 40 (from North Carolina to California)
Is a Visit to Asheville, NC Worth It?
If you're into microbreweries, local farm-to-table foods, and eclectic art and culture, Asheville, NC, may be the best city for your travels. However, if you want to escape the crowds, avoid hectic traffic, and have an affordable family vacation, you may want to choose another destination.
Is a visit to Asheville, NC, worth it to you?
Discover the Best Free Camping Across the USA
To be honest with you, we hate paying for camping. There are so many free campsites in America (with complete privacy).
You should give it a try!
As a matter of fact, these free campsites are yours. Every time you pay federal taxes, you're contributing to these lands.
Become a FREE CAMPING INSIDER and join the 100,000 campers that love to score the best site!
We'll send you the 50 Best Free Campsites in the USA (one per state). Access the list by submitting your email below: