As a rugged wilderness area, Yosemite National Park sees a number of deaths every year.
The scenic views, granite cliffs, and giant sequoias are a big draw for visitors. But is the park actually unsafe?
Today we're looking into how frequently these deaths occur, what causes them, and what you can do to keep yourself safe.
Let's get into it!
The Scoop on Yosemite National Park
Yosemite National Park is one of the most beloved attractions in North America. It spans over 1,200 miles of the Sierra Nevada mountain range in central California and features breathtaking scenery at every turn.
Millions of visitors flock to Yosemite every year. Many go for extraordinary recreational opportunities, while others go for the striking scenery. The park is open year-round and offers different options for adventurers depending on the season. Camping, hiking, and climbing happen most of the year, while winter is prime time for snowshoeing and cross-country skiing.
Popular features at the park include El Capitan, Half Dome, and dozens of waterfalls. You can explore three ancient giant sequoia groves boasting hundreds of trees. Yosemite is also home to lots of wildlife.
Pro Tip: Spend the night at one of these 11 Free Yosemite Camping Spots You'll Love.
How Many Deaths Have Occurred in Yosemite National Park?
Despite its stunning beauty, Yosemite can be dangerous.
Since 1851, people have reported over 1,500 deaths within its borders. Between 2014 and 2019, they averaged 16-17 fatalities every year. Amongst all national parks, slip-and-fall deaths rank third after drownings and car crashes. But they're the leading cause of death in Yosemite. This is due to an abundance of cliffs that drop thousands of feet.
While the wildlife in the area can be dangerous, deaths are rare. And there's no report of bears ever killing a visitor.
Does Yosemite National Park Have the Highest Death Rate?
As in any massive wilderness area, Yosemite has its risks. But the numbers show that it's much safer than many other NPS sites. In fact, when you account for the vast number of visitors, it barely ranks in the top ten most dangerous national parks.
Using data gathered from 2010 to 2020, the top three most deadly national parks are Denali, the Virgin Islands, and Big Bend. These destinations saw rates of 9.8, 6.0, and 5.8 deaths per million visitors, respectively.
Yosemite experienced a rate of only 3.1 deaths per million visitors, coming in at number nine on the list.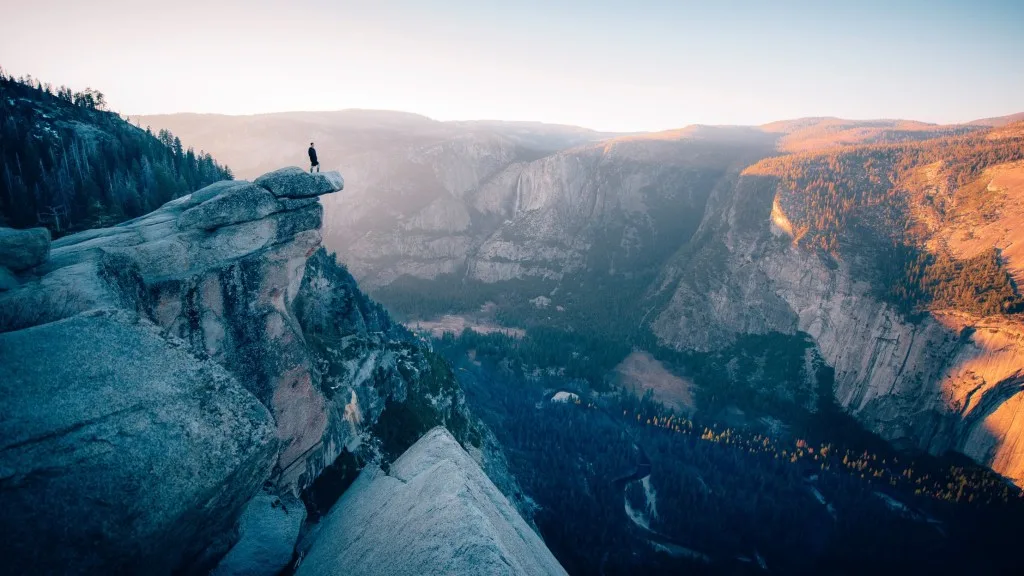 Safety Tips for Visiting Yosemite National Park
Accidents happen, but you can lower your risk by being aware of your surroundings and using common sense. Below are suggestions from the National Park Service for how to stay safe during your time in Yosemite.
Stay On Trails Away From Ledges
Falls are the leading cause of death in Yosemite. The rugged granite mountains in the park are thousands of feet high and feature sheer drop-offs. The closer you get to the edge, the greater the chance a minor misstep could result in tragedy.
Trekking off course not only increases the chances of getting lost or injured, but it also promotes erosion. The staff marks trails with clear signage, and it's essential to stick to them. That's for the well-being of both visitors and wildlife.
Keep Your Distance From Wildlife
Spotting the wildlife around Yosemite is one of the perks of the park. But it's crucial to keep a safe distance. Never approach or feed wild animals.
Animal attacks are rare but do happen. It's usually because humans don't respect the animal's space, which makes them feel threatened.
Remember that all animals are unpredictable. If an animal approaches you, you must back away and give the animal room. The exception to this rule is with bears. If you encounter one, you should immediately attempt to scare it away.
Choose Swimming Areas Wisely
Snowmelt in spring and summer causes surprisingly powerful currents, especially in the Merced River. The NPS suggests only swimming during times of low water flow. Never swim or wade upstream of a waterfall and avoid whitewater areas.
Temperatures are typically low, so there's a risk of hypothermia. But if you choose to cross a river without a bridge, carefully consider each step you take and where you might land if you fall. And avoid rock hopping, as rocks in the water tend to be incredibly slippery.
Avoid Areas with Rockfalls
Deaths from rockfalls are rare but unavoidable in places like Yosemite. While the park closely monitors all rockfall activity in the area, it's impossible to predict where one might occur unless it's already an area of loose sediment.
But you can still protect yourself by avoiding areas directly under steep cliffs and paying attention to any relevant signage. If you see any falling rocks, assume there are more on the way.
Store Food Properly
Proper food storage is crucial in Yosemite, home to hundreds of American black bears. These creatures are intelligent, curious, and always looking for their next meal. When they have access to human foods, they often lose their fear of humans. Bears that are bold enough to approach people often have to be euthanized.
Food lockers are available– and required– at every campsite and housing area in the park. You can leave food out of sight in a locked car with the windows up, but only during the day. If you're in a cabin or hotel room, lock the doors and windows.
It isn't just "food" that you need to secure appropriately. You need to lock away all canned goods, sealed drinks, trash, cosmetics, and toiletries, so bears don't sniff them out.

Pro Tip: No RV? No problem! We uncovered Can You Car Camp At Yosemite National Park?
Is Visiting Yosemite National Park Worth the Risk?
All good adventures come with an element of risk. It's important to remember that the everyday safeguards we take for granted aren't in the wild. As a park visitor, you're responsible for your safety. So learn what you need to do to prepare before you hit the road.
Still, the actual risk of death in Yosemite is minimal. Most that occur in the park are a result of human error. So, as long as you follow the safety guidelines, there's no reason to miss out on one of the most beautiful destinations in North America.
Discover the Best Free Camping Across the USA
To be honest with you, we hate paying for camping. There are so many free campsites in America (with complete privacy).
You should give it a try!
As a matter of fact, these free campsites are yours. Every time you pay federal taxes, you're contributing to these lands.
Become a FREE CAMPING INSIDER and join the 100,000 campers who love to score the best site!
We'll send you the 50 Best Free Campsites in the USA (one per state). Access the list by submitting your email below: