For decades, Speedco has been the lube and tire shop of choice for many RVers. Their wide range of services and products is helpful for folks who camp and travel. Their location often can provide the kind of maintenance other shops don't offer.
But after a 2017 buyout, the company has undergone several changes. And some of these have a major impact on their RV customers.
Will Speedco still help with your vehicle's maintenance and upkeep?
Let's dig in and find out.
What Is Speedco?
Speedco was founded in 1991 by Jeff Clark, Mark Clark, and Jim Dudley. The three men hoped to provide commercial drivers with the same quick lube and tune service available to auto drivers. The first location in Effingham, Illinois, was called Speedy Truck Lube. A second location opened soon after in Troy, Illinois.
As the business grew and forged partnerships with other companies, it was renamed Speedco. They also began offering tire service. This helped them find rapid growth. Within the first decade, the small shop with two locations soon grew to 32, then to 51.
Today their locations still offer tire and lube work and can handle state inspections, flat repairs, and oil analysis. Customers can also purchase tires and batteries onsite.
The company served its five millionth customer in 2011 at its original Effingham, Illinois, location. Speedco celebrated its 25th birthday in 2016.
Who Owns Speedco?
As Speedco grew, it underwent ownership changes. Love's Travel Stops & Country Stores bought the brand from Bridgestone Americas in November 2017. The sale was announced in September of the same year. The deal allowed Love's to expand their tire care offerings.
Founder Tom Love explained that the transaction combined the "top two brands in the diesel service industry." The deal was a big win for Love's: adding 52 Speedco locations increased the number of Love's-owned tire and lube shops to over 320. The two brands now offer the same tire brands and levels of care.
Tom Love started his company in 1964. Today the popular truck stop with its familiar yellow signs has more than 440 locations in over 40 states. They cater to both motorists and commercial drivers. Customers can purchase gas, food and drink, and even showers. Commercial drivers have access to CAT scales and other professional services.
Pro Tip: Need RV maintenance done? We took a closer look to uncover Do Traditional Mechanic Shops Work on RVs?
What Services Do They Offer?
Speedco has offered services to commercial drivers for decades. The company provides products and assistance for motorists, commercial drivers, and travelers. Standard tasks like air filters, oil changes, and fluid checks are readily available. But despite being known for their lube and tire services, that's not all they offer.
You can also get comprehensive roadside assistance. Drivers with flat tires, dead batteries, and other problems can reach a hotline 24 hours a day, seven days a week. Every location also offers light mechanical work for problematic vehicles. Technicians can work on ACs, suspension systems, brakes, batteries, and more.
Their locations also provide some more specialized services. They perform warranty repairs at every site except for those in Texas and Louisiana. For International Class six through eight trucks, the company guarantees repair times of three hours or fewer. They also retread tires, which allows commercial drivers to save money while prolonging their tires' lifespan.
Even at the executive level, Speedco looks out for its customers! Drives can opt into their TirePass program to access unlimited tire care as needed.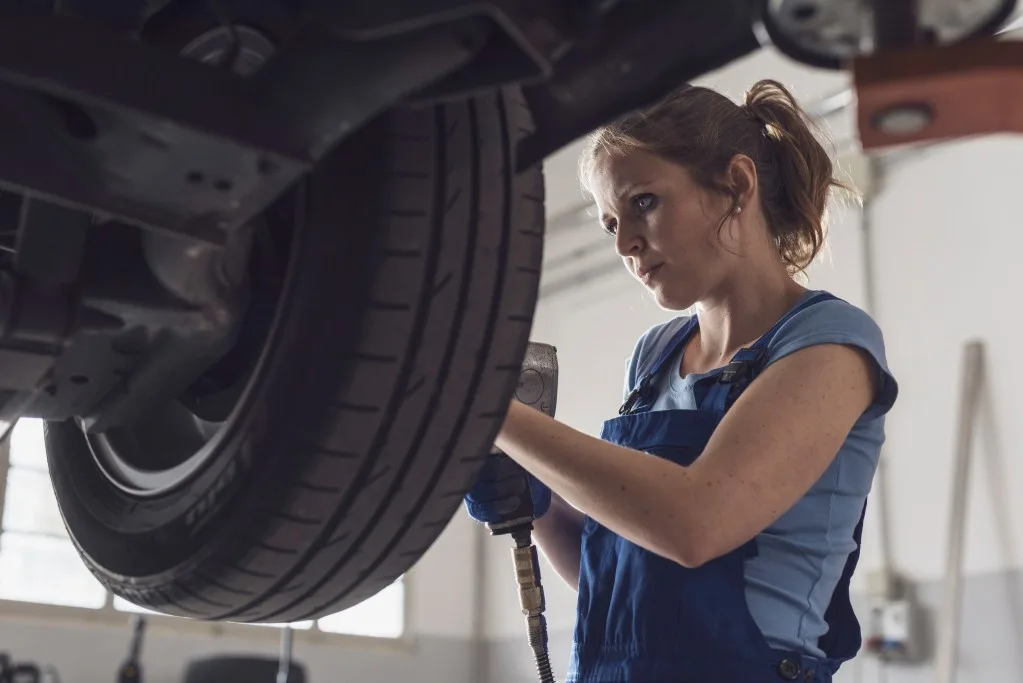 Does Speedco Provide Training for Diesel Technicians?
Speedco clearly cares for its customers at every level. But this business is interested in more than just customer service. The company also prides itself on educating and vetting staff members and mechanics.
Auto technicians who want to expand their skill sets can enroll in Love's Truck Care Academy in Amarillo, Texas. The academy offers an accelerated program that allows employees to graduate in five weeks. Diagnostics, troubleshooting, and repair skills are the main focus.
After graduation, all students receive job placement at a Speedco or Love's Truck Care location. Students also graduate as level five diesel technicians. The company even provides each graduate with a $3,500.00 tool set!
In addition to the Truck Care Academy, the business offers a mechanic apprenticeship program. Apprentices earn the designation of basic diesel technician. This training is valuable: entry-level diesel technicians typically make at least $22 per hour.
Pro Tip: Need RV mechanic help quick? Find out Should You Avoid Mobile RV Repair?
Will Speedco Work on Your RV?
By all accounts, Speedco is an excellent asset for professional drivers. But after their buyout, they've suffered in one crucial area: RV maintenance.
Although they once offered a wide range of services to RVers, this has gone by the wayside. A long-standing page on their website dedicated to RVs was taken down in 2020. Some locations still work on these vehicles, while others don't. It's a toss-up–and now it's up to the customer to find a store that can accommodate an RV.
Because they cater to commercial vehicles, parts are another issue. For example, some locations may offer oil changes but not have the right oil filter in stock. One silver lining is that the company no longer charges its pre-existing surcharge for RV work. But depending on your needs, Speedco may be unable to work on your vehicle, period.
Do Your Research Before Stopping for Maintenance
Speedco is a competitive company transforming life on the road for commercial drivers. By all accounts, their buyout by Love's has only improved their offerings. Unfortunately, the same hasn't held true for RVers.
Truckers and RVers have similar needs in many ways. But Speedco's customer focus has shifted. If you need maintenance on the road, call ahead to ensure the nearest shop can accommodate your vehicle. You may have to find a different business to handle your services.
Discover the Best Free Camping Across the USA
To be honest with you, we hate paying for camping. There are so many free campsites in America (with complete privacy).
You should give it a try!
As a matter of fact, these free campsites are yours. Every time you pay federal taxes, you're contributing to these lands.
Become a FREE CAMPING INSIDER and join the 100,000 campers who love to score the best site!
We'll send you the 50 Best Free Campsites in the USA (one per state). Access the list by submitting your email below: