One of the most famous songs of all time references a dark desert highway. The Eagles made rock and roll history when they released Hotel California in the late 1970s. Intrigued by its cryptic lyrics, fans speculated about Hotel California's meaning for decades.
The band debunked most of those theories. But many wondered if the Hotel California was a real place. And where the dark desert highway existed.
Join us as we discover the inspiration for this classic song.
Let's go!
Was Hotel California a Real Place?
When Hotel California came out in 1976, listeners were captivated by its mysterious story. Dozens of fan theories circulated about its meaning and the titular hotel. But despite painting a strong picture, Hotel California was never a real place.
After driving down a "dark desert highway," the song's narrator stops at a strange hotel for the night. There, he meets a woman who guides him through a series of surreal experiences. Eventually, the narrator realizes he's trapped; he can "check out anytime," but he can't leave.
In his 2007 appearance on 60 Minutes, Eagles drummer and vocalist Don Henley explained the song. The hotel wasn't a real place but a metaphor "about the dark underbelly of the American Dream." Don Felder, who co-wrote the song with Henley and Glenn Frey, gave a similar explanation: the song is about experiencing the glitz and excess of California for the first time.
However, not everything in this track is a metaphor. Remember that dark desert highway? It's not mentioned by name in the song, but it's a real road in California.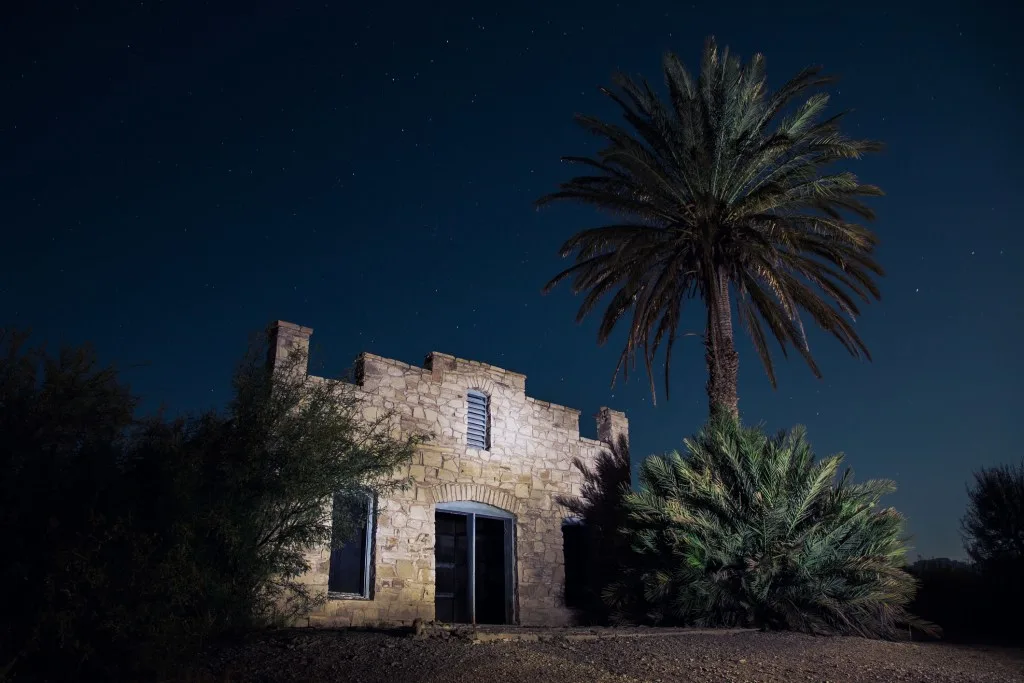 California's Dark Desert Highway
Yes, the dark desert highway in Hotel California is real. The lyrics refer to State Route 62, or Twentynine Palms Highway, as many Californians know it. The road is just over 150 miles long and runs east to west from Whitewater, California, to the Arizona state line.
As a side note, we've driven the highway multiple times, both night and day. It's a peaceful, easy drive with smooth, subtle hills and valleys.
SR 62 borders several notable locations in California. Joshua Tree National Park runs along the south side of the road, while the Mojave Trails National Monument sits to the north. The California Aqueduct is parallel to the eastern portion of SR 62. It serves as a convenient route to resorts near the Colorado River.
Twentynine Palms Highway contains a 100-mile stretch with zero fuel stops or other services. This portion of the highway is so remote that warning signs encourage drivers to stay cautious. It's widely known as one of California's most desolate roads. SR 62's eerie, deserted location makes it the perfect setting for Hotel California.
How Dark Is the Dark Desert Highway?
The Twentynine Palms Highway is very remote. Thanks to the lack of artificial lights in this region, it's also extremely dark at nighttime. So much so that nearby Joshua Tree National Park was declared an International Dark Sky (IDS) Park by the International Dark Sky Association. This organization protects certain parks, nature preserves, and natural areas from light pollution.
Thanks to its IDS designation, Joshua Tree is one of the best places in the U.S. for stargazing. Each year the park co-hosts the Night Sky Festival at the Sky's The Limit Observatory, a nature center just outside park limits. The event features stargazing, park ranger talks, and kids' activities. In addition, guest lecturers give presentations on topics such as weather, space, and travel.
But you don't have to attend the Night Sky Festival to enjoy the view. Any visitor to Joshua Tree National Park can experience the breathtaking night sky.
Stargazers are encouraged to wear layers and bring portable chairs, water, and food. The park also has a red light policy to help visitors adjust to the darkness for optimal star viewing.
Best Hikes Near Twentynine Palms Highway
SR 62 is much more than a dark desert highway. It's the place where many people get to see the Milky Way for the first time. This magical stretch of road also leads to tons of other great outdoor activities.
Check out some of the best hikes near this scenic road.
Fortynine Palms Oasis Trail
The Fortynine Palms Oasis Trail sits within Joshua Tree National Park. It's three miles out and back. Most hikers take about 1.5 hours to finish this hike. AllTrails describes its difficulty level as moderately challenging.
This trail boasts gorgeous views of mountains, rock formations, and, of course, majestic palms. You'll also find dozens of species of cacti and succulents. It's a popular path, so expect to see other folks on your journey. Unfortunately, dogs aren't allowed here, so leave your four-legged friends at home.
Indian Cove Nature Trail
The Indian Cove Nature Trail is a short but scenic loop inside Joshua Tree National Park. Just over one-half mile from start to finish, it's an easy hike. The terrain is flat and occasionally rocky.
This path is perfect for anyone who wants a close-up view of desert plants and vegetation. Hikers report sightings of lizards and other wildlife on this route. The Indian Cove Nature Trail is another busy area where you'll probably encounter other hikers. And like the Fortynine Palms Oasis Trail, it's not dog-friendly.
Best Camping Near Twentynine Palms Highway
After adjusting to the dark desert highway, you may not want to return right away to the city lights. Fortunately, several great places are available to stay in this area and experience intense stargazing all night long.
Let's look at a couple of the most popular campgrounds near the Twentynine Palms Highway.
Indian Cove Campground
Indian Cove Campground is a campsite within Joshua Tree National Park. Tent and RV campers are welcome in this area. With 101 individual sites, there's ample room available. However, be prepared to dry camp because there aren't any hookups here. And also no onsite WiFi service.
Indian Cove's gravel campsites accommodate RVs up to 32 feet long. Each site has its own fire ring and picnic table. Restrooms, water, recycling, and trash cans are also available. Reservations start around $25 per night.
Joshua Tree RV and Campground
If you're looking for a campsite with a few more amenities, check out Joshua Tree RV and Campground. It's only ten minutes from the park's entrance and offers all the comforts of home. Full and partial hookups are available, as well as WiFi. You can also take advantage of the laundry facilities or community barbecue area.
Another benefit of staying at Joshua Tree RV and Campground is access to restaurants and shopping. You can try any of Joshua Tree's tasty eateries or explore ceramics studios and vintage shops. Campsites at this park start around $30 per night.
The Dark Desert Highway, Such a Lovely Place
While the Hotel California may not exist, the Eagles sure made it feel real. The song captured the strange allure and magic of California. The desert landscape along the Twentynine Palms Highway is part of that magic. The bright stars, dark sky, and vibrant wildlife in this region can't be found anywhere else.
The narrator in Hotel California discovered he was trapped and unable to leave. But thanks to the beauty of the Mojave Desert, visitors to the dark desert highway might never want to leave!
Discover the Best Free Camping Across the USA
To be honest with you, we hate paying for camping. There are so many free campsites in America (with complete privacy).
You should give it a try!
As a matter of fact, these free campsites are yours. Every time you pay federal taxes, you're contributing to these lands.
Become a FREE CAMPING INSIDER and join the 100,000 campers who love to score the best site!
We'll send you the 50 Best Free Campsites in the USA (one per state). Access the list by submitting your email below: