Dually trucks are the most powerful pickups money can buy.
They offer unbelievable towing capacity, but they also maneuver beautifully on the road for everyday driving. But how can you know which one has the right features for you?
Today, we'll compare five of the most popular dually trucks to help you know which one might meet your needs.
Let's jump in!
About Dually Trucks
If you need a pickup that can tow a fifth wheel or a boat with ease, a dually truck might be precisely what you're looking for. These rigs have two rear tires on each side of the bed for maximum stability. They often have the most powerful engines available.
Brakes, shocks, and springs are typically upgraded on these pickups, and robust rear axles allow them to take on more than any other class on the market.
These machines are built for heavy-duty performance. Most can haul 2,000 pounds in the bed, and some can tow as much as 40,000 pounds.
You can find a lot of variation amongst the top contenders. Some models are for pure performance, while others have extra bells and whistles for ultimate comfort. We've highlighted five of the best dually trucks on the market so you can compare your options.
Pro Tip: Want to buy a used truck? Find out What's the Best Used Truck to Buy?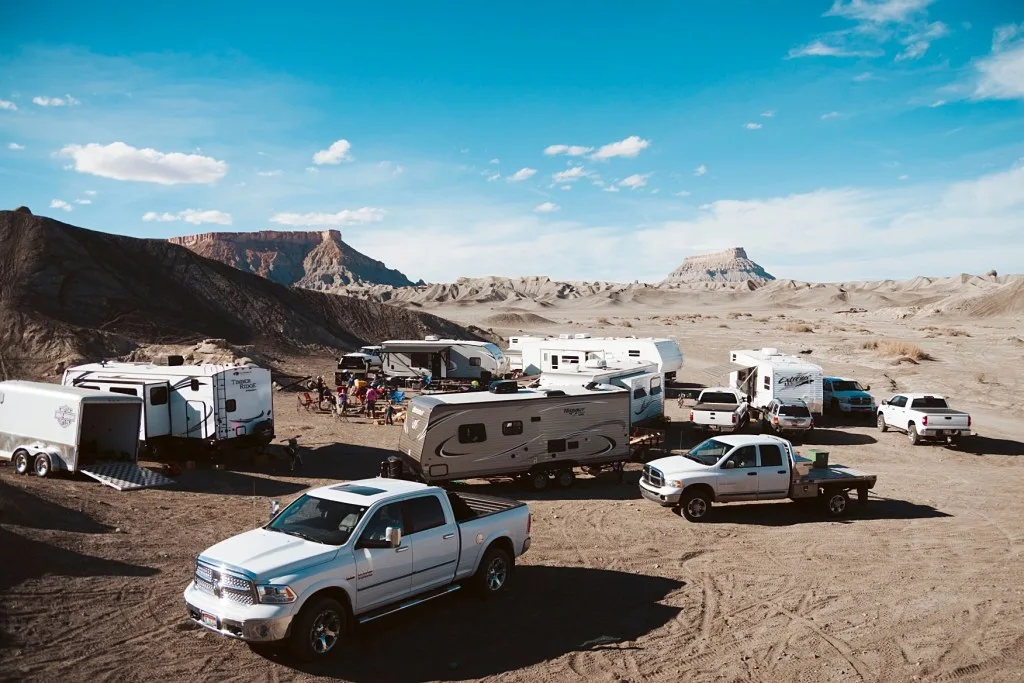 #1 Ford F450 Super Duty
The Ford F450 Super Duty is the ultimate workhorse.
They offer several options for the engine, but the improved 6.7-liter Power Stroke diesel boasts 1,200 pounds of torque and 500 horsepower.
This beautiful machine can haul more than any other truck in history, with a whopping tow capacity of 40,000 pounds on a gooseneck trailer or 35,000 pounds with a fifth wheel. It has a conventional tow capacity of 30,000 pounds.
Ford Super Duty chief program engineer, Andrew Kernahan, said they built it with workmen in mind and that their goal is to "make the customers' work feel easy." We think Ford nailed it with this one.
The Pro Trailer Hitch Assist feature makes hooking up easier than ever. This dually also has optional Onboard Scales, so you'll know exactly how much weight you're hauling.
#2 GMC Sierra 3500HD
The GMC Sierra 3500HD combines impressive hauling power with creature comforts to make your ride more enjoyable.
The 6.6-liter V8 engine will get you 400 horsepower and 465 pound-feet of torque. With this engine, you can tow up to 18,500 pounds.
The 6.6-liter V8 turbodiesel engine offers 445 horses and 900 pound-feet of torque power if you need a higher towing capacity. With the ten-speed automatic transmission, you can pull 35,000 pounds.
With the Denali trim level, you'll get a redesigned cockpit with touchscreen controls and heated seats, and a trailer maintenance system that makes hitching and hauling a breeze.
Overall, the Sierra 3500HD lacks some luxury features of other dually trucks on the market. But for practical purposes, this pickup fits the bill.
#3 Ram 3500HD
The Ram 3500HD was voted Truck of the Year in 2020. And it has only gotten better in recent years. The new Allison transmission and improved air suspension offer a supremely smooth ride. Even the base levels offer premium interiors. Many agree that, among class leaders, Ram offers the most comfortable cab.
Optional technology packages and premium features make the upper trim levels worth it if you want to take convenience and comfort to the next level.
The standard 6.4-liter HEMI V8 gas engine offers 410 horsepower and 429 pound-feet of torque. The powerful turbodiesel engine upgrade boasts 420 horsepower and a staggering 1,075 pound-feet of torque. This beast can haul 37,090 pounds and has a payload capacity of 7,680 pounds.
Pro Tip: Before investing in a RAM truck, uncover Are Ram Trucks Reliable?
#4 Ford F350 Super Duty
The Ford F350 Super Duty has a lot of convenient features. Multiple steps make it easy to get in and out of the bed. Standard tech features like touchscreens and 5G internet make this powerhouse more functional than ever.
The Pro Power Onboard generator produces 2.0 kilowatts of electricity. Outlets in the cab and the bed let you plug in standard tools and run them right from the truck. You also have options for extended beds and cabs, so you can customize this rig to meet your every need.
Aside from all its fancy features, For built the F350 Super Duty for work. With a payload capacity of 7,650 pounds and a towing capacity of 32,000 pounds, this beast can tow just about anything you can throw at it.
#5 Chevy Silverado 3500HD
Among Chevy's line of dually trucks, the Silverado 3500HD is king. And it hauls like a boss.
This pickup can tow 36,000 pounds and boasts 910 pound-feet of torque. The optional 6.6-liter V8 Duramax diesel engine has a twin-speed automatic transmission and offers 445 horsepower.
You can choose from five different bed lengths, so you'll have room to lug what you need without any extra bulk. There are also options for single, double, or four-door cabs.
While other makes outshine the Silverado in terms of cabin design and comfort, the Chevy has a lower starting price. So if you need hauling capacity without all the frills, the Silverado is a great choice.
Dually Trucks For Work and Play
Dually trucks are great working vehicles. But they also offer unbeatable power for hauling fifth-wheels, campers, boats, and trailers of all kinds when it's time for fun. These sturdy pickups come with a range of features so you can have all the comfort you desire without compromising on strength.
Whether you want all the comforts of a luxury vehicle or just the brute force to drag anything you can imagine, a dually could be exactly what you're looking for.
Discover the Best Free Camping Across the USA
To be honest with you, we hate paying for camping. There are so many free campsites in America (with complete privacy).
You should give it a try!
As a matter of fact, these free campsites are yours. Every time you pay federal taxes, you're contributing to these lands.
Become a FREE CAMPING INSIDER and join the 100,000 campers who love to score the best site!
We'll send you the 50 Best Free Campsites in the USA (one per state). Access the list by submitting your email below: