Take 5 is taking the oil change industry by storm. This up-and-coming business aims to help customers and get them back on the road quickly.
Their famous stay-in-your-car oil change promises to beat the competition in service and speed. Usually, though, time and convenience come at a cost.
So how do Take 5's rates stack up? Read on to learn whether this company's speedy services are worth the price tag.
Let's hit the road!
What Is Take 5 Oil Change?
Take 5 Oil Change started in Metairie, Louisiana, in 1984. The first location was a traditional oil change shop. Eventually, the brand expanded to include three more shops in the Metairie area.
Twelve years later, the company introduced its proprietary service: the stay-in-your-car oil change. This allowed customers to stay in their vehicles for their service. They customized their facilities to accommodate this unique offering, featuring shallow pits and synchronized services.
By 2005, Take 5 had 15 locations. But disaster struck in 2006. Hurricane Katrina battered Louisiana and displaced more than one million residents, including many shop employees. However, the brand persevered and celebrated 21 total locations by the end of 2006.
Today, there are more than 500 locations across North America. The company began franchising in 2018 and opened its first Canadian locations in 2020.
Why Is It Called Take 5 Oil Change?
This quick shop wasn't always called Take 5. The first store, founded in 1984, was named Rapid Oil Change. As the initial title suggested, the company offered quick changes to accommodate the growing number of drivers across the country.
That goal stayed the same. Another feature was in mind when Take 5 rolled out the stay-in-your-car oil change. Not only would customers have their vehicle serviced without getting out, but it'd be done in under ten minutes.
The concept was a hit. Soon every Rapid Oil Change location adopted the speedy model. And eventually, the company changed its name to Take 5.
Pro Tip: If your check engine light is on, you'll want to know Is It OK to Drive When You Need an Oil Change?
What Services Does Take 5 Oil Change Offer?
Take 5 may be known for the fast oil changes, but that's not all they do. This company offers several services for drivers and companies alike.
Let's look at what Take five can do for your RV!
Oil Changes
The speedy oil change is probably the brand's most popular offering. As the "stay-in-your-car" name suggests, you don't even need to leave your vehicle. Just pull into the service bay, stay seated, and relax while a technician handles your engine lube.
This format also facilitates easy communication. If the technician has a question, they can ask through the driver-side window. And you can drive off as soon as they're finished.
Unlike some oil change shops, Take 5 doesn't require appointments or calling ahead. Walk-ins are always welcome. Thanks to their quick turnover time, you probably won't wait long.
Car Washes
One of Take 5's handiest offerings is its car wash. According to their website, their scrub addresses seven issues that lead to premature aging in vehicles. These include dull paint, marks, fine lines, dirt, fading color, permeability, and under-chassis rust.
The company offers four car wash tiers. The standard includes a bug prep soak and shampoo. The next level up, the Triple Clean, also consists of a spot-free rinse, tire shine, and rust prevention. The Pro 5 tier gets you all the above, plus repellant and wax services. And the top level, the Pro 5 Plus, comes with a ceramic shield service.
Take 5 also offers several unlimited car wash packages. Each one comes with extra features like hand pre-washes, UV protection, mirror finish, and more.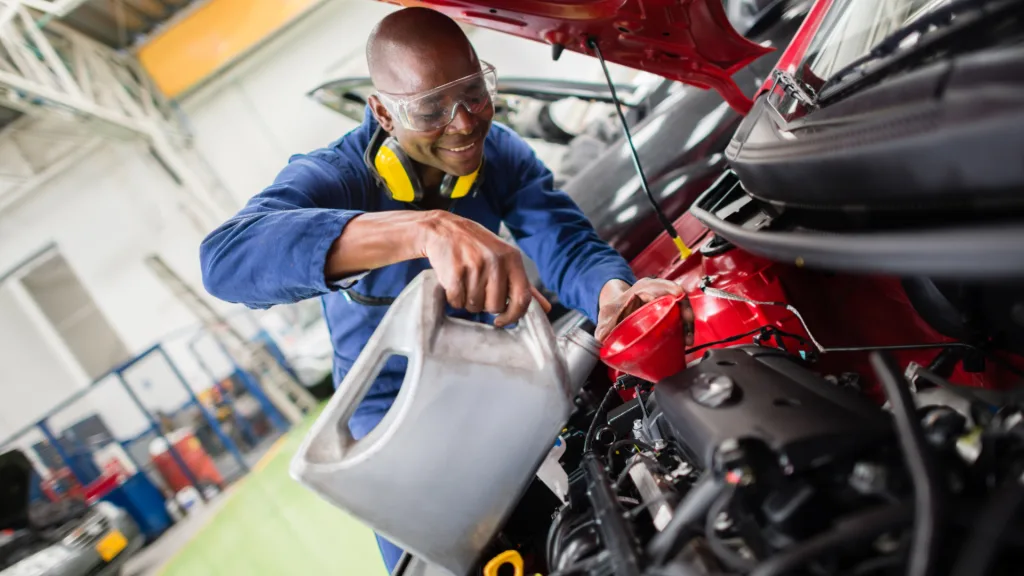 Fleet Services
Take 5 Oil Change isn't just for everyday drivers. They also offer services for companies with fleet vehicles.
One such service is their fleet program. Companies can get oil changes and products at highly discounted rates. The discounts start at 10% off service and 15% off products for fleets between three and ten vehicles.
Businesses can also take advantage of Take 5's fleet car wash program. Multiple packages are available, including unlimited plans and discounted wash passes.
Wiper Blade Replacement
Need new windshield wipers? Take 5 can handle that. Their technicians can replace your blades during an oil change or as a standalone service.
Functional blades are critical for safe driving, making this service highly valuable. Every location keeps these parts in stock for drivers who may need them. A complimentary wiper check is included in the shop's standard service. If yours look worse for wear, your technician will let you know.
Engine Air Filter Replacement
Take 5 handles another aspect of routine maintenance. A clean engine air filter is essential to your vehicle's health. Left unsupervised, it may clog and allow debris into your car's combustion chamber. Sometimes this can cause your motor to stop running altogether.
This shop checks your engine air filter during every oil change. This attention to detail may add years to your vehicle's life.
How Much Does an Oil Change Cost at Take 5?
This quick, convenient company offers many valuable services. But how do they stack up against competitors?
Compared to similar businesses, Take 5's prices are competitive and affordable. Rates vary by location, but conventional oil changes start around $35, while synthetic starts around $60.
Some discount shops may have lower prices. But this shop's guaranteed fast service may be worth a few extra dollars.
Pro Tip: Do you use your vehicle to tow your RV? It's important to know Should You Change Oil Sooner If You've Been Towing? We uncovered the truth for you!
What Kind of Oil Does Take 5 Use?
Many drivers and RVers have engine oil preferences. As it turns out, Take 5 does too! Their website lists Mobil 1 and Shell Rotella as two of their preferred brands.
In late 2022, the company brokered a deal with RelaDyne, a lubricant distributor. The deal brought two new offerings to Take 5: DuraMAX and Drydene. DuraMAX was named the best-selling motor oil blend brand by Quick Lube Owners in 2018.
Is Take 5 Oil Change Worth It?
Take 5's competitive business model is making waves in the auto industry. This shop has transformed from a local chain to an internationally franchised success.
Discount oil change shops may be able to beat Take 5's prices. But this unique company's focus on speed and convenience can be worth the money. Plus, you can throw in a car wash for a little extra love. After all, what's a few extra bucks when you don't even need to get out of your vehicle?
Have you gotten a Take 5 oil change before? Tell us your thoughts in the comments!
Discover the Best Free Camping Across the USA
To be honest with you, we hate paying for camping. There are so many free campsites in America (with complete privacy).
You should give it a try!
As a matter of fact, these free campsites are yours. Every time you pay federal taxes, you're contributing to these lands.
Become a FREE CAMPING INSIDER and join the 100,000 campers who love to score the best site!
We'll send you the 50 Best Free Campsites in the USA (one per state). Access the list by submitting your email below: