If you're driving an RV, you may be curious to know whether an Exxon gas station has space for your rig.
It's challenging to maneuver into tight spaces pulling either a trailer or driving a motorhome. Not all fuel stops can accommodate your rig, so finding the right station can be tough.
So, can Exxon handle your setup, and are they worth a stop on the road?
Let's dive in!
What Are Exxon Gas Stations?
Before it was Exxon, the company started as Standard Oil of Jersey in 1870. The company's founder, John D. Rockefeller, has the unique distinction of being the wealthiest person ever.
As American culture became more car-oriented in the 1950s, Standard Oil decided to market their stations as motorist-friendly. They handed out free maps to all their customers as part of a marketing campaign.
The company became Exxon in 1972. They market their product as a high-quality gas that helps clean your injector for better mileage. Now, travelers use their fuel finder app to map the way between their 12,000 gas stations across the country.
Are Exxon and Mobil Gas Stations the Same?
Exxon merged with Mobil in 1999 to form ExxonMobil Corporation. It became the third largest company in the world at the time, behind GE and Microsoft. While some stations retain their original name on the sign, both are part of the same company.
Interestingly, Mobil was an offshoot of the original Standard Oil, started by Rockefeller. It broke into Standard Oil of New York after the Supreme Court split the company into 34 entities in 1911.
Benefits of Exxon Gas Stations
Finding a good place to fill up on the go can be tricky. Some stations don't take care of their tanks, letting water and other impurities add up. But in addition to their quality fuel, there are numerous benefits to visiting Exxon gas stations.
Fuel Savings Discounts
You can save money at the pump in several ways. Using Apple Pay or ExxonMobil Smart Card can earn you cash back on your statement. Walmart+ members can pay $0.10 less per gallon.
Even better, your grocery purchases at qualifying stores can earn up to $1 per gallon once you earn enough points. The stores include Albertsons, Safeway, and Shaws. If you're already shopping for groceries at one of those spots, take advantage of the extra discount!
Convenient Locations
You can find Exxon gas stations in over 4,000 cities across 47 states. They're prevalent in the South and throughout the Northeast. For the most part, you'll find them along highways, so you'll never have to travel far from the interstate to use your Exxon points.
Their app even has a station finder so you can plan your stops accordingly.
Exxon Mobil Rewards+ Program
Speaking of points, you can sign up for their free rewards program. The fuel rewards program lets you earn cash for every purchase. Simply download the app and sign up. You'll even collect points by grabbing snacks inside!
There are several ways to get bonus points, including linking your AARP membership. You'll also earn extra for purchasing premium three times each month or buying over 100 gallons monthly.
Pro Tip: Avoid ever committing any of these 7 Deadly Sins of Gas Stations.
Can RVers Use Exxon Gas Stations?
Exxon gas stations come in a wide variety of sizes. Some are truck stops, while others have cramped lots with only four pumps. If you need diesel, you may be out of luck, depending on the location.
Ultimately, you'll need to do your research ahead of time. If the station isn't big enough for your rig, you risk doing a lot of damage trying to pull up. You can use the satellite view on google maps to get an idea of what each station looks like beforehand. Or you can call ahead and ask.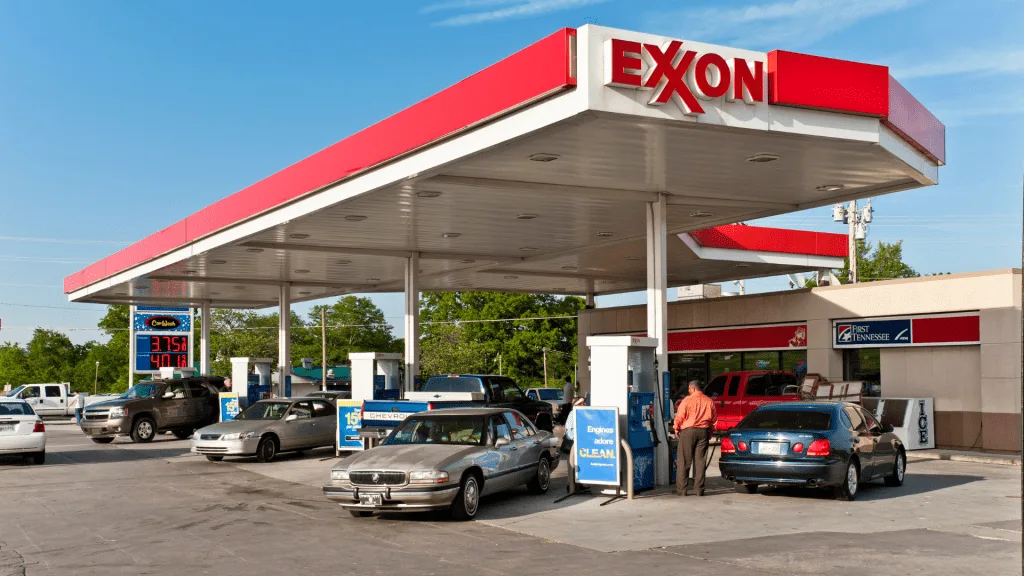 Fueling Tips for RVers
Running on empty is stressful. When you're on the road, you should make stops an integral part of your planning. These tips ensure you're never trying to squeeze into a tight space for fuel or stuck without gas.
Stick to Truck Stops
While not every Exxon is ready for you, truck stops have gas stations with plenty of room for your rig. Plus, many places like Love's and Flying J will let you park your RV and rest overnight.
Truck stops are also much more likely to have diesel. They typically have large bathrooms, warm food, and showers if you need to take a breather.
Fill Up the Night Before Departure
Take the time to top off your tank before you go. This will ensure your travel day is stress-free, so you can focus on getting everything you need packed and ready to go.
It's easy to forget little things when you're trying to stay on schedule. But if you're not running on a full tank, you may not make it to that first stop you had planned.
Carry Extra Fuel
Having a few extra gallons of gas on hand can save you from taking a long walk or calling on roadside assistance. You just want to make sure you have a high-quality, leak-proof can.
If you're carrying spare fuel, don't stick it inside anywhere. Mount it on the outside of your vehicle, so it doesn't contaminate your trailer.
Plan Your Route
Planning your stops seems like a no-brainer, but it's vital. Many people assume they'll happen upon the perfect gas station at the right time. It's much better to know where you're going before you arrive.
You should also have a few backup options ready. Sometimes stations run out of gas or get too crowded. Other times you may just need a break sooner than you expected. Either way, figure it out before you hit the road.
Upgrade Fuel Tank
Did you know you can nearly double your driving range? All you have to do is swap out your fuel tank for a larger one. Or you can install an auxiliary tank for a few extra gallons.
Driving without enough gas in the tank can damage your engine. A bigger fuel reserve means you'll have a lot more wiggle room to find an easy spot to fill up. But you should still fill it when you're running low.
Pro Tip: While in Exxon, don't buy these 5 Gas Station Foods to Avoid.
Are Exxon Gas Stations Worth It for RVs?
The loyalty program makes it easy to stick to Exxon Gas Stations whenever possible. RVs use a lot of fuel, and a single fill-up on a larger rig can help you unlock a ton of extra points.
However, you'll need to find ones with plenty of space for your camper. Use their station finder and check the satellite view on your maps app to see if you'll fit. Otherwise, you could do a lot of damage trying to squeeze in.
Discover the Best Free Camping Across the USA
To be honest with you, we hate paying for camping. There are so many free campsites in America (with complete privacy).
You should give it a try!
As a matter of fact, these free campsites are yours. Every time you pay federal taxes, you're contributing to these lands.
Become a FREE CAMPING INSIDER and join the 100,000 campers who love to score the best site!
We'll send you the 50 Best Free Campsites in the USA (one per state). Access the list by submitting your email below: