If you hate wasting leftovers, then you need to know about scrapple.
You can make a filling morning meal using a few pantry staples that you probably already have on hand and yesterday's leftover dinner. Or you can go the easy route and buy pre-made scrapple.
Far from being a vegetarian option, this is a perfect addition to a meat lover's breakfast plate. After giving it a try, you may decide to keep it in regular rotation to pair with your eggs.
Let's dig in!
What Is Scrapple?
Scrapple originated in Pennsylvania. Hungry colonists wanted to make sure they used every bit of meat possible, so they found new ways to turn their scraps into another meal. In some regions of the US, specifically the South, this food is also called livermush.
The texture of scrapple is similar to pâté, a finely chopped meat spread. Most people eat it with breakfast as a replacement for sausage or bacon. However, true scrapple lovers will usually have it along with sunny-side-up eggs. Some people even top it with syrup or apple butter.
How Do You Cook Scrapple?
This breakfast meat takes some planning to make, but you probably already have everything you need to make it.
Take your leftover pork bits and chop them finely or run them through a food processor. Add the scraps to some stock along with corn meal until you have a batter-like consistency. Then, pour the batter into a loaf pan. Let the scrapple cool and set before slicing to fry it up.
For the best flavor, pan-fry your scrapple. Heat some oil in a pan, and add your slices of breakfast meat. After a few minutes, it should be crisp and brown. Then, flip it over to fry the other side, and voila! Breakfast is ready.
Pro Tip: Chow down on one of these 5 Desserts Your Grandma Eats and You've Never Tasted.
How Do You Serve Scrapple?
Scrapple pairs well with just about any breakfast food. You can serve it alongside pancakes, eggs, or even cinnamon rolls.
Some people prefer to eat their scrapple with condiments like ketchup or mustard. While others enjoy it covered with grape jelly or honey. You can even pair it with applesauce or turn it into a sandwich. This versatile breakfast food goes with just about anything you cook up. Try it sweet or savory, as a side with eggs, or as the main event; you won't be disappointed.
Does It Have a Unique Taste?
We've probably all experienced some nervousness about trying a new regional food before. Hopefully, we'll take the edge off by describing the pleasant flavor of scrapple.
This pork-based breakfast food can sometimes taste like breakfast sausage. It depends on how much sage the loaf contains and which other spices have been incorporated. Some people describe the flavor as similar to liverwurst.
One of the best things about scrapple has to be its versatility. You can try it with any of your favorite condiments to find a combination that you like best.
Where Can You Buy Scrapple?
If you don't have any pork scraps or you don't want to go through the trouble of making your own scrapple, don't worry. You can purchase a premade loaf. It'll be fully cooked and ready for you to slice and fry for breakfast.
If you live near Pennsylvania, you might also be able to find scrapple at your local farmers' market. Otherwise, head to the grocery store. Scrapple can usually be found with breakfast meats or in the freezer section.
Pro Tip: You can even order authentic Pennsylvania Dutch scrapple online.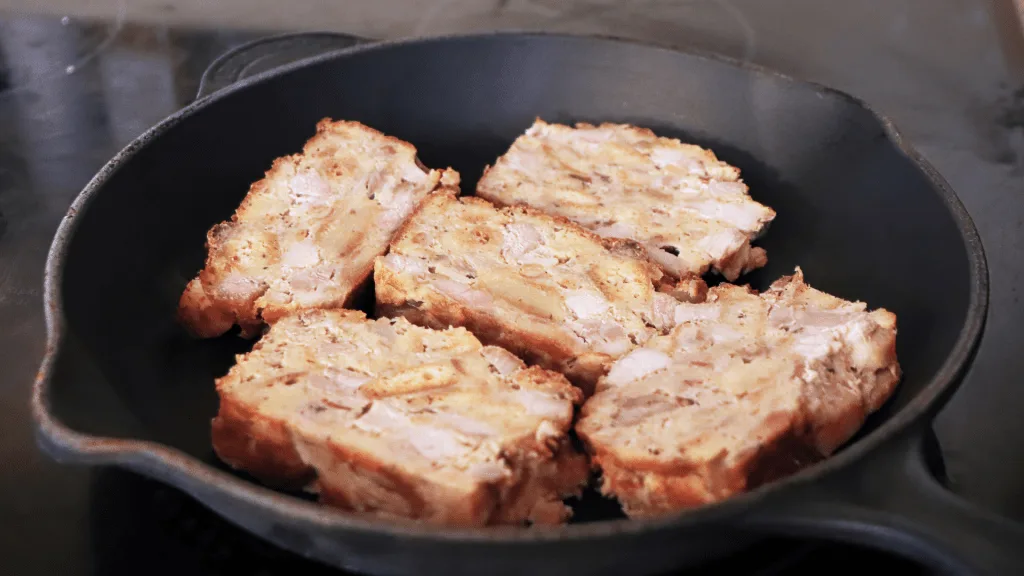 Recipes to Try
We've found a few recipes featuring this Pennsylvanian breakfast meat you might want to try. Depending on how much time you have to cook and how authentic you'd like to be, there's sure to be a variation perfect for you. Scrapple is also gluten-free if you don't make any substitutions or bread it with wheat flour.
Traditional Pennsylvania Dutch Scrapple
This traditional recipe, by the Forager Chef, starts with making your own broth. You'll need a bone to make the stock, so next time you roast a chicken or pork shoulder, keep the bones. In a pinch, you can stop by the butcher section of the grocery store for some neckbones. It also calls for buckwheat flour, but if that's not something you keep on hand, any flour will do.
The flexibility of this recipe is excellent. He suggests using 14 ounces of liver, but you could use heart, kidney, or even leftover pork butt. The author also encourages you to try tweaking the recipe using different organs in order to find the blend you like most. If you want a scrapple recipe with lots of possible experimentation, you should try this one.
Homemade Scrapple
The author of this recipe, Jaime Brockway, thoroughly explains every step of the process. Those who love following a recipe to the T will love her descriptions. You'll need a food processor or a meat grinder to make this dish as well as several pounds of pork butt.
However, if you don't have much time, this might not be the recipe for you. It'll take several hours to cook the pork and another hour to make the scrapple. The loaf then needs to cool for at least three hours, but preferably overnight, before it can be eaten. But if you can find the time, this recipe will be worth it.
Breakfast Scrapple
This recipe from The Spruce Eats might be the easiest to make. It uses cuts of meat that can be found very easily at the grocery store. In addition, the author provides suggestions about how to divide the cooking into two days. You can use a food processor to chop up your pork bits, but hand chopping is also an option.
You probably have everything on hand to make this dish. If you don't already have the meat, pick up a pork butt and a few pounds of pork shanks, and start cooking. If you don't enjoy dealing with organs or scouring the grocery store for difficult-to-find ingredients, this recipe would be a great choice for you.
Is Scrapple Worth Trying?
If you haven't tried this Pennsylvania-Dutch classic breakfast food, we recommend you do so as soon as possible. It can be paired with almost any condiment in your fridge and tastes good as a side to most breakfast dishes. Scrapple lovers enjoy its versatility, but more importantly, they love how it tastes.
Discover the Best Free Camping Across the USA
To be honest with you, we hate paying for camping. There are so many free campsites in America (with complete privacy).
You should give it a try!
As a matter of fact, these free campsites are yours. Every time you pay federal taxes, you're contributing to these lands.
Become a FREE CAMPING INSIDER and join the 100,000 campers that love to score the best site!
We'll send you the 50 Best Free Campsites in the USA (one per state). Access the list by submitting your email below: