Ever wondered what the worst products to buy at Costco are? If you have, you're not alone.
Many consumers have to make a difficult decision every time they go shopping. To make every dollar count, there are a handful of items you should avoid purchasing at this warehouse retailer. If not, you could be tossing money in the trash.
Today, we're sharing the five worst things to buy at Costco.
Let's dive in!
What is Costco?
Costco Wholesale is a big-box membership clubhouse that rivals Walmart's Sam's Club. The chain started in Seattle, Washington, in 1983 and has since grown to approximately 850 locations.
Besides the United States, Costco Wholesale locations include Canada, Korea, Taiwan, the United Kingdom, Japan, Mexico, and Spain. More international warehouses seem to be popping up regularly.
Their stores are typically anywhere from 80,000 to 230,000 square feet. They offer a wide range of products that meet various consumer demands. Costco's ability to reach a broad audience has caused them to grow to more than 100 million members. Consumers love feeling like they're getting the most bang for their buck.
Like Sam's Club, Costco Wholesale requires shoppers to purchase an annual membership. Most consumers find the savings worth the cost of their yearly dues to remain a member.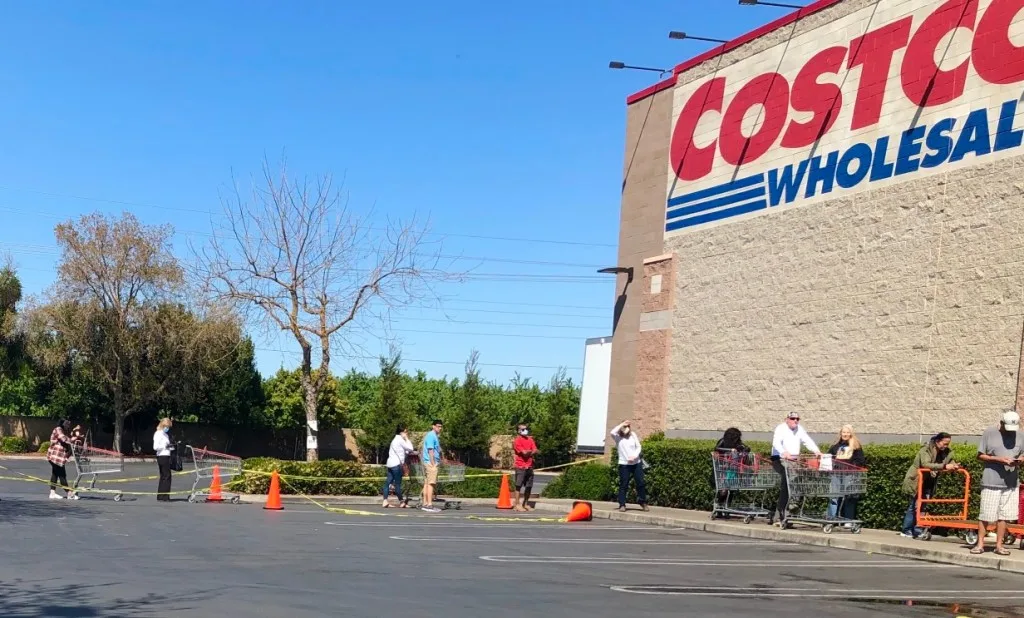 How Much Is a Costco Membership?
Costco has three different types of memberships, all valid at any location worldwide. The Gold Star is the most common and is for non-commercial use. This member level costs $60 annually and includes an additional card for another user.
The other two cards are available for business and commercial purposes. These memberships allow purchases to be resold, such as at concession stands and vending machines. The basic Business Membership is $60 annually and includes a household card. Additional cardholders can be added to the account for $60 each.
Executive Membership is the other option for business accounts and costs $120 annually. This provides all the benefits of the other cards plus a two percent cash-back reward on qualifying purchases. If your business is going to spend a pretty penny on supplies or other items at Costco, it might be wise to upgrade.
Pro Tip: Never commit any of these Seven Deadly Sins of Costco Shopping.
Can You Shop at Costco Without a Membership?
Costco doesn't offer free trials and almost always requires shoppers to have a membership to shop in their stores. However, there are some items that non-members can purchase.
Non-members can typically buy items at the pharmacy, food court, and online without a membership. However, shopping online as a non-member incurs a fee for each transaction. Therefore, if you're planning to order from their online store frequently, it might be best to become a member.
Additionally, some locations are required by state law to sell alcohol to non-members. Stores in Arizona, California, Connecticut, Delaware, Hawaii, Indiana, Massachusetts, Michigan, Minnesota, New York, Texas, and Vermont allow non-members to purchase alcohol.
5 Terrible Items to Buy at Costco
If you want to ensure you're getting a good deal, we've found five items we don't recommend buying from Costco. You might be throwing your money away if you do. Let's check them out.
Toilet Paper
Costco's Kirkland brand toilet paper is a prime example of getting what you pay for. It has a reputation, even amongst store employees, as being some of the cheapest on the market. It may come with a smaller price tag, but you'll use more each time. You're practically flushing money down the drain if you buy Kirkland's toilet paper.
You're better off spending a few extra dollars to buy name-brand TP than trusting Kirkland's. Instead, purchase a brand with a solid reputation and proven track record. Trust us, if you're looking for a place to save a few bucks, Kirkland's toilet paper isn't it.
Over-the-Counter Medicine
How often do you take over-the-counter medicine? For most people, it's on an as-needed basis. As a result, most households don't need a massive bottle of over-the-counter medication. They'll likely reach their expiration date well before you've had a chance to use even a fraction of the bottle.
In these situations, buying smaller bottles from a standard retailer like Walmart, Target, or your favorite pharmacy is better. This can allow you to purchase in much smaller quantities and pay less. In addition, there's a lower chance you'll end up not using them.
Fresh Fruit
Fresh fruit tastes best when it's, well, fresh. Unless produce like berries and bananas don't last very long in your home, it's best not to buy them at Costco. The longer the fruit sits on your counter, the less flavorful it'll be.
You'll have a few options if you buy fresh fruit in bulk. You either learn to enjoy fruit with less flavor as it ages or get comfortable throwing it away once it gets bad. This is another item we think is one of the worst things you can buy at Costco.
Spices
Spices are a great way to add flavor to the dishes you create. Unfortunately, most seasonings have a relatively short lifespan, especially if you don't store them properly. However, if you're cooking semi-regularly, you likely won't have a problem using up a standard-size jar of spices.
If you purchase dried herbs at Costco, you're definitely not getting them in a standard-size bottle. You're going to end up with a massive amount of cinnamon or paprika. Even if you cook regularly, it could take years to reach the bottom of the bottle.
Items You've Never Tried
You generally only want to buy items in bulk if you know you like them. It can be a gamble to purchase a massive amount of a product before you know you'll use it all. You could end up tossing it in the trash or letting it sit on the shelf until it goes bad. Wasting your hard-earned money on food you're not going to be able to enjoy is the last thing you want to do.
Fortunately, Costco has a great return policy. So, if you didn't enjoy that huge bag of chips you thought looked interesting, you can bring it back for a refund, no questions asked. They'll even offer refunds on frozen foods and produce no matter the reason.
Pro Tip: Good bourbon at a reasonable price is hard to find. We uncovered Is Costco Bourbon Worth It?
Avoid the Worst Costco Purchases
We don't want to see you waste money unnecessarily. The items we've shared with you today are some of the worst products at Costco that you can buy. However, if you spend money on any perishable food and let it sit, it's a lousy purchase no matter where you get it from. So do yourself a favor and avoid experiencing buyer's remorse by not spending money on the worst Costco purchases.
Discover the Best Free Camping Across the USA
To be honest with you, we hate paying for camping. There are so many free campsites in America (with complete privacy).
You should give it a try!
As a matter of fact, these free campsites are yours. Every time you pay federal taxes, you're contributing to these lands.
Become a FREE CAMPING INSIDER and join the 100,000 campers that love to score the best site!
We'll send you the 50 Best Free Campsites in the USA (one per state). Access the list by submitting your email below: