If you plan a vacation in the Smoky Mountains, you'll most likely stay in either Pigeon Forge or Gatlinburg. Both are mountain towns just outside of the park in Tennessee.
Choosing where to stay is challenging because both cities have famous attractions and amusement parks. They each have similarities, but some things set them apart.
Before you travel, read on to discover what Pigeon Forge and Gatlinburg have to offer.
Let's explore!
About Pigeon Forge
Pigeon Forge is a Tenessee mountain town about an hour southeast of Knoxville. It's named after an old ironworks building along the Little Pigeon River. Early settlers passed through the area frequently thanks to trails created by the Cherokee.
These days Pigeon Forge is known for its family-oriented attractions. Jurassic Jungle Boat Ride and WonderWorks children's museum are great examples. Other interests include miniature golf, theater shows, and free playgrounds. Since the town is structured around attracting tourists, you'll always have plenty to do and see.
There are plenty of natural areas to explore as well. Although the weather is relatively mild and humid, you'll want to bring layers when you go up the nearby Smoky Mountains.
Getting Around Pigeon Forge
You'll definitely want a car while in Pigeon Forge. It's not the best for pedestrian travel. Although Riverwalk Greenway is an option, it doesn't connect you to everything in town. So be prepared for traffic.
If sitting in the driver's seat in stop-and-go traffic sounds maddening, then maybe opt for a day on the trolleys. There are six to choose from with different rates and routes. Check the city of Pigeon Forge's website for details.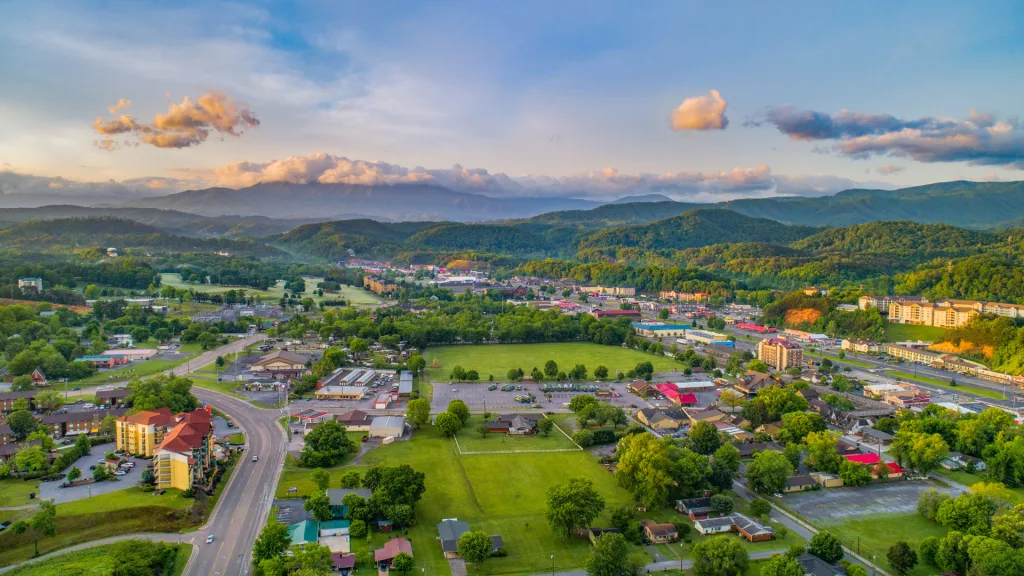 Best Attractions in Pigeon Forge
It's hard to argue against our picks for the two best attractions in town. What's more fun than a park based on a legendary country singer or an island that's not an island?
Dollywood
Some say Dolly Parton's Dollywood is the world's best theme park. You've got loads of options to fill up your days. There are roller coasters, water rides, concerts, and specialty festivals. Younger kids love the country fair section with its gentle rides and old-fashioned games.
As for parents, unwinding with dinner and a spa appointment might be nice. Dollywood has plenty of on-site stays, including resorts and cabins. So booking a stay here may be a fun way to experience Pigeon Forge.
Pro Tip: Dolly Parton fans will love exploring these 10 Dolly Parton Landmarks in Nashville.

The Island
The Island is a curated 23-acre family shopping park in the town center. Admission and parking are free. You can build your day around rides like The Great Smoky Mountain Wheels. Or take part in workshops and seasonal events. If you're a planner, check out their handy online itinerary suggestions. It's a great tool!
But if you prefer to play it by ear, you can show up and explore. The Island is a popular Pigeon Forge family destination open year-round.
About Gatlinburg
Gatlinburg functions well as a basecamp for Smoky National park visitors. With three entrances to the park, the town thrives off park tourists. However, there's more to Gatlinburg than its flashy main drag and gift shops.
Visiting Gatlinburg feels like a step back in time. You may need to work a little to get past the cheesy facades. But once you do, you'll find historical sites like the first cabin built there in 1802. Or the abandoned logging town of Elkmont. You can even visit the Salt & Pepper Shaker Museum.
Tradition is of high value in Gatlinburg. One such custom is making moonshine, also known as unauthorized high-proof liquor. In fact, the town's got plenty of distilleries slinging this Smoky Mountain poison.
But if you're looking to keep things kid-friendly, don't worry. You can check out the aquarium, mini golf, or an array of adventure parks and game courses.
Getting Around Gatlinburg
One of the best things about Gatlinburg is you can walk just about anywhere. Downtown has a pedestrian parkway that covers the whole area. Visitors love a stroll along the main strip, which takes you to places like the Space Needle and Mirror Maze.
Another great choice is the trolley which operates year-round. All five routes are free. So you can hop on and off all day! Visiting the downtown restaurants and craft shops is easy using the Gatlinburg Trolley.
You'll probably want to drive when it's time to visit the Great Smoky Mountains. Both of our attractions offer tramways, which is another way you could enter the park. How cool is that?
Best Attractions in Gatlinburg
The thing about Gatlinburg attractions is you're basically talking about what to do in Great Smoky National Park. That said, these two sites are located just outside the park's borders. They're fantastic.
Anakeesta
This Smoky Mountain adventure park draws thousands to Gatlinburg all year. It's home to the longest treetop skywalk in North America. The park views are spectacular. Anakeesta is designed for parties of all sizes, catering to large families and solo explorers alike. You can eat, shop, hike, and play.
One of the most remarkable experiences at this park is the Astra Lumina night walk. The natural beauty of the night sky is enhanced with an immersive multimedia show. This night exhibit is one of only two of its kind in America.
Ober Gatlinburg
Ober Gatlinburg is a ski resort, wildlife zoo, and adventure park rolled into one. It'd designed to adapt to the seasons. The scenic overlooks make dining and shopping unusually breathtaking. The aerial tramway is open seven days a week during daylight hours.
Although you can drive up to the top of Ober Mountain, the locals say you're better off taking the tram. Check their website for nearby lodging partners.
Which Is Best for Visiting Great Smoky Mountains National Park?
Americans visit Great Smoky Mountains more than any other national park. It's home to the famous Appalachian Trail and some of the highest mountains in the US.
People love visiting Great Smoky not just because of its beauty but because it's easy to get to. Highway 441 runs through the park, which means you can access many trails by car. Newfound Gap, for example, is a low overlook off the road with breathtaking scenic views.
Although Gatlinburg sits right on the park's edge, Pigeon Forge is only about five miles further north. Both towns thrive off tourism to the park and are easy to get to. So the choice of where to stay depends on which spot you like better.
Pro Tip: Spend the night at one of these 7 Best Pigeon Forge Campgrounds.
So, Is Pigeon Forge or Gatlinburg Better?
There's no right or wrong when comparing Pigeon Forge to Gatlinburg. Both are quaint touristy towns right next to Great Smoky Mountain National Park. Both have adventure parks, restaurants, shopping malls, and unique attractions.
Pigeon Forge, however, is a little more family friendly. Gatlinburg has a richer nightlife. So your choice may boil down to who you're going with more than anything.
Wherever you stay, Great Smoky Mountains National Park beckons. How you spend your time after hiking, that's up to you.
Discover the Best Free Camping Across the USA
To be honest with you, we hate paying for camping. There are so many free campsites in America (with complete privacy).
You should give it a try!
As a matter of fact, these free campsites are yours. Every time you pay federal taxes, you're contributing to these lands.
Become a FREE CAMPING INSIDER and join the 100,000 campers that love to score the best site!
We'll send you the 50 Best Free Campsites in the USA (one per state). Access the list by submitting your email below: