If you own an RV, you'll eventually need to wash it. But scrubbing the exterior and cleaning the interior takes time and energy, and not everyone can do it themselves.
Finding someone to clean your rig is pretty easy, but there are some factors to consider before hiring extra help. After all, you don't want to entrust your valuable investment to just anyone.
Today, we're exploring your options for washing your RV and offering some red flags to look out for so you don't get taken for a ride.
Let's get rolling!
What is an RV Washing Service?
Keep your camper clean if you want it to last as long as possible. Unfortunately, you can't drive through a standard car wash to get the dirt and grime off your rig. As a result, you'll need to find a trusted and capable service to do the job.
Luckily, there are a host of options for owners to consider. The most popular choices are mobile detailers, truck washes, and services at dealerships. But owners with access to space and the proper tools can consider doing it themselves.
Mobile detailers typically provide the best results. However, they also tend to be the most expensive as well. The extensive and capable providers will clean awnings, skylights, and just about every surface on a camper. Pricing can vary considerably depending on the services and location.
Big-rig drivers need to keep their semis and trailers looking good too. Many RVers don't realize that most truck washes will happily accept recreational vehicles as customers. These tend to be more budget-friendly but provide lower-quality results.
They're readily available at large truck stops and are usually very easy to get in and out of, no matter the size of your rig.
Some RV dealerships will offer washing services, but they're often not the best option. Most dealerships enjoy charging premium prices for everything, including RV washes. Unfortunately, the quality of the results can be hit or miss. When you combine high costs and inconsistent results, it's a recipe for buyer's remorse.
The Benefits of Hiring Someone to Wash Your RV
An RV is a significant investment, and keeping it clean helps to ensure it performs optimally and looks great. However, as we mentioned, washing a camper can be time-consuming and physically demanding. Hiring someone to wash your recreational vehicle for you is a convenient and effective way to keep it clean.
Also, when hiring someone else to clean your RV, you don't have to worry about purchasing supplies. The individual will likely have everything they need, including products they trust. If you're traveling, you won't have to worry about storing and carrying these items that you'll only use occasionally.
Professional RV washers know how to get the job done. They'll often tackle the hard-to-reach surfaces and not overlook areas that non-professionals do.
They can get the dirt, grime, and other contaminants off your rig to help it to shine like new for as long as possible.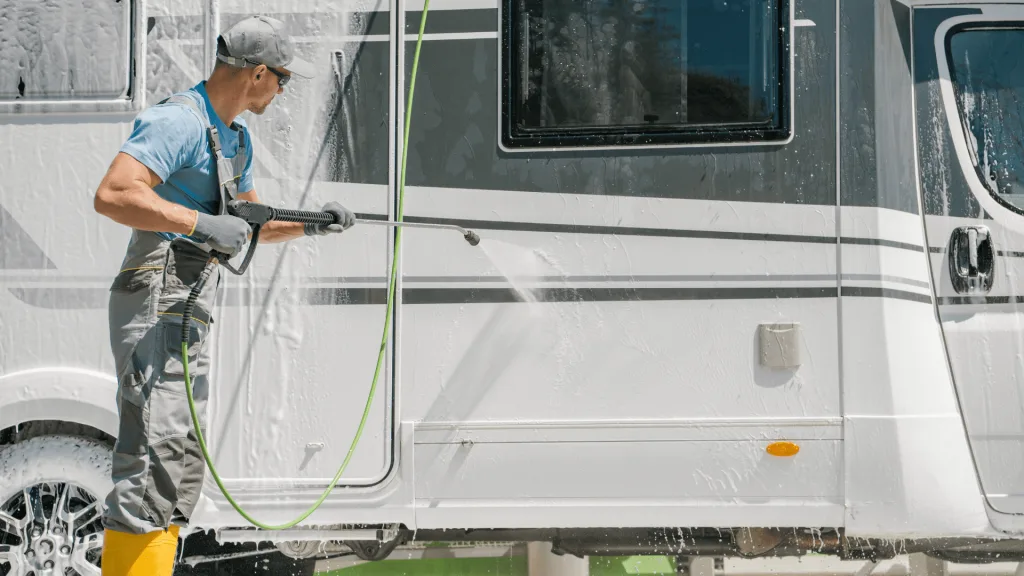 The Disadvantages of Hiring Someone to Wash Your RV
Unfortunately, while hiring someone can be a great idea, that's not always the case. Some results that professional services deliver are better than others. We've heard horror stories of "professionals" without insurance causing severe damage. The last thing you want is to find yourself in a legal battle over washing your camper.
Hiring a professional service costs a pretty penny. Since these providers often charge based on the length of the RV, the larger your rig, the more it'll cost. A deep and thorough cleaning on a large recreational vehicle could cost hundreds of dollars.
Depending on where you're using your camper, you could need to hire them multiple times each year.
Another disadvantage of hiring someone is that they can't do it everywhere. Many campgrounds strictly prohibit washing vehicles and campers in campsites. Not only does it use a tremendous amount of water, but it can flood the site. As a result, you may have to make specific reservations or haul your rig to a separate location to get it washed.
How Often Should I Wash and Wax My RV?
The frequency you should wash and wax your RV can vary considerably, depending on how often you use it and where. If you spend time in mud, salt, or gravel, you'll want to clean it more frequently. In addition, extreme exposure to harmful UV rays from the sun can also require more regular cleaning
In general, you should bathe your camper every one to three months. This helps prevent dirt and other contaminants from sticking to the surfaces. In addition, you should also wax your rig at least once or twice each year.
This helps keep layers of protection from UV rays, moisture, and other environmental factors. Consistency is key to having a camper that looks new for as long as possible.
How to Find Someone to Wash Your RV
If you want to find someone to wash your RV for you, it's relatively easy. Here are some options to help you find the right person for the job.
#1 Ask Your Campground
The management at a campground can offer a wealth of information on various topics, including washing services. There's a good chance the staff has seen just about everything. If you have questions or want a specific service, just ask them. They may have connections or know resources that others have previously used.
This is also an opportunity to inquire about specific rules or regulations. They might require the detailer to bring their own water or charge an additional fee to use the park's water supply. Knowing these in advance is better than finding yourself in trouble after the fact.
#2 Hire a Mobile RV Wash
A mobile RV wash is an excellent option as they usually come to you and your RV. They'll most likely bring all the necessary supplies and equipment to do the job. However, they may need access to a water source. If so, you must plan accordingly or arrange a suitable location.
These services are very similar to mobile vehicle detailers. They offer a variety of services and often provide a premium experience. While they also tend to be the most expensive option, many owners find them worth the added costs and fantastic results.
#3 Use a Truck Wash
Truck washes are readily available at many truck stops. Blue Beacon is one of the most popular truck washes owners of recreational vehicles use. They have more than 100 locations nationwide and accommodate just about any size rig.
Like other options, truck washes usually charge based on the length of the vehicle and the services provided, but the price will be lower than hiring a pro. Since they typically use the brushes on semi-trailers, you'll want to request they only spray your vehicle. This helps reduce the chances of rocks and other materials damaging the paint or other surfaces.
Remember that truck washes aren't perfect, and some dirt and debris will likely be left behind. While the results aren't as great as many would like, the price is hard to beat.
#4 Ask an RV Repair Shop or Dealer
While RV repair shops and dealers might not offer cleaning services, they may know someone that does. These resources often have connections and know others that operate within their industry. While there's no guarantee they can do the work for you, they might be able to point you in the right direction.
Some may even have special deals they've worked out with a business. If you're sitting at the repair shop or dealership getting work done, it doesn't hurt to ask. The worst that can happen is they tell you they don't have any resources or connections to share.
#5 Hire a Friend or Neighbor
One option worth considering is hiring a friend or neighbor. While this is a more cost-effective option, it can also be a major risk. Things can get awkward if they don't do a thorough job or, in a worst-case scenario, cause damage. You may feel as if the results don't match the costs.
If you go this route, we strongly suggest that you do your research and communicate your expectations. Unless the individual operates a professional cleaning service, we encourage you to lower your expectations. You don't want to ruin a friendship because your expectations are far too high.
Is Hiring Someone to Wash Your RV Worth It?
Whether or not hiring someone to wash your RV is worth it depends on your situation. Hiring a professional service may be worth the cost if you value your time and want expert-level care.
On the other hand, it might be best to do it yourself if you have time or limited money and resources. Ultimately, the decision is up to you, but the most important thing is that you properly care for your recreational vehicle.
Discover the Best Free Camping Across the USA
To be honest with you, we hate paying for camping. There are so many free campsites in America (with complete privacy).
You should give it a try!
As a matter of fact, these free campsites are yours. Every time you pay federal taxes, you're contributing to these lands.
Become a FREE CAMPING INSIDER and join the 100,000 campers who love to score the best site!
We'll send you the 50 Best Free Campsites in the USA (one per state). Access the list by submitting your email below: