Shell gas stations are popular pit stops on a road trip or other overnight adventures. They offer the opportunity for travelers to fill fuel tanks, resupply their snacks, and use the restroom.
However, these trips can be exhausting, and drivers can reach the point where they need to find a place to get some rest. Unfortunately, finding quiet and safe places to catch some Z's is becoming increasingly difficult.
With more than 12,000 locations in the United States, we were curious if Shell allows overnight parking in their lots.
Let's dive in!
What is Urban Boondocking?
Urban boondocking refers to parking a vehicle such as a van, RV, or camper overnight within city limits with the purpose of sleeping in it. Boondocking originally referred to camping without hookups in remote areas. Still, it's become increasingly popular for travelers and van lifers to explore cities while keeping costs down.
This form of camping may involve parking on the street, in a lot, or in a designated area. It often requires careful planning and consideration of local laws and regulations.
Boondocking in urban settings can be a convenient and cost-effective way to travel. But respecting the communities and neighborhoods and being mindful of your impact on the environment and local resources is essential.
Why Would Someone Boondock in a Parking Lot?
For several reasons, someone might choose to boondock in a public lot. One common reason is convenience. They're often near amenities such as grocery stores and restaurants, making it easy to stock up on supplies or take care of errands while on the road.
Additionally, many lots are well-lit and offer security and safety that may not be available on the street. Public lots can provide a level, stable surface for those traveling in RVs or other large vehicles and might be easier to navigate than narrow, residential roads.
Another reason someone might boondock in a parking lot is to save money on accommodations. While some places may charge fees, it's often less expensive than staying in a hotel or campground.
Finally, urban boondocking can be a way to experience and explore cities and metropolitan areas while on the road. By parking in a centrally located location, travelers can easily access public transportation, museums, and other attractions without having to worry about finding parking or navigating city streets.
Pro Tip: Make boondocking easy with these 22 RV Boondocking Tips.
So, Can You Boondock Overnight at a Shell Gas Station?
Whether you can boondock at a Shell gas station would depend on the location. Policies tend to vary from one place to the next. While some may allow overnight stays, others may not due to local laws or other reasons.
It's best to check with the store you're interested in to see if they can accommodate you. Call ahead and check the Shell website for any policies regarding overnight parking. When you arrive, check in with the attendant before getting too comfortable. Larger truck stop locations will be more likely to accept your request than smaller stations.
Exercise caution and safety when parking at any gas station or truck stop, regardless of whether it's allowed. No spot is worth putting yourself in danger. If you feel an area is unsafe, get back on the road and find a safer place.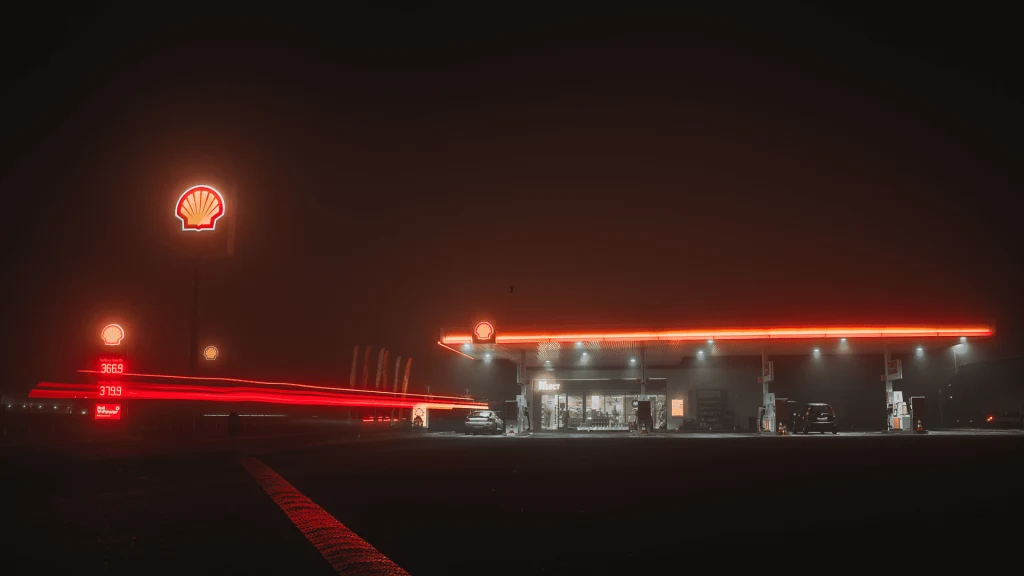 Tips for Stealthy Urban Boondocking
Are you considering being stealthy and giving urban boondocking a try? If so, we have some tips to help ensure you have a smooth experience. Following these suggestions can maximize your overnight stay and avoid frustrations.
#1 Stay Well-Contained
If you want to avoid detection, keep your stuff inside the vehicle. Putting out your awning or slides in these situations also isn't wise. If you do, you increase the chances of another driver accidentally hitting your rig or being caught trying to be stealthy.
When you're urban boondocking, you want to spend as much time inside your vehicle as possible. It's not the time or place to pull out camping chairs, play lawn games, or show off your grilling skills. Any attention you attract is likely going to be negative.
By staying well-contained, you also ensure you can leave quickly if necessary. You may get the dreaded knock on your window or door asking you to depart. In these cases, you want to be able to move as quickly as possible.
#2 Stay 24 Hours or Less
Minimizing your stay is another way to ensure a smooth overnight experience at Shell and other urban boondocking locations. In general, it's best to arrive late and leave early so you're not in the way or attracting unwanted attention.
The less time you spend in a spot, the less likely you are to encounter issues. Some law enforcement and authorities will turn a blind eye in many instances. However, the longer you're in an area, the odds of complaints increase.
Get some sleep and take care of business, but don't overstay your welcome. For many reasons, we've seen increased rules and regulations, including travelers staying longer than necessary.
#3 Close Your Shades or Blinds
Close your shades or blinds to stay inconspicuous and increase privacy. Some travelers take it a step further and purchase window coverings. This tip lets you sleep soundly, knowing someone isn't peeking into your vehicle during your slumber.
Additionally, window coverings can help you go undetected. Someone walking by may think little of your vehicle parked in a certain spot. They'll continue their business and leave you alone while you rest.
A variety of options are available to shade your windows. However, you can create your own budget-friendly covers using Reflectix. Cutting the material to fit the space is easy, even with minimal DIY skills.
#4 When Parking at a Business, Ask Permission
If you choose to stay at a business, always ask permission. It doesn't matter if your overnight stop is at Shell, Walmart, or Cabela's. Getting confirmation that you can stay is essential. If not, you can't complain if they come out and ask you to leave.
To get permission, simply head inside during business hours and ask to speak to a manager. Only some employees have the authority to grant this type of request. Take note of their name, as this can be helpful if anyone interrupts your stay later.
Just because you don't see signs prohibiting overnight parking doesn't mean you can legally stay for the night. Rules and regulations vary significantly by location. It's up to you to know and follow them.
#5 Always Follow Your Instincts
Things can change very quickly in these types of situations. If you feel unsafe at any point, it's best to listen to your instincts. It's better to be safe than sorry. Finding a new place to rest may not be convenient, but your safety is worth it.
You'll not likely get a quality night's rest if you feel unsafe. Use resources like Campendium, iOverlander, and All Stays to read reviews when choosing sites. These communities are generally very good at alerting users to potentially hazardous situations and dangers.
Pro Tip: Beware of these Consequences of Illegally Parking Overnight before you set up camp for the night.
Is Staying Overnight at a Shell Gas Station Worth It?
Shell stations may be viable if you're on a long road trip and need a place to rest for the night. This is especially true if you have to refuel or restock on supplies. However, it's important to remember that policies regarding parking can vary by location and may change over time.
Additionally, staying overnight in a parking lot can be challenging. Expect noise, light pollution, and concerns about safety and security. Staying at a Shell gas station can be worth it, but it depends on your circumstances and priorities.
Discover the Best Free Camping Across the USA
To be honest with you, we hate paying for camping. There are so many free campsites in America (with complete privacy).
You should give it a try!
As a matter of fact, these free campsites are yours. Every time you pay federal taxes, you're contributing to these lands.
Become a FREE CAMPING INSIDER and join the 100,000 campers who love to score the best site!
We'll send you the 50 Best Free Campsites in the USA (one per state). Access the list by submitting your email below: