Anyone who enjoys a dip in a calm space should swim in Lake Harmony. This massive glacial pool is the perfect destination for folks who love a serene setting.
Locals have enjoyed this pristine Pennsylvania lake for decades. Now people from across the U.S. are flocking to the area for its crisp, clean H20 but also for retail, dining, and all kinds of adventures.
Ready to learn more about this beautiful body of water?
Let's dive in!
About Lake Harmony
Lake Harmony sits in the Pocono Mountains in Kidder Township, Pennsylvania. Originally fed by a glacier, it's known for its clean, clear water. This swimming hole is near two others, Tobyhanna Creek and the Lehigh River. Its closeness to Philadelphia and New York City makes it a popular destination for outdoor activities.
The 2.5-mile-long expanse is perfect for water sports like fishing, kayaking, and swimming. The area's annual snowfall also provides an ideal setting for winter sports. Nearby is Hickory Run State Park, which boasts more than 15,000 acres of trails and wildlife. Despite its proximity to the state park, however, Lake Harmony is privately owned.
If Lake Harmony Is Private, How Can You Swim in It?
As its name suggests, this waterfront is peaceful and beautiful. But since it's not public land, visitors need to take a few extra steps to swim Lake Harmony.
The easiest way to gain access is to book a room at a nearby resort or vacation rental. A stay at Split Rock Resort guarantees you can use this glacial lake. A reservation at any nearby vacation rental comes with access. There are also dozens of cabins and shoreside homes available.
Lake Harmony features a boat launch and marina. There's also a beach for anyone interested in swimming.
Is It Safe to Swim in Lake Harmony?
If you plan to swim Lake Harmony, you may be concerned about the water quality. Thankfully, this beautiful natural lake is clean and perfectly safe. But it wasn't always that way.
Scientists conducted a study on it in 2017. They found that the deeper parts suffered from an overgrowth of bacteria. Although this is normal for large bodies of water, it can produce unpleasant side effects. This pristine swimming hole had a problem with organic muck and bad smells, which no one wants to deal with.
Lake Harmony's owners hired a company to clean it using a bio-friendly process. Within one year, the quality improved significantly. It continues to improve every year.
Although this Harmony is clean, that doesn't mean you should throw caution to the wind. Stat safe near any large body of water to avoid injury and drowning.
What Else Is There to Do in Lake Harmony?
This peaceful pool is an excellent spot for boating, swimming, and watersports of all kinds. But if you aren't in the mood for a dip in Lake Harmony, don't worry. There's plenty to do in this eastern Pennsylvania paradise.
If you want a good meal, visit Terra Cottage Cafe and Gifts for brunch or a tasty burger. Lake View Tavern is another delicious eatery with a great view. For cocktails and bar food, check out Shenanigans–they offer karaoke, live music, and sports nights.
Shoppers can get their retail fix at dozens of stores nearby. Nearby retailers sell small-batch candles, art, food, and artisan crafts. There's even a flea market if you want a truly unique souvenir from your trip.
That's just the tip of the iceberg. The surrounding area offers golfing, stock car racing, adventure tours, and much more.
Pro Tip: PA road trippers beware! Driving through the Seven Gates of Hell in Pennsylvania is a Terrifying Destination.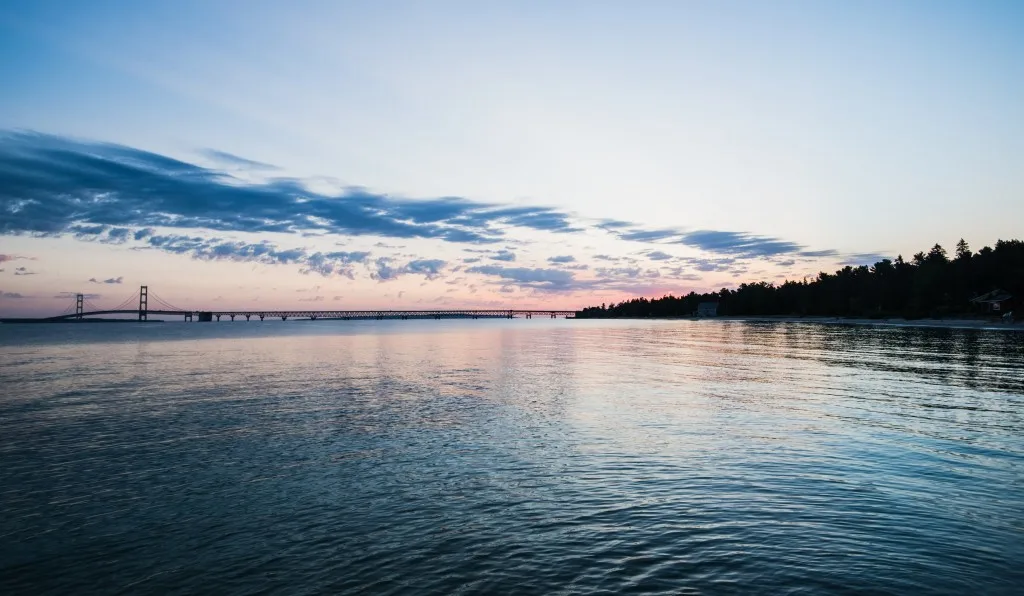 Where Are Places to Swim Near Lake Harmony?
Anyone who enjoys fresh water should swim Lake Harmony. While in the area, why not take a dip in some of the other nearby pristine places?
Let's look at three of the best spots to enjoy in the Poconos.
Hickory Run State Park
Hickory Run is just a quick 15-minute drive from Lake Harmony. This natural area encompasses more than 16,000 acres of beautiful, preserved nature. Explore one of the 44 hiking trails, fish for trout in one of the onsite streams, or take a dip in one of two lakes. You can even find disc golf courses at Hickory Run.
The park houses a small campground for anyone hoping to sleep under the stars. Visitors can access the land anytime during the day.
Beltzville State Park
Beltzville State Park is another fabulous option for all kinds of outdoor recreation. It's only 30 minutes south of Lake Harmony, but that's not the only place to swim. Beltzville Lake, a 950-acre freshwater pool, is its crown jewel. Visitors enjoy boating, fishing, and of course, a refreshing dip.
Beltzville State Park also offers 15 miles of hiking, biking, and cross-country ski trails. You can even go hunting during specific seasons. Campers are welcome, too.
Gouldsboro State Park
Take a trip northeast to Gouldsboro State Park. This 2,800-acre preserve straddles two counties and is home to Gouldsboro Lake. It's a great spot for fishermen, boaters, and swimmers. There's a clean, sandy beach that's perfect for families to relax and play.
The ten miles of hiking trails at Gouldsboro State Park range from easy to difficult, making it a destination for hikers at all levels. This area is also excellent for winter sports. Enjoy cross-country skiing and ice skating on the frozen water in winter.
Pro Tip: While traveling through Pennsylvania, you'll likely drive on I-80. Plan the perfect road trip with our ultimate Interstate 80 Road Trip Guide.
You'll Find a Lot More Than Swimming
A world of fun awaits anyone planning to swim Lake Harmony. This glacial pool offers untold outdoor fun and plenty of dining and shopping. The range of activities and opportunities for adventure make it the perfect spot for a family vacation.
If you've been itching to see the Poconos region, this is your sign. Get out there and explore!
Discover the Best Free Camping Across the USA
To be honest with you, we hate paying for camping. There are so many free campsites in America (with complete privacy).
You should give it a try!
As a matter of fact, these free campsites are yours. Every time you pay federal taxes, you're contributing to these lands.
Become a FREE CAMPING INSIDER and join the 100,000 campers who love to score the best site!
We'll send you the 50 Best Free Campsites in the USA (one per state). Access the list by submitting your email below: