Nomads looking to plant roots don't want to settle down just anywhere. But certain RV coastal communities are welcoming more full-timers than ever before.
So how can you know if this is the right move for you?
Today, we're diving into the world of long-term RV camping to help you discover what it's all about.
Let's hit it!
What is an RV Community?
Gone are the days when campgrounds catered only to transients and short-term crashers. Sure, they were simply stopovers for wayward vagabonds in the past, and some places still are. But others have blossomed into full-fledged communities where people build lasting ties with one another.
No, we're not talking about trailer parks. These are neighborhoods, even villages, where RVers come together and build connections. Some are full-time, while others are seasonal, depending on the climate. And many are outright resorts with all the premium amenities you'd expect on an epic vacation.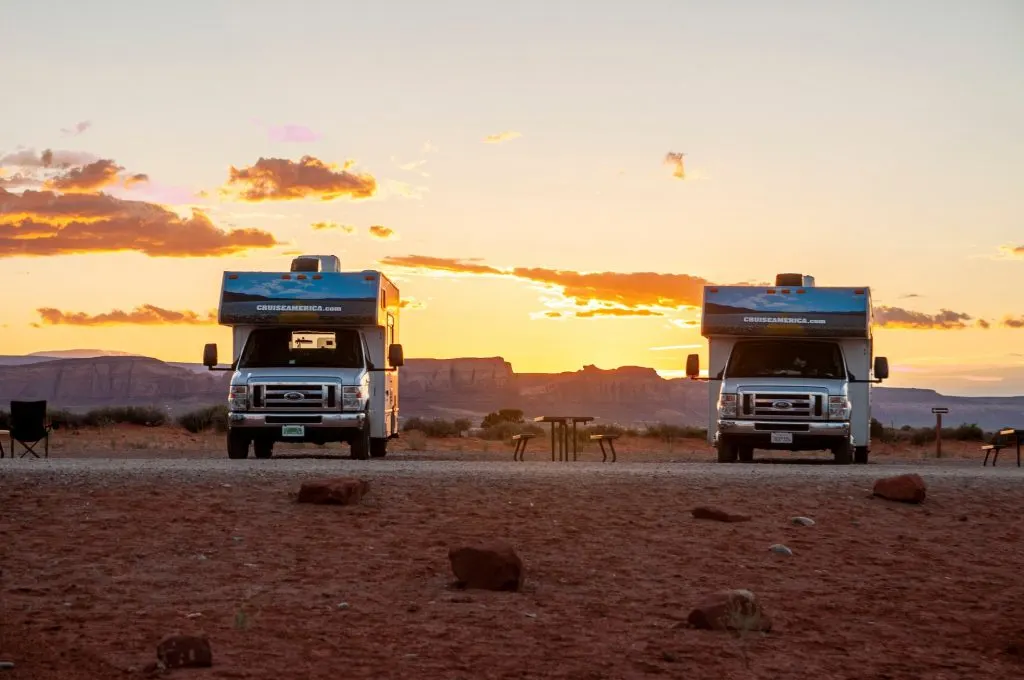 Hardcore campers have turned RV parks into family units across the US, including in coastal communities. Much like any neighborhood in middle America, folks lend a hand to the family next door and can rely on others for help when the time comes.
These campgrounds aren't a one-size-fits-all commodity, though. They range from rustic parks to fully stocked resorts and everything in between.
The Benefits of Living in an RV Community
One of the biggest draws of living in a campground is the sense of community. Folks in a traditional neighborhood often stay in their own yards rather than getting out and meeting the people around them. In an RV park, communal spaces necessitate getting to know your neighbors.
It's also less expensive than paying a mortgage. Of course, you won't build equity by full-timing in one of these spots, but many people can save for future investments while living in a motorhome.
Other perks include not having to mow your lawn or keep up with landscaping like you would in a traditional home. And compared to traveling around in your RV, you'll have less wear and tear on your vehicle and travel trailer.
The Disadvantages of Living in an RV Community
Stationary RV living does come with its drawbacks. That sense of community so many enjoy may be too much for someone seeking privacy. On the other hand, when living where people regularly come and go, your connections can be fleeting and ultimately leave you feeling isolated.
And while many people save money by living in their RV, others don't. Your costs may be pretty high depending on where you choose to camp. In fact, the cost of this lifestyle is notoriously variable, especially when you factor in maintenance and inevitable repairs.
Plus, staying in such a small space may make you feel claustrophobic after awhile. That's why it's important to find a place where you can get out and enjoy nature without having to hit the road.
5 Best Coastal Communities for RVers
Plenty of options are out there for folks seeking campground fellowship, and you can find them from sea to shining sea. Here are a few of our favorite coastal RV communities.
#1 Water's Edge RV Resort, Punta Gorda, FL
Sunny Punta Gorda is between Fort Myers and Sarasota on Florida's Gulf coast. The state is known for its retiree community, and Water's Edge is no exception. Hailed as one of the country's best RV parks, this resort has it all for the 55 and over crowd.
The park is resident-owned, meaning the folks there have a stake in the property. It has over 100 lots with access to a 20-acre fishing pond, and many are for sale or rent.
Campers can participate in events like Super Bowl parties, game nights, water aerobics, and golf. Group outings like casino trips and cruises are typical as well.
#2 Sea-Vu West, Wells, ME
The quaint seaside town of Wells, Maine, has one of the premiere RV campgrounds in the Northeast. Seasonal guests and short-term tourists descend upon the resort from spring to fall.
Sea-Vu's 45-acre campground features 45 spacious spots for standard motorhomes and over 175 park model sites. You'll even find tiny homes for sale on the lot. If you're interested in an investment property, you can purchase a park model and store it there for free during the off-season.
This resort has plenty of amenities, such as a putting green, bocce ball court, and swimming pool. Plus, Sea-Vu is less than two miles from the beach.
#3 Caspar Beach RV Park, Mendocino, CA
In the misty hill of northern California, you'll find Caspar Beach RV Park. Just steps from the water, this is a quintessential coastal community for full-timers. Cabins, tent sites, and motorhome spots with both full and partial hookups are all available for rent year-round.
At the front desk, guests can rent kayaks, surfboards, and even scuba gear for fun on the water. Just south of the grounds, visitors can check out Mendocino Village and the blossoming botanical gardens.
#4 Key Largo Kampground, Key Largo, FL
If you're looking for a coastal RV community in South Florida but haven't hit retirement age, the Key Largo Kampground might be the place for you. Protected from the rough Atlantic waters by El Radabo Key, this location features its own marina, so bring your boat!
This gated property has plenty of waterfront sites with full hookups to accommodate those searching for a nice view. There's a playground, laundry facilities, bathhouses, and a heated swimming pool.
Note that most pets are allowed at RV sites but not tent spots, and they do restrict certain breeds. So check with them before showing up with your four-legged friends.
#5 Jamaica Beach RV Park, Galveston, TX
Coastal communities may not be the first thing that comes to mind when you think of Texas, but Jamaica Beach RV Park is precisely that. It has everything you'd want for a beach vacation and for everyday life.
Every site is a pull-through concrete pad with full hookups. You'll find laundry facilities, bathrooms, and a full kitchen on site. But those are just the necessities.
This resort features a swimming pool and a massive lazy river surrounded by cabanas, a tiki bar, and a snowcone stand. You can play Jenga and chess with life-sized pieces or catch a performance at the outdoor theater.
Even if you're just visiting, you may never want to leave.
Is Living in an RV Community Worth It?
Full-timing in an RV community isn't for everyone, but the right coastal resort could be enough to sway just about anyone. For folks who love the sociability and amenities these campgrounds offer, there are some great options.
If you need a break from life on the road, a trip to the nearest motorhome park on the beach may be in order. It can be a great way to reset and make some new lifelong connections.
Discover the Best Free Camping Across the USA
To be honest with you, we hate paying for camping. There are so many free campsites in America (with complete privacy).
You should give it a try!
As a matter of fact, these free campsites are yours. Every time you pay federal taxes, you're contributing to these lands.
Become a FREE CAMPING INSIDER and join the 100,000 campers who love to score the best site!
We'll send you the 50 Best Free Campsites in the USA (one per state). Access the list by submitting your email below: