Swimming in Lake George is one of many favorite tourist activities at this centuries-old vacation destination.
With miles of shoreline and hundreds of islands to explore, you can't run out of things to do. But some of us want to know just how Lake George is before we take a dip.
So, is its natural beauty hiding polluted waters or anything else? We've found all the information you need.
Let's dive in!
About Lake George, New York
Located about an hour north of Albany, Lake George is one of the clearest bodies of water in the country. In fact, it's so beautiful they named the surrounding town after it. Originally local Native Americans called it Andia-ta-roc-te, or 'lake that shuts itself in.' But when British forces fought the French over it in the 1600s and won, they renamed it after King George II.
Lake George is 32 miles long and three miles wide. It's nested within the Adirondacks, making it even more beautiful. The view from above is spectacular.
But there's plenty to see by just walking around. Locals suggest dedicating time to visiting historical sites like Fort Ticonderoga and Battlefield Park. Popular activities include rock climbing, boating, horseback riding, and even parasailing.
In addition to the area's natural beauty, there's no shortage of dining options. Try some crab at Tavern on the Lake or some mussels at Lizzie Keays. Or grab a pint at Common Roots Brewing company after a taco from Raul's
No matter what kind of traveler you are, you'll find plenty to do at Lake George. But it isn't cheap! This is an upscale destination, so save up before you go!
Is It Safe to Swim in Lake George?
Lake George is one of the safest, cleanest U.S. lakes to swim in. In fact, the water is so pure that locals use it for drinking! Since the Adirondack mountains and forest surround it, little pollution enters. Nature acts like a steep shield.
But to keep it clean, we must preserve the surrounding trees and landscape. Deforestation, urbanization, and invasive species wreak havoc on the whole ecosystem. That's why entities like the Lake George Association are working to protect it.
New York state ranks Lake George water as class AA-Special. This is the highest possible rating! However, this doesn't mean George is in the clear. It's also considered an impaired waterbody due to local erosion and storm runoff. So helping hands in safeguarding this beloved place are always in need.
Pro Tip: While swimming in Lake George, keep an eye out for these Most Dangerous Creatures in Lake George, New York.
5 Great Places to Swim in Lake George, New York
While entities like the Lake George Association work year-round to protect the area, visitors can still enjoy it. According to visitlakegeorge.com, these are the five best places to swim.
Beaches
If you'd like to feel your toes in the sand while gazing out at the lake, you have plenty of options. Usher Park, Shepark Park, and Million Dollar Beach are all within a mile of each other. Million Dollar is the biggest and most popular for swimming. You can also hop on a boat cruise and get the lay of the land.
If you want to get a little further away from the main thorofare, try Usher Park beach. Or better yet, try Rogers Memorial Park beach nearby. Located ten miles north in Bolton Landing, if Roger's doesn't suit you, Veteran's Memorial Park Beach is right next door.
Island Campsites
If you want more privacy when swimming in Lake George, consider renting an island campsite on Glen, Narrow, or Long Island Group. All are located right by the shore. Overnights can cost between $25 to $35, and weekly rentals are closer to $200.
But these campgrounds are worth it.
Every campsite has a boat dock, also known as a perfect place for jumping in the water. At night you can build a fire. Or you can run a genny, but only for five hours max. Parties are limited to six, and you have to rent or own a boat to get there.
Northwest Bay
As we mentioned earlier, the beaches in Bolton Landing are excellent choices for swimming near Lake George. These areas tend to be less crowded and more remote. Lifeguards are on duty from 9 am to 5 pm when the water is open. There's a small parking fee, but otherwise, it's free.
Veteran's Memorial also has a basketball court, grills, and a playground. Rogers ups the ante with a tennis court and occasional events like free movie nights in the summer.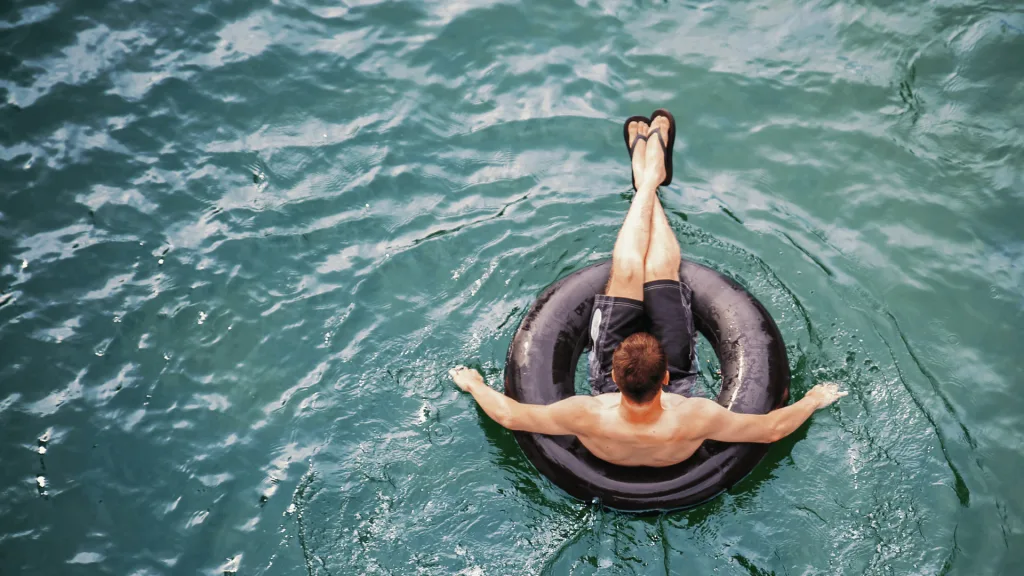 Paradise Bay
If you can go swimming in this secluded location, you won't regret it. Paradise Bay is on the eastern side of Lake George, about 24 miles north. You need to drive up to Shelving rock road, park, and then rent a boat to get there.
Boat owners are lucky because they can easily get there and dive into the bay from anywhere. You'll often see boats docked around the many large rocks where people climb and jump into the water from.
If you want to scout the area first, take the Lake George Steamboat Paradise Bay Cruise instead.
Log Bay
If you haven't guessed by now, the best way to enjoy Lake George is to get access to a boat. You can still have a great time without one. However, you can swim at Log Bay Island if you have one.
Boaters love to set anchor here and relax under the sun. You can also reserve one of the twelve campsites. Interestingly, you cannot bring a tent because they provide sleeping quarters. Unfortunately, we can't vouch for what they're like, so you might want to read reviews on sites like Trip Advisor.
Pro Tip: Take a break from swimming in Lake George to go on a road trip to find these 7 Spectacular Castles in New York.
Is It Worth a Trip to Swim in Lake George?
After a visit to the area, Thomas Jefferson once said it was "without comparison, the most beautiful water I ever saw." It's no wonder so many people swim at Lake George.
And we think you should too!
With breathtaking views of the Adirondack wilderness, and activities for every type of traveler, it's definitely worth it.
Discover the Best Free Camping Across the USA
To be honest with you, we hate paying for camping. There are so many free campsites in America (with complete privacy).
You should give it a try!
As a matter of fact, these free campsites are yours. Every time you pay federal taxes, you're contributing to these lands.
Become a FREE CAMPING INSIDER and join the 100,000 campers who love to score the best site!
We'll send you the 50 Best Free Campsites in the USA (one per state). Access the list by submitting your email below: