Most motorcycle clubs use patches to express their affiliation, but only certain bikers can sport an 81 on their vests.
If you've ever seen one of these emblems and wondered about the meaning, you're not alone. And the men wearing it often seem unapproachable, so asking them to explain seems out of the question.
Today, we're digging into the underworld of outlaw motorcycle clubs to answer all your questions.
Let's ride!
Which Bikers Wear the 81 Patch?
Bikers wear all sorts of patches. Some are generic and worn by members of any motorcycle club, or MC, while others are reserved for specific groups.
However, you won't find the 81 insignia on just any biker. Only members of the Hells Angels wear this badge.
The 81 patch has special meaning to this group. The eight stands for the eighth letter of the alphabet, H, while the one stands for A. In this sense, 81 is a direct reference to Hells Angels.
So if a non-member is busted wearing the numbers, they could face serious consequences.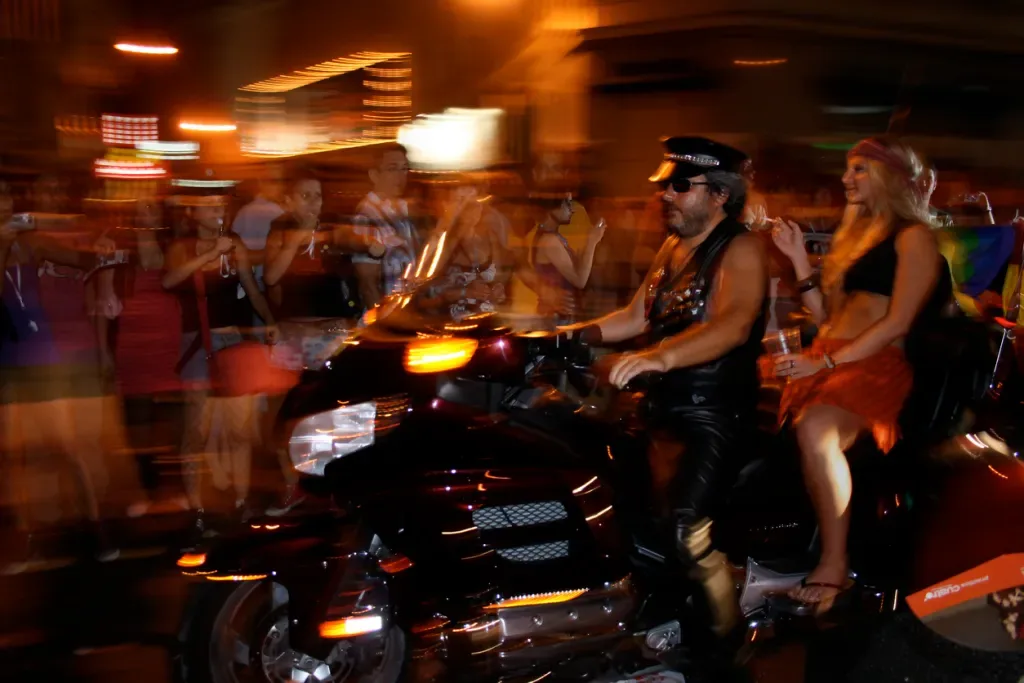 About the Hells Angels Motorcycle Club
When you think of a motorcycle club, the Hells Angels probably come to mind. This rough-and-tumble group of bikers has earned a reputation for violence and criminal activity.
And while evidence documenting such behavior exists, much of the lore regarding the group has been sensationalized.
The early days of the MC are unclear, but the Hells Angels' name originated from squadrons in the First or Second World War. The California-based group formed in 1948 and today has around 3,500 members in nearly 60 countries.
Prospective members have to meet strict requirements for consideration. Folks with a history of abusing children or showing interest in law enforcement are strictly forbidden. You have to have a bike, ideally a Harley Davidson, with more than 750cc displacement.
If you want to join the Hells Angels, you'll have to work your way up the ranks. After making it through a "hang-around" period, you'll become an associate, then a prospect, and finally, a "full-patch" member. Only those who've completed the process can wear the whole four-piece insignia.
What Is an Outlaw Motorcycle Club?
For many bikers, outlaw MCs are simply those not recognized by the American Motorcyclist Association (AMA). However, law enforcement has a different definition.
According to the US Department of Justice, outlaw motorcycle gangs (OMGs) are biker clubs that profit from criminal activity. Drug trafficking, trading firearms, and general racketeering are among the most common accusations.
The FBI singled out the Hells Angels, along with the Pagans, the Outlaws, and the Banditos as the "Big Four" OMGs. These clubs are often the targets of criminal investigations in an effort to halt illegal activity.
Do All Outlaw Bikers Wear the 81 Patch?
Membership in an outlaw MC doesn't give just any biker permission to rock an 81 patch. If you see someone with an 81, HA, HAMC, or "Red & White" symbol, you can assume they're a Hells Angels member. In addition to emblems on their gear, they may even have tattoos of the same symbols.
Some patches do signify membership in a general outlaw club. However, since 99% of bikers act within the law, those that don't might show off a 1% patch.
Similarly, emblems with a skull and crossbones indicate danger. Some even say these patches signify a biker has committed murder.
Can Women Be in the Hells Angels?
While the Hells Angels aren't exactly a "he-man woman haters club," they only allow men to become members. Brotherhood is a serious concept to these guys.
Women can hang around clubhouses, especially if they're in committed relationships with members. They can even ride along on trips if they respect the group's rules. However, these "old ladies" have to hit the road once it's time for a meeting.
When Were the Hells Angels Hired For Security?
One of the Hells Angels' most infamous incidents occurred at the Altamont Speedway Free Festival in 1969. According to legend, The Rolling Stones hired the club as security during their show in exchange for $500 worth of beer.
But instead of deterring violence, the members had the opposite effect on the raucous crowd.
The festival-goers had become growingly hostile during the concert. In fact, the Grateful Dead, who hired the MC for security in the past, refused to take the stage. Scheduled to perform right before The Stones, the Dead backed out due to concerns about their safety.
During The Rolling Stones' performance, one of the bikers threw a teenager named Meredith Hunter off a speaker box. Hunter pulled out a gun to defend himself, but one of the members stabbed him, and he died before The Stones finished their set.
Are the Sons of Anarchy Based On Hells Angels?
If you're familiar with the hit TV show Sons of Anarchy, you likely know that the Hells Angels inspired its creators.
Not only that, but actual members of the outlaw club acted in the show as well. David Labrava, Rusty Coones, and Chuck Zito played characters throughout the series. But the most infamous real-life member is Ralph "Sonny" Barger, founder of the Oakland, California, charter and attendee of the Altamont fiasco.
Wearing an 81 Biker is Serious Business
If you see an 81 patch on a biker, it's safe to assume he's a Hells Angels member. If he's not, you certainly don't want to be around when the real MC catches him using their badge. This group takes loyalty seriously and doesn't have patience for impersonators.
But you probably have nothing to fear as long as you keep your head down and mind your own business.
Discover the Best Free Camping Across the USA
To be honest with you, we hate paying for camping. There are so many free campsites in America (with complete privacy).
You should give it a try!
As a matter of fact, these free campsites are yours. Every time you pay federal taxes, you're contributing to these lands.
Become a FREE CAMPING INSIDER and join the 100,000 campers who love to score the best site!
We'll send you the 50 Best Free Campsites in the USA (one per state). Access the list by submitting your email below: