The code of silence can have different meanings depending on the bikers following it. But at the very core, it requires them to keep their lips shut.
It makes sense for outlaw motorcycle clubs to abide by this kind of rule. However, other groups instill similar codes into their regular business activities.
Join us as we roll down the road to discover what the code of silence is for bikers.
Let's hit it!
What Exactly is the Bikers Code of Silence?
Bikers in motorcycle clubs, or MCs, back each other like brothers. The code of silence refers to remaining quiet about activities involving the group. It could be anything from specific rules or daily MC business to illegal acts. Just like Fight Club, you don't talk to others about what goes on among your ranks.
And when members of the law confront bikers, that's the most crucial time to enact the code of silence. The phrase, "Snitches get stitches," is the least of what could happen if you have loose lips!
A similar rule, originating in Sicily, Italy, seems to be the basis for this MC law. The Italian Mafia followed the code of omertà, which required members to remain silent and not divulge information to outsiders. Unsurprisingly, biker gangs adopted this as a mandate among their members.
Why is the Code of Silence So Important?
Loyalty to the MC and fellow members is of the utmost importance. Being part of such a tight-knit group, you're expected to maintain allegiance at all times. Even if the club doesn't involve itself in illegal activities, your silence about insider business to outsiders is still mandatory.
However, if a fellow member breaks the law, don't bring it up in a meeting. The code of silence means you keep that information to yourself. Or just among a few other bikers in the know.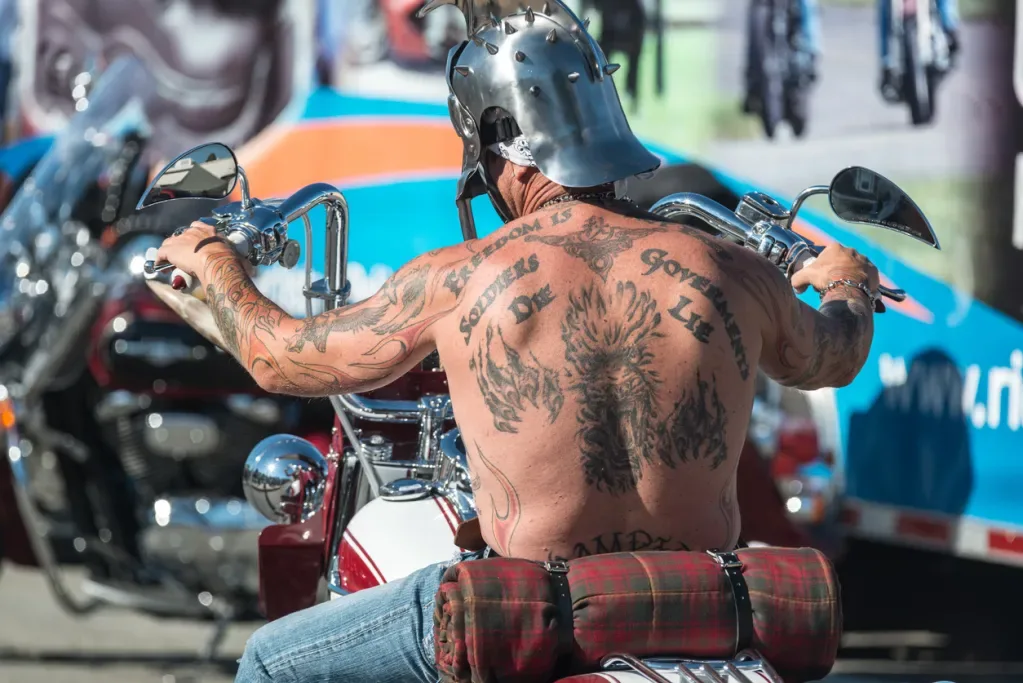 What Happens If a Biker Breaks the Code of Silence?
If you're caught disobeying the code of silence, you face any number of disciplinary actions. For example, you might need to remove one or more patches from your jacket. If the club sees fit, you could lose the right to display the primary MC logo.
It's possible you could also lose riding privileges for a certain amount of time. Imagine being a competent biker restricted from using your motorcycle or joining fellow members on a trip.
Of course, the harshest punishment of breaking the biker code of silence could result in expulsion from the MC or worse. Depending upon the details regarding the information shared and who received it, a member could lose their life. Outlaw motorcycle gangs often have no mercy regarding someone within the group snitching on their brothers.
Do All Bikers Follow the Code of Silence?
The code of silence is a rule many MCs incorporate into their bylaws. However, it's not just outlaw biker gangs that require members to keep their lips tight.
In fact, many Christian motorcycle clubs utilize this law even though they remain on the up and up. One thing you must agree to when joining one of these MCs is that you won't do illegal acts. But they still want you to keep the group's information private for the most part.
Interestingly, the Iron Order Motorcycle Club doesn't have a rule regarding secrecy. Many members are active or former military and law enforcement personnel. And they'll often work with the police on legal matters.
Is the Code of Silence the Only Rule Bikers Follow?
Not by a long shot! You might think bikers, whether outlaw or law-abiding, are freewheeling spirits who don't follow many rules. But that would be incorrect. It might surprise you to learn all the various codes of conduct the MCs expect their members to adhere to.
For example, most motorcycle clubs have strict guidelines regarding patches. So while it may seem like the emblems adorning leather vests are decoration, the reality is quite different.
Every MC has a unique three-piece logo members wear prominently for others to see. Many times, they're on the back of jackets or vests. Club rules often require bikers to display their patches, especially when traveling together.
Other codes they follow include always backing their brothers, riding in formation, and showing respect. And, not surprisingly, caring for and honoring the precious bike is of utmost importance.
While on the topic of motorcycles, certain groups like the Hells Angels require their members to only ride Harley Davidsons. There's no mistaking them when you hear a Harley. Their tell-tale rumble makes their presence known a half mile away.
So, yes, most, if not all, riders who are part of a club have a variety of rules they need to follow. And the discipline for not abiding by them will vary in degree of severity. Depending on the type of MC it happens to be, members can face any number of punishments.
Other Groups That Live By a Code of Silence
As we mentioned earlier, Mafia groups follow the code of omertà. This rule of silence forms the foundation of mob ethics. For example, it's never OK for anyone in the family to talk to the police about anything. Doing so could result in serious violence or even death.
Members of Mexican cartels and residents of the cities they operate in also follow codes of silence. It's not surprising that groups dealing in illegal activities wouldn't talk to the media or law enforcement.
However, average citizens also remain quiet too. For example, in Badiraguato, Mexico, home of drug lord El Chapo, residents keep their lips tight. There's too much at stake otherwise.
Death threats against individuals, including their families, who talk to authorities about cartel business are common. And the locals also don't want to jeopardize the money and community support cartel leaders provide.
While this last example is controversial, some police officers in the US also follow an informal code of silence. Speaking out against a colleague's errors, misconduct, or crimes is something particular cops won't do. However, if they share nefarious activities with their higher-ups, other officers will consider them whistleblowers.
So it's not just bikers who follow a code of silence. For a variety of reasons, many groups around the world abide by similar guidelines.
Remember, Snitches Get Stitches
While the code of silence isn't always to protect the criminal activities of bikers, it often is used for that purpose. But as we discovered, even law-abiding Christian MCs adhere to this rule.
Of course, depending on the nature of the club, this guideline will mean different things. But, at the most basic, it just requires members to not talk about club business to outsiders.
Discover the Best Free Camping Across the USA
To be honest with you, we hate paying for camping. There are so many free campsites in America (with complete privacy).
You should give it a try!
As a matter of fact, these free campsites are yours. Every time you pay federal taxes, you're contributing to these lands.
Become a FREE CAMPING INSIDER and join the 100,000 campers who love to score the best site!
We'll send you the 50 Best Free Campsites in the USA (one per state). Access the list by submitting your email below: