If you've never heard of Koolickles, you're either about to find your new favorite camping snack or wonder what the world is coming to.
This divisive bite has taken the Internet by storm, and many folks swear by the treat.
Today, we're diving into the weird world of pickles to answer all the questions you didn't know you had. We'll also offer some other snack ideas for your next camping trip.
Let's dig in!
What Are Koolickles?
Crunchy, brightly colored, and highly polarizing, Koolickles are the latest snack trend emerging from TikTok's depths. While we don't know who originated this unusual nibble, the general consensus is that they were born in the Mississippi Delta, where you can find them at convenience stores and gas stations.
As the name implies, these are pickles steeped in Kool-Aid until they take on the vibrant color and sweetness of the beloved beverage.
Also known as Pickoolas, they join a long line of pickle-based snacks, such as the SnoCos, which are pickles soaked in snow cone syrup. Other questionable combinations are Jolly Rancher-stuffed pickles and crunchy dills sprinkled with Pixie Stick powder.
How Do You Make Koolickles?
Koolickles couldn't be easier to make. First, pick up a 24-ounce jar of your favorite dill pickles. You don't want to use the bread-and-butter variety since the sweet and salty combo is part of their appeal. Then grab a packet of good old-fashioned Kool-Aid. Any flavor should work, just know that the Koolickles will take on the color you choose.
Pour out about an inch of the juice to make room for the other ingredients. Next, add one packet of drink mix and two-thirds of a cup of sugar into the jar. Put the lid back on and shake it until the sugar dissolves.
You'll want to store them in the refrigerator and give the jar a good shake daily. Once they've marinated for about a week, they're ready to eat!
What Do Koolickles Taste Like?
Unsurprisingly, salty, crunchy pickles take on the fruity sweetness of the Kool-Aid they're soaked in. But instead of a mish-mash that confuses your taste buds, the flavors balance each other out, resulting in a refreshing treat, especially on a hot day.
We hear that cherry is one of the most popular Kool-Aid options, along with fruit punch and grape. But you may want to avoid sour flavors like blue raspberry that end up being too tart.
If a Koolicle sounds too weird for you, fried pickles might be more up your alley. The Addictive Nature of Fried Pickles (A Southern Delicacy).
5 More Fun Camping Snacks
One thing's for sure, and that's the fact that folks either love Koolickles or hate them. So, of course, trying them yourself is the only way to find out where you stand. But if you're not willing to risk it, here are some of our favorite camping snacks that won't divide your friend group.
Banana Wraps
These super simple snacks are great for your next camping trip because they'll give you energy without weighing you down. All you need to do is spread your favorite nut butter on a tortilla and wrap it around a banana. How easy is that? We suggest almond butter for the perfect combination of flavors.
S'Mores
We couldn't make a list of camping foods without including s'mores. This quintessential treat only requires graham crackers, chocolate bars, and marshmallows toasted to perfection over an open fire. Just smush them into a sandwich and enjoy.
You can get creative with your ingredients if you're feeling adventurous. Some folks add peanut butter, Oreos, caramel, and other sweets. You can also make a big batch of s'mores nachos to feed a crowd. Put all your ingredients in a skillet or foil pan and heat until your marshmallows are nice and gooey. Just like the traditional treat, you can cook these sweet nachos over a campfire.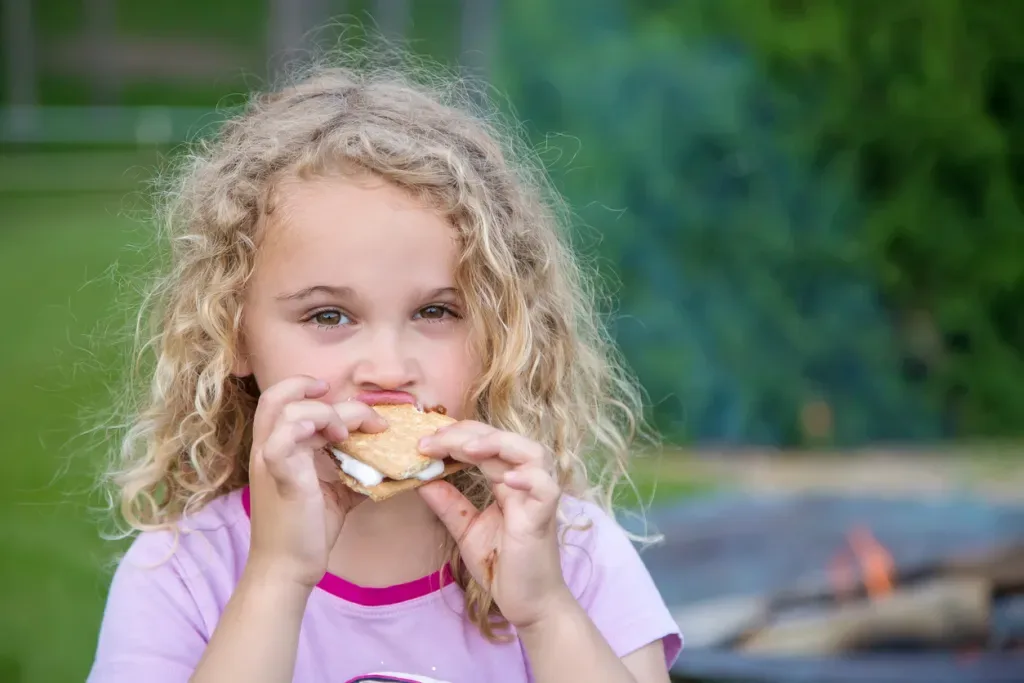 Banana Boats
Banana boats are another great camping snack, especially if you have a sweet tooth. First, slice a banana in half long-ways. Fill it with whatever ingredients you prefer, then wrap your creation in aluminum foil and roast your boat over a fire.
You can get really creative with these. We love the s'mores version with chocolate and marshmallows or trail mix-inspired boats with dried fruits and nuts.
Apple Cookies
While the name is a bit misleading, apple cookies are tasty treats that are sure to please. And best of all, they don't require an oven. Simply core an apple and slice it into rounds. Then top them with nut butter, dried fruit, nuts, or anything that sounds good.
You can try shaved coconut and chocolate chips, chocolate-hazelnut spread and pretzel pieces, or apple butter and sliced almonds. The possibilities are endless!
Trail Mix
Creativity and improvisation are key ingredients in many camping snacks, and trail mix is no exception. One of the beauties of this classic snack is that you can usually use whatever you have on hand to create a one-of-a-kind treat.
Trail mix can be sweet, savory, or both. In fact, the combination of flavors may be the most popular option for homemade trail mix. Nuts, dried fruit, pretzels, and raisins are common additions, but you can use just about any of your favorite dry foods. Just throw them together in an airtight container, and you're good to go.
How Do You Keep Snacks Cool While Camping?
While RVers probably have access to a refrigerator while camping, you'll need to rely on a cooler if you're roughing it in a tent. Fortunately, there are plenty of options for snacks that don't require refrigeration, but things like Koolickles will need to stay cold. After all, nothing ruins a camping trip quite like food poisoning.
We have some tricks to keep your food and drinks colder for longer. Chilling your cooler before filling it up will give you a head start. Then, add frozen foods and water bottles that can thaw out over a couple of days if you go on a longer trip.
If you have the space, you can use separate coolers for food and drinks. The one used for beverages is usually opened more frequently and ultimately warms up faster.
Finally, remember that the quality of your cooler will make a big difference in how well it functions. If you're feeling fancy, you can buy a powered unit that runs off your car battery.
Need some snacks for the road? Try our 5 Best Road Trip Snacks.
What Foods Keep Well for Camping Without a Cooler?
The most popular camping snacks are those that don't require refrigeration. Beef jerky, peanut butter, and fresh fruits like apples and oranges are always popular.
You can find fruit pouches with only one or two ingredients or try fruit leather. And, of course, nuts are great for giving you energy on a long hike.
Your options are even greater if you don't mind the processed stuff. Then, when you need a quick bite, you'll be glad you have that pack of granola bars or Goldfish crackers.
Finally, remember that farm-fresh eggs don't need to be refrigerated. If you can find a local supplier, this could be a great option.
Get Creative With Your Camping Snacks
While people are divided over Koolickles, plenty of camping snacks are universally loved and easy to travel with. All you need is a handful of ingredients and a little creativity!
By planning your meals ahead of time and considering your refrigeration options, you can avoid becoming hangry at the end of an extended camping trip. Keeping everyone happily fed and nourished on vacation is key to a successful adventure.
Discover the Best Free Camping Across the USA
To be honest with you, we hate paying for camping. There are so many free campsites in America (with complete privacy).
You should give it a try!
As a matter of fact, these free campsites are yours. Every time you pay federal taxes, you're contributing to these lands.
Become a FREE CAMPING INSIDER and join the 100,000 campers who love to score the best site!
We'll send you the 50 Best Free Campsites in the USA (one per state). Access the list by submitting your email below: