RV dealerships across the country are in serious trouble. An industry specialist predicts rough roads ahead and warns consumers to prepare for a "bloodbath."
While this may sound dramatic, he's got the RV sales data to back up these claims. Unfortunately, the glory days many sales teams have enjoyed over the last few years appear to be over. So who will remain when the dust settles?
Today, we'll look at the nightmare RV dealerships are facing.
Let's get started!
RV Dealerships Might Be In Trouble
The most recent report from the RV Industry Association (RVIA) reveals that shipments for towable campers are down 53.3%. In addition, motorhome shipments are down 14.4%. While this is only one piece of a giant puzzle, it doesn't reveal a bright future.
Josh the RV Nerd, a respected YouTuber in the community, provided insights into these numbers and shared how retailers are struggling to sell.
He found that some brands have an active in-stock inventory of as much as 96% of 2022 models. This is a serious issue because 2024 versions will be on the scene soon. However, not all businesses are experiencing this exact situation.
RV dealerships will be in further trouble if they can't move their inventory. Shoppers want to avoid paying inflated prices for 2022 campers when newer and cheaper versions are available. While more prominent brands may be able to weather the storm, that's not the case for everyone.
Some customers like to shop locally and support mom-and-pop dealers. Unfortunately, many of these businesses may get hit hardest. They may be unable to offer the discounts or incentives their larger competitors provide.
What is the RV Bubble?
The 2020 pandemic primarily fueled the bubble. The industry experienced increased demand, supply shortages, and longer production times. Manufacturers battled unexpected shutdowns, a lack of parts, and difficulties shipping rigs. Meanwhile, many dealers say the campers were practically selling themselves.
It didn't help that the industry was already trending upward before the chaos. The massive increase in demand and lack of inventory caused prices to skyrocket. Manufacturers took the opportunity to strike while the iron was hot. Shoppers paid a premium and saw no light at the end of the tunnel as costs continued to climb.
Sadly, this put buying a camper out of reach for some families. On the other hand, as the famous saying goes, "What goes up must come down." Those who've been around the block a time or two knew a market correction would occur. The bubble of protection that many sellers enjoyed couldn't last forever.
Dive deeper into why RVers Feel Regret as the Industry Bubble has Burst.
What Will Cause RV Sales to Drop?
Many industry experts feel the bubble has already burst. Different indicators point towards issues that'll likely snowball and create trouble for RV dealerships. Here are a few things that'll probably cause sales to plummet.
High-Interest Rates
If you've tried to buy anything with credit lately, you've likely experienced high-interest rates. Everything from credit cards to auto loans has been affected, including recreational vehicles. Many financial institutions see campers as luxury purchases, which means stricter requirements and increased interest rates when financing.
Even those with a solid credit score are balking at these numbers. A few percentage points may not sound like much. However, it's a significant increase when purchasing a rig well over $100,000. You'll pay more each month and over the life of a loan.
With a three percent interest rate, you'll pay an extra $200 each month for a ten-year, $100,000 loan. If that's not bad enough, it adds $20,000 over the life of the loan. It's easy to see why folks are thinking twice before signing on the dotted line.
Outrageous Prices
As we mentioned earlier, campers practically sold themselves for a few years. People were paying deposits on rigs that weren't even on the assembly line yet. In turn, prices went through the roof.
While this spelled trouble for buyers, RV dealerships were raking in the dough. Retailers knew if a customer didn't like the numbers, another was walking through the door that would pay up.
The longer shoppers waited, the worse pricing got. For many, buying a camper was no longer an affordable way to enjoy weekend adventures. Combining outrageous sticker prices and high-interest rates is a perfect storm for sales to drop. But there's a third factor to consider.
Oversaturation
Although manufacturers previously struggled to keep up with demand, that's no longer true. As stated in the RVIA report we mentioned earlier, shipments are drastically slowing. This generally means that lots are no longer sitting nearly empty. They're building back up their inventory, and many have more than enough to move.
As we know, an oversaturated market will often cause RV sales to drop. Consumers feel less pressure to make quick decisions. It all comes down to supply and demand.
During the pandemic, it felt like finding a needle in a haystack if you were looking for a specific model or floor plan. Many paid deposits or signed paperwork, fearing another customer would snatch up their dream camper. But it appears those days are behind us.
What else is impacting the RV industry? The Two Huge Issues Troubling RVers.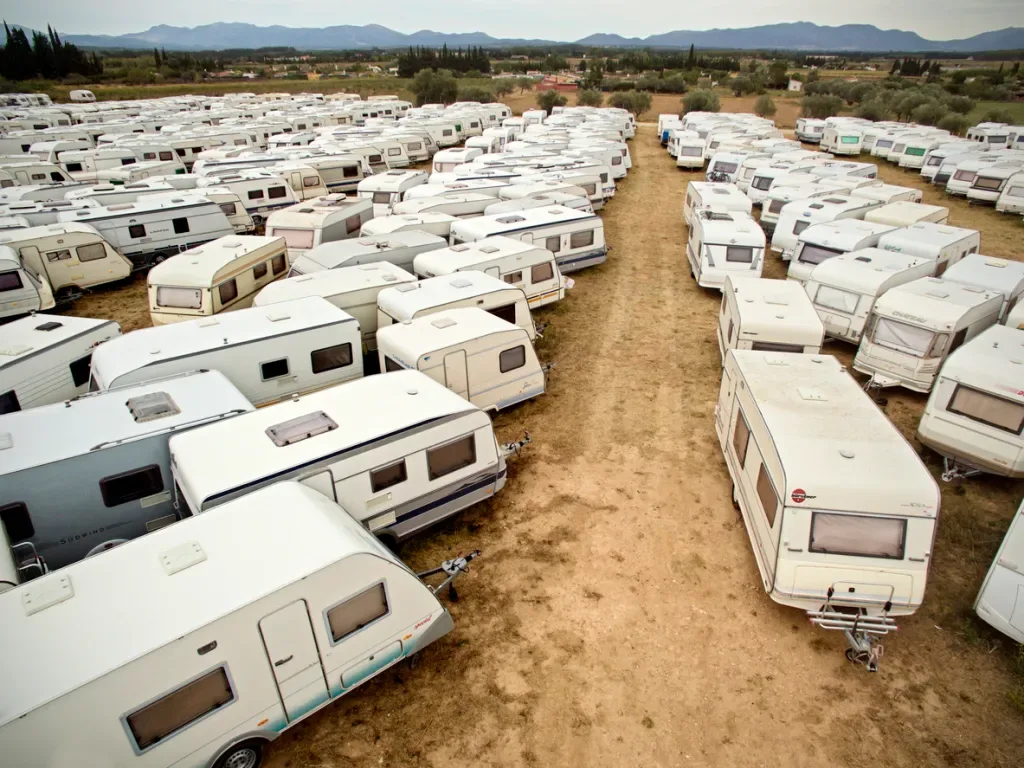 What Does This Mean for Buyers?
All of this is generally good news for buyers. If you're in the market for a new RV, expect to see prices start to decline. Businesses can't afford to let older models sit on their lot, especially as cheaper, newer ones become available. So you may be able to get these for a discount.
In addition, Josh the RV Nerd describes it as "decontenting." He states that many manufacturers are going back to the basics. They're evaluating the features and amenities they're putting in rigs to make them more affordable. That said, this has pros and cons. While it does lower the asking price, it also results in lower-quality campers.
Shoppers should be aware that some businesses are in serious trouble. Big-name retailers in the industry will likely gobble up the little guy. This could cause issues for buyers who enjoy working with a local seller, not a large corporate entity. A big-name dealer with a seedy reputation could absorb your favorite local company.
Thinking of getting into the RV life? The author has some excellent advice in Trial RV Life for Beginners: How to Start the Nomad Lifestyle
RV Dealership Troubles Could Benefit Consumers
The troubles RV dealerships are facing may be what you've been waiting for. The potential bloodbath could likely result in massive price drops.
If you've been holding out for better numbers, this might be music to your ears. So don't give up hope on getting out and making memories with your loved ones! Keep being patient, and you may score the deal of a lifetime.
Discover the Best Free Camping Across the USA
To be honest with you, we hate paying for camping. There are so many free campsites in America (with complete privacy).
You should give it a try!
As a matter of fact, these free campsites are yours. Every time you pay federal taxes, you're contributing to these lands.
Become a FREE CAMPING INSIDER and join the 100,000 campers that love to score the best site!
We'll send you the 50 Best Free Campsites in the USA (one per state). Access the list by submitting your email below: