Location: Tecopa Hot Springs, California
GPS: 35.87229, -116.23273
Overview: There are three campgrounds in the area. We stayed at the "Tecopa Hot Springs Campground" with the rate of $18 a night or $126 a week.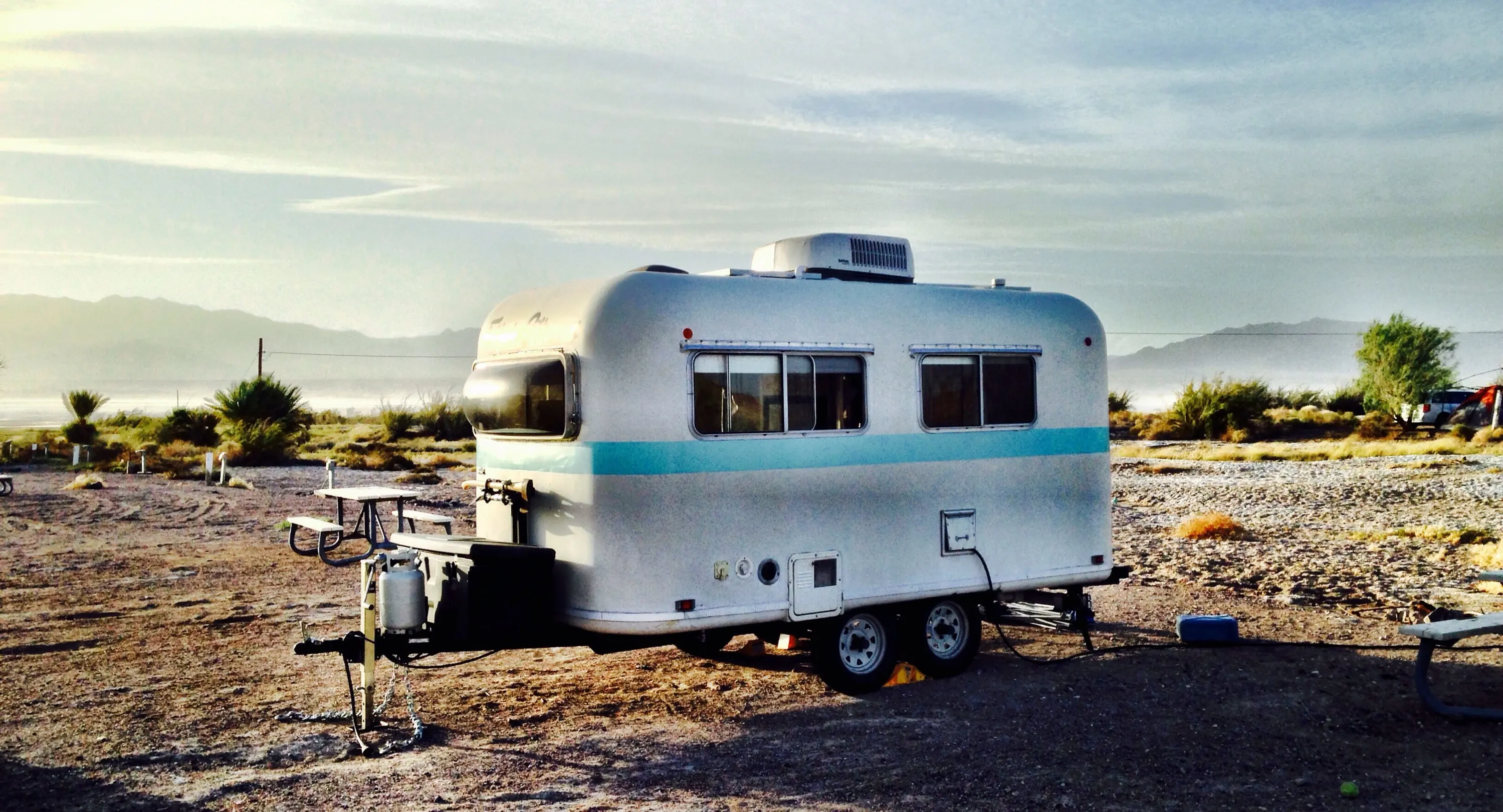 Date/Temp: 10/31-11/7 with high a temp of 75 and a low of 40
Noise: Fairly quiet, there was an occasional siren from the fire station next door and a car alarm went off twice. The campground next to ours had live music that played late into the night. If you are music lovers like us, it was enjoyable to listen from our camper and easy enough to block out with the windows closed.
Amenities: Electric hook-ups, Bathrooms/Showers, sink for dish washing (no potable water) and a free pass to soak in the hot spring baths (open 24/7)
Wifi/Cell: No cellular reception, free wifi at the library, or connection to a Wifi hotspot for $50/week
Grocery/Errands: The city of Pahrump is located 40 miles away for all your shopping needs. The office offered chips and drinks and the gift shop had a few snacks and camping supplies.
Entertainment: The campground offers live music every Saturday with the exception of the night we were there, due to Halloween festivities. Instead, they projected horror movies on a large screen on the stage. There are a few hiking trails nearby at the China Ranch Date farm, which is a small lush oasis hidden down in a valley between the desert dunes. They also offer fresh dates and many baked treats!

Our Experience: We were greeted in Tecopa with warmth and generosity. The camp hosts were kind and very helpful and the other campers were quite friendly and conversational. The campground was modest. It's a large gravel lot with the only shade trees located in the tent camping area, but with electric we were able to run the A/C; We found the weather was agreeable enough to only need it once or twice. The showers and more maintained restrooms are located in the bath houses across the road. All the facilities are pretty outdated but the campground changed hands a year ago and we hear the hip new owners are working towards a $100,000 renovation. We soaked in the silky mineral baths which are claimed by many to be therapeutic and healing, we have to agree. It was like a really intense Epsom salt bath. My muscles and joints sighed with relief and after my late night soaks my eyelids were heavy, making it effortless to slip into a deep sleep.
The baths are in gender separated buildings that are open to the night sky. The code of conduct requires you to adopt a European attitude and bathe in the nude. You must shower first and refrain from submerging your head to avoid soap from clothes and hair leeching out and contaminating the baths. Depending on the time of day, you could have the bath all to yourself or share it with up to 14 other people, according to the capacity. The baths are drained and cleaned every night and if you decide you want it all to yourself, you can rent it out for an hour for just $10. If you don't want to camp and happen to be nearby, in Vegas perhaps, you can drop by and soak for $7 a day.
We enjoyed relaxing after a busy month of driving, letting the vast desert soothe our restless minds and the coyotes sing us sweet lullabies. Alas, our journey calls and we must venture forward. We are on the move again and our sights are set on Lake Piru.