7 Best Wisconsin Dells Campgrounds
(with YouTube Video Tours)
Are you searching for the most amazing Wisconsin Dells Campgrounds? Look no further! Today we're sharing 7 awesome camping options. Best of all, each of these campgrounds will feature a video tour – providing you with the most comprehensive camping guide for your 2020 vacation.
The Wisconsin Dells is a beautiful mid-west tourist destination known for its combination of outdoor activities and kid-friendly entertainment! It's home to water parks, museums, hiking trails, amusement parks and first class shopping.
Camping at the Dells (whether in RVs, tents or cabins) is the best way to experience the area and have a wonderful family bonding vacation!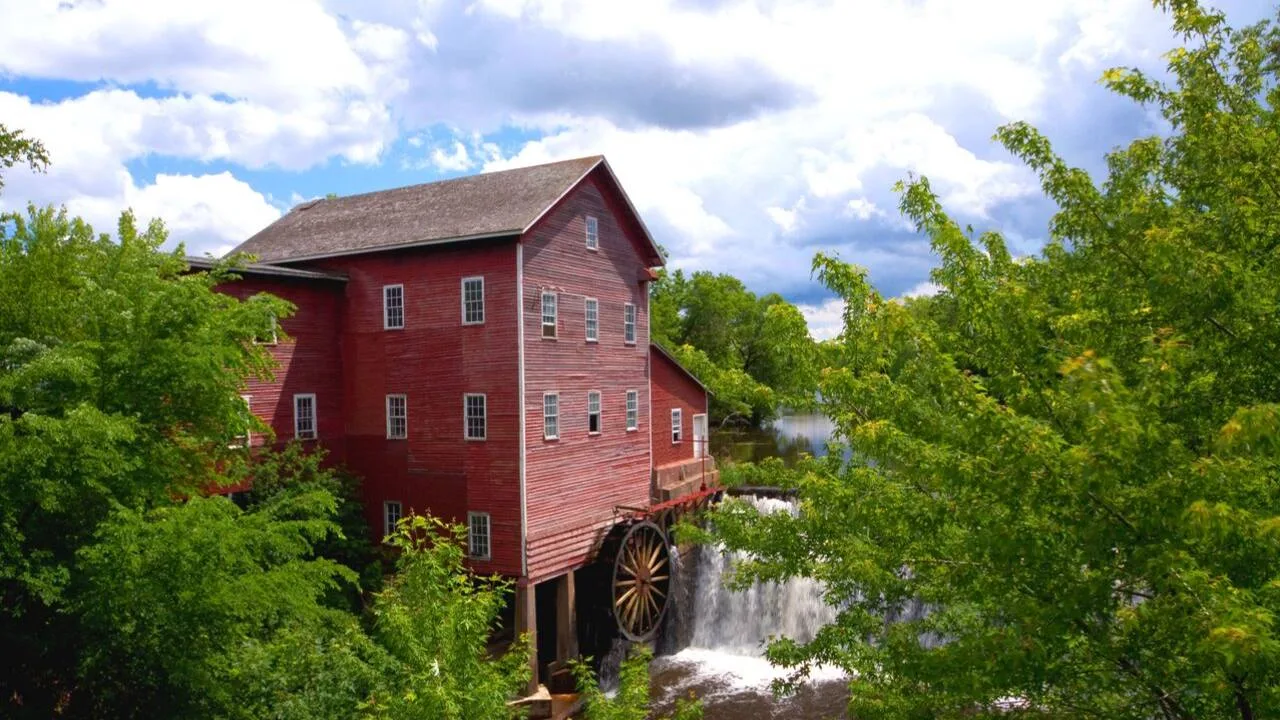 Wisconsin Dells Trip Planning
Here's the good news – most of the campgrounds near the Wisconsin Dells can accommodate RVs of all sizes. This makes it easy to reserve your campsite without size-restriction head aches.
The challenging part of Wisconsin Dells trip planning is the route you take to your campground. If you're traveling in a tall RV, make sure you don't route yourself through low underpasses. On the interstate it shouldn't be a problem, but on backroads you'll have to pre-plan your route.
We use RV Trip Wizard for an all-in-on RV planning tool. It helps us with our trip-budget, locating the right campgrounds, and routing us on a path that will accommodate our RVs unique size. There are also RV specific GPS units that can lead you in the right path (this option is a little more expensive).
Regardless of the tools you use, make sure you research the route before you hit the road. An ounce of prevention is worth a pound of cure!
Let's dive into the "Best Wisconsin Campgrounds" list!
1: Dell Pines Campground (formerly Dell Boo Campground)
Price: $41-$57
Why You'll Love It: This campground offers resort-style amenities without losing the rustic campground vibes. Large pines shade the sites and wildlife is abundant. The amenities include a heated pool, game room, covered pavilion (great for group activities), volley ball courts and play ground.
Dell Pines offers discounted vacation packages that include offsite activities like Noah's Ark Water Park and Timbavati Wildlife Park.
What's The Word: Jason on Google Reviews says, "Great campground to stay at when in the area. Friendly owners, fantastic campground. Easy access to everything the area has to offer, but far enough away to have a quiet/ relaxing experience when needed."
Wisconsin Dells Campgrounds Vibe: 8.4/10 Great amenities with authentic camping vibes!
2: Country Roads Motorhome & RV Park
Price: $39 and up
Why You'll Love It: Very big rig friendly! The park is organized in large loops, making access to sites very easy. Country Roads Motorhome & RV Park is also located close to all the Wisconsin Dells action. Just two miles from the main strip, you get the best of both worlds; close to off-site attractions and camping in a secluded, peaceful location.
The onsite amenities include full hook ups (30 & 50 amp), free wifi, casino shuttle and laundry facilities.
What's The Word: Sam on Campendium says, "Good location, sites were all pull-through, which made things easy since we got there kind of late. The site was decent sized. The people working here were friendly. This place is mostly geared towards adults; there is no pool or playground for the kids. A plus for us since we don't have kids."
Wisconsin Dells Campgrounds Vibe: 7.6/10 Adult & big rig friendly!
3: Wisconsin Dells KOA
Price: $50-$80
Why You'll Love It: KOA is known for providing great, family-friendly facilities, and this campground proves it! They offer daily planned activities for kids and welcome your family-pup with a full size dog park.
The Wisconsin Dells KOA is one of the closest campgrounds to downtown. While that convenience is reflected in the nightly rate, being close to all the action is a huge plus when vacationing in Wisconsin Dells.
What's The Word: Galnar on Campground Reviews says, "Very clean and very quiet. Had a deluxe site with grill and patio. Expensive but worth it. Just a little over a mile from downtown Dells. A train goes by frequently but didn't disturb us. Nice small pool with splash pad."
Wisconsin Dells Campgrounds Vibe: 9.4/10 Top pick for family vacations!
4: Fox Hill RV Park & Campground
Price: $42-$58
Why You'll Love It: Let's start with the amenities…the heated pool, disc golf course, play ground, nature trail and volleyball courts are a few of the many onsite amenities your family will love.
Also, if you're vacationing with non-RVing families, there are cabins available at Fox Hill Campground.
If you're an Escapees member (we are, and love it!), you'll receive a 15% discount.
What's The Word: Sue on Campendium says, "Lots to do here especially for families. Nestled among beautiful trees there are gravel sites that are mostly level. Grass between sites with fire pits and tables. Pool, real nice camp store, playground, giant chess and checkers in grass, pedal cars to rent. Staff very nice and helpful."
Wisconsin Dells Campgrounds Vibe: 7.8/10 Cabins, heated pools & disc golf!
5: Stand Rock Campground
Price: $33-$53
Why You'll Love It: How does this sound…a large pool with pool-side cock tail bar?! Stand Rock Campground lists it as a key amenity on their official website. We think that sounds great!
The RV sites are large and level. Full hook ups are available throughout the park. The additional amenities include; rec hall, game room. internet access and video rentals.
What's The Word: First off, this first tip from Campground Reviews, is a huge reason why we use RV Trip Wizard. SouthernMDtraveler says, "PAY ATTENTION TO THE DIRECTIONS. One way will lead you to a low railroad bridge crossing."
Nina adds, "Park was very clean and quiet. Staff was friendly and helpful…Will stay here again if the opportunity arises. "
Wisconsin Dells Campgrounds Vibe: 7.9/10 Fun pool amenities and family friendly!
6: Devil's Lake State Park
Price: $30-$40
Why You'll Love It: Devil's Lake State Park offers a true camping experience. Whether you tent, RV or cabin camping, this campground will get you connected to nature. The hiking trails range for easy to challenging – enjoy a trail no matter your skill level!
Water activities are also a big hit at Devil's Lake. The state park offers boat & kayak rentals.
What's The Word: Andy on Campendium says, "Big rigs be very careful….the entrance to the park is a long winding tree covered road and best to stay in the Quartzite Loop and enter off of County Road DL. Rock climbing, swimming, scuba diving (local dive shop closed though), hiking, biking etc. If you want to do it outdoors this is the place to go. If you want to go outside the park there isn't a better location in the state"
Wisconsin Dells Campgrounds Vibe: 9.2/10 The best nature-vibes in Wisconsin Dells.
7: Yogi Bear's Camp Resort
Price: $100 and up
Why You'll Love It: This is a true resort style campground! They have multiple pools, multiple water slides and huge playground areas. If you're traveling with kids, they'll love camping here!
It doesn't stop at an onsite waterpark! Here's a few other activites and amenities they offer:
"To make your stay extra enjoyable, there's…a snack bar, poolside bar, boat rentals, mini golf, game rooms, a fully stocked camping store, golf cart rentals, wagon rides, basketball, sand volleyball and horseshoes" -Yogi Bear Website
What's The Word: A recent post on Campground Reviews says, "This was the coolest RV park we visited this summer. There were activities every couple of hours every day, as well as times for meeting Yogi Bear, Boo Boo, Cindy, and Ranger Smith. They had a "Hey" Ride every morning and evening, which was lots of fun. They have a nice-sized pool with a fun water slide and also a water playground right next to that for younger kids. The water playground was lots of fun."
Wisconsin Dells Camping Vibes: 10/10 Awesome resort campground!
The Best Free Camping in the Entire USA
We love camping across this amazing country. And, we really love it when its free. Here's our list of the 20 Best Free Campsites in the USA.
If you haven't tried free camping before, also known as boondocking, take a look at our beginners guide to boondocking filled with everything you need to know to get started.
Become a FREE CAMPING INSIDER and join the 100,000 campers that love to score the best site! Simply enter your email below.