Why Do People Visit This Upside Down White House?
We've heard of politicians flipping on controversial issues, but the Upside Down White House takes that idea to the extreme.
A visit to this quirky attraction in south-central Wisconsin will turn your idea of the presidential mansion on its head.
It's all in fun, of course, which is what you should expect when you're stopping over in this unique part of the Midwest.
Let's check it out!
What Is the Upside Down White House in Wisconsin Dells?
You probably already have a mental image of the White House in Washington, D.C. Whatever that picture is, go ahead and turn it over. This oddball attraction is a reversed replica of the White House. You don't need Secret Service clearance to tour it – as long as you don't mind walking on the ceiling.
You'll see furnishings and décor similar to those in the official White House.
You may have to crane your neck for a good look, however. You might catch a bit of a presidential news conference, too, but it probably won't be exactly what you'd expect, either.
The Top Secret Attraction That's Turning Heads
The Upside Down White House has a clandestine vibe, promising it has some classified secrets to reveal in the basement. So you'll want to keep your eyes and ears open for the possibility of learning some groundbreaking new information.
We don't want to give up any state secrets, but let's just say that maybe dinosaurs or aliens are involved.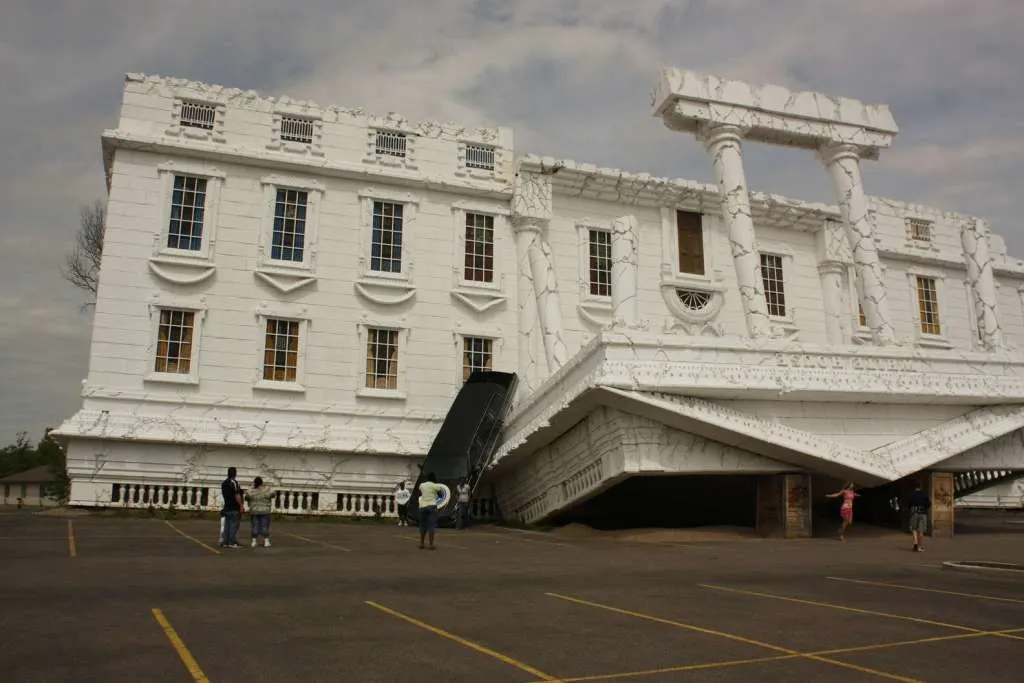 Is the Upside Down White House Scary?
Despite the intrigue and maybe a shocking finish to the tour, the experience isn't too scary. It's a bit bizarre, but the Upside Down White House is more freaky funhouse than a haunted house.
Why Is Wisconsin Dells So Popular?
It's no surprise that the Upside Down White House is located here. After all, the Wisconsin Dells is an unusual place. It's a community of four different small cities on the banks of the Wisconsin River and near Lake Delton.
Lush forests with natural sandstone formations surround the lake area.
With such gorgeous scenery, the Wisconsin Dells has long been a popular getaway spot for Midwesterners. It's also become increasingly commercialized, so it enjoys a broader range of visitors.
The Dells seems to have grown deliberately to develop more and more attractions aimed at traveling families.
Pro Tip: While exploring Wisconsin, make sure to check out these 7 Amazing Waterfalls in Wisconsin.
Other Things to Do Near the Upside Down White House
You may know the Dells as the Water Park Capital of the World. There are numerous theme parks here, and some of them are indoors. This means you can enjoy a visit to the Dells any time of year.
Besides the cleverly themed amusement parks, the area offers shopping. There's bingo and casino gambling, too.
Along with the Upside Down White House, here are some top attractions to check out.
Mt. Olympus Amusement Park
With a total of 1,600 hotel rooms, this ancient Greece-themed resort is a sprawling metropolis. It started in the 1970s as a seven-room motel with a single go-kart track. Today, the resort has almost a dozen go-kart tracks – even one that's underwater.
There are more than a dozen indoor and outdoor water slides, one of which is more than 10 stories tall. Mt. Olympus has several huge wooden roller coasters and goes underground.
The Cyclops has a 75-foot drop while the Hades 360 reaches speeds of 70 mph. Another popular ride is the reverse bungee jump called the Catapult.
Witches Gulch
Alongside attractions like the Upside Down White House, the area also houses a lot of natural wonders. Boat rides through the upper reaches of Witches Gulch are a unique way to fully appreciate the natural beauty.
You can see the sandstone formations up close to better understand how wind and water formed them over time. Find out what role ancient glaciers played in creating Blackhawk's Profile, Chimney Rock, and Romance Cliff.
Noah's Ark Water Park
It's the biggest, and some say it's the best. Noah's Ark Water Park grabs the title as the largest outdoor water park in the U.S. The 70-acre complex offers 51 different slides and dozens of other features.
They include the thrilling Black Anaconda water coaster and the Point of No Return with its nearly vertical plunge. For a more laid-back experience, relax down a lazy river or take in a 4-D movie at the "dive-in" theater.
The Riverwalk
Hike, run, bike, or just sit back and take in the view of the Wisconsin River. The Dells Scenic River Walk is a paved quarter-mile path that offers great views of the river and bluffs. The river walk is free and open to the public year-round.
Time it right to catch an awesome sunrise or sunset. There are picnic tables, benches, and even game tables so you can enjoy checkers or chess.
Where to Stay in the Dells
After taking in many of the sights, including the Upside Down White House, it's nice to retreat to what first brought visitors here. The spectacular scenic beauty is still on display just outside the bustling tourist area. The Wisconsin Department of Natural Resources maintains this gem of a campground.
Pro Tip: Don't stress about finding the perfect place to stay in Dells! We found the 7 Best Wisconsin Dells Campgrounds.
Rocky Arbor State Park
This incredible secluded slice of nature is just 1.5 miles from the Dells on U.S. Highway 12. The 244-acre park is open from Memorial Day weekend to Labor Day weekend. The campground area has 89 sites on gravel pads for rigs up to 45 feet. They're mostly primitive, but some have electricity, and there are showers, flush toilets, and a dump station.
There's also a one-mile hiking trail, a playground, and a picnic area among the pines and sandstone bluffs. Cell service is good, but the sites closest to Interstate 90 are a bit noisy.
Don't Miss the Upside Down White House in Wisconsin Dells
You may not fall head over heels in love with the place, but it will give you a new perspective. It's harmless fun, and it may also inspire serious conversation. It's one of many fun stops in a region packed with interesting, family-friendly attractions. What are your favorite activities in the Wisconsin Dells?
Discover the Best Free Camping Across the USA
To be honest with you, we hate paying for camping. There are so many free campsites in America (with complete privacy).
You should give it a try!
As a matter of fact, these free campsites are yours. Every time you pay federal taxes, you're contributing to these lands.
Become a FREE CAMPING INSIDER and join the 100,000 campers who love to score the best site!
We'll send you the 50 Best Free Campsites in the USA (one per state). Access the list by submitting your email below: