January RV Events | 11 RV Community Gatherings in January 2020
The holidays are over and the winter RV season is heating up. From Florida to Arizona, January is packed full of RV events.
The snowbirds have landed and we're all ready to have some RVing fun!
Below you'll find the 11 Best RV Events this January. If you're looking for RV events throughout the year, here's the best resource.
Let's dive in!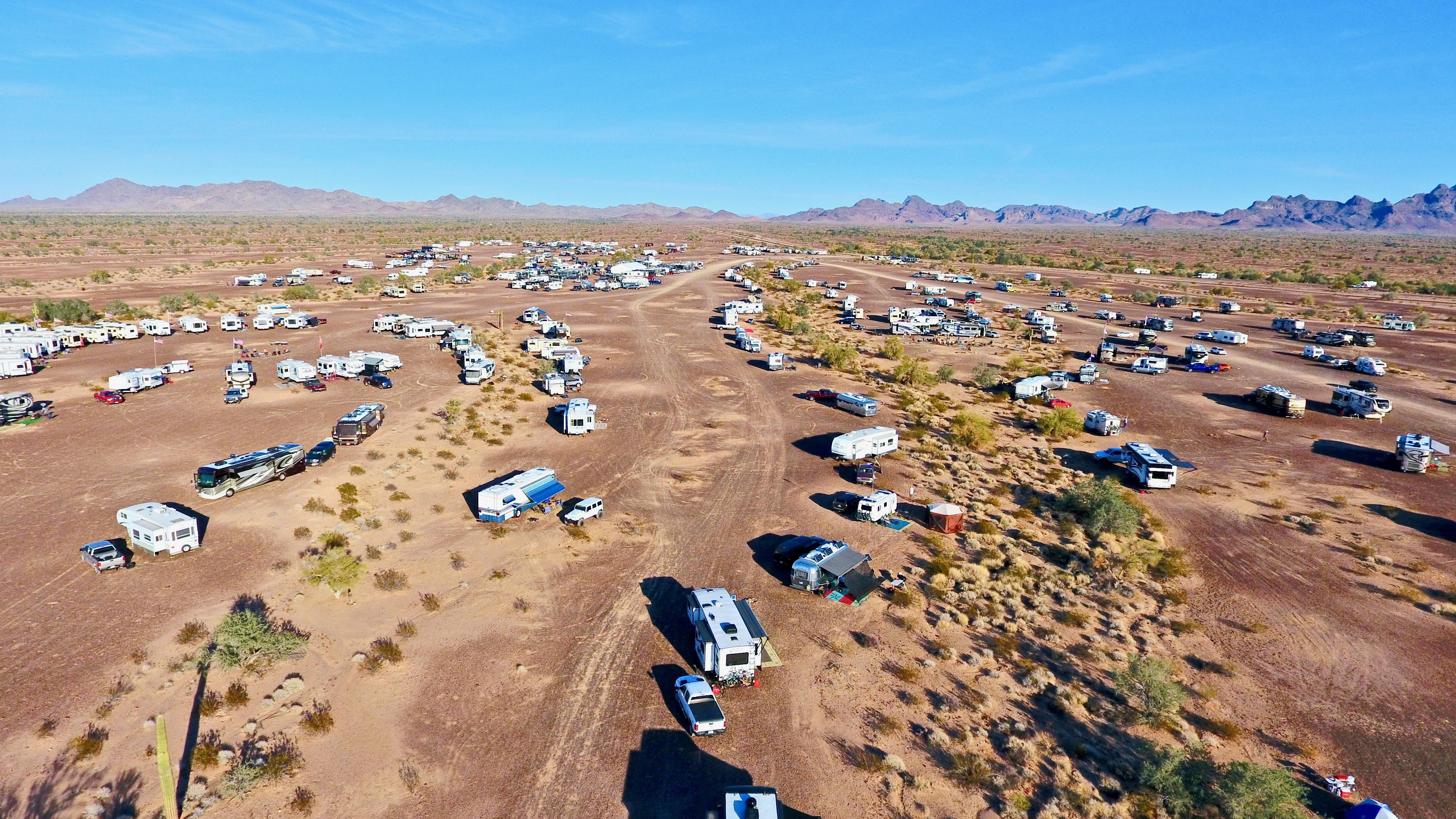 1. Quartzsite Big Tent Show
When: January 18th – 26th
Where: Quartzsite, AZ
Why You'll Love It: The Quartzsite Big Tent Show is an iconic event for RV life. The show has booths from huge brands like Dometic and Battle Born, there's also a lot of fun "as seen on TV" products.
Even though its a cheesy event (and Quartzsite is pretty much a bust), it harkens back to the "good ol days" of RVing across the USA.
2. Florida SuperShow
When: January 15th – 19th
Where: Tampa, Florida
Why You'll Love It: Even though the Tampa RV Show isn't the largest RV show in the country, it is probably the most fun! At the show you'll see many organic meetups happening at various booths.
If RV buying is your goal, you're still in luck! Many manufacturers and dealers will be onsite offering deep discounts on new units.

3. Rubber Tramp Rendezvous
When: January 18th -27th
Where: Quartzsite, AZ
Why You'll Love It: The RTR is aimed towards minimalistic nomads, mostly traveling by van or car. It includes seminars to teach travelers how to make the most our of life on the road. The classes include lessons like, traveling with kids, mental health on the road, workamping, and solar cooking.
PRO TIP: We recommend reading the Pros & Cons article about RTR to find out if its for you.
4. Tampa RV After Party
When: January 16th
Where: Tampa, Florida (Facebook Event Page)
Why You'll Love It: Meet the All Star RVers at this exclusive event! After you attend the Tampa Super Show, make your way over to the after party. Attendees include Less Junk More Journey, RV Geeks, Drivin' & Vibin', Getaway Couple, RV Love and more.
5. Xscapers Annual Bash
When: January 11th – 19th
Where: Lake Havasu, Arizona
Why You'll Love It: Xscapers RV Club (and the Annual Bash) is perfect for active RVers who love a good time. The event includes scheduled activities such as a margarita throw down, pot luck, a freakin' rave, star gazing and live music.
There are also organic activities like hikes, dog walks and yoga.
6. The RV Thing
When: January 11-15
Where: Lakeland, Florida
Why You'll Love It: The RV Thing is a new RV event created by the the founders of The Motorhome Experiment. Event activities include yoga, live music, educational seminars and a swap meet.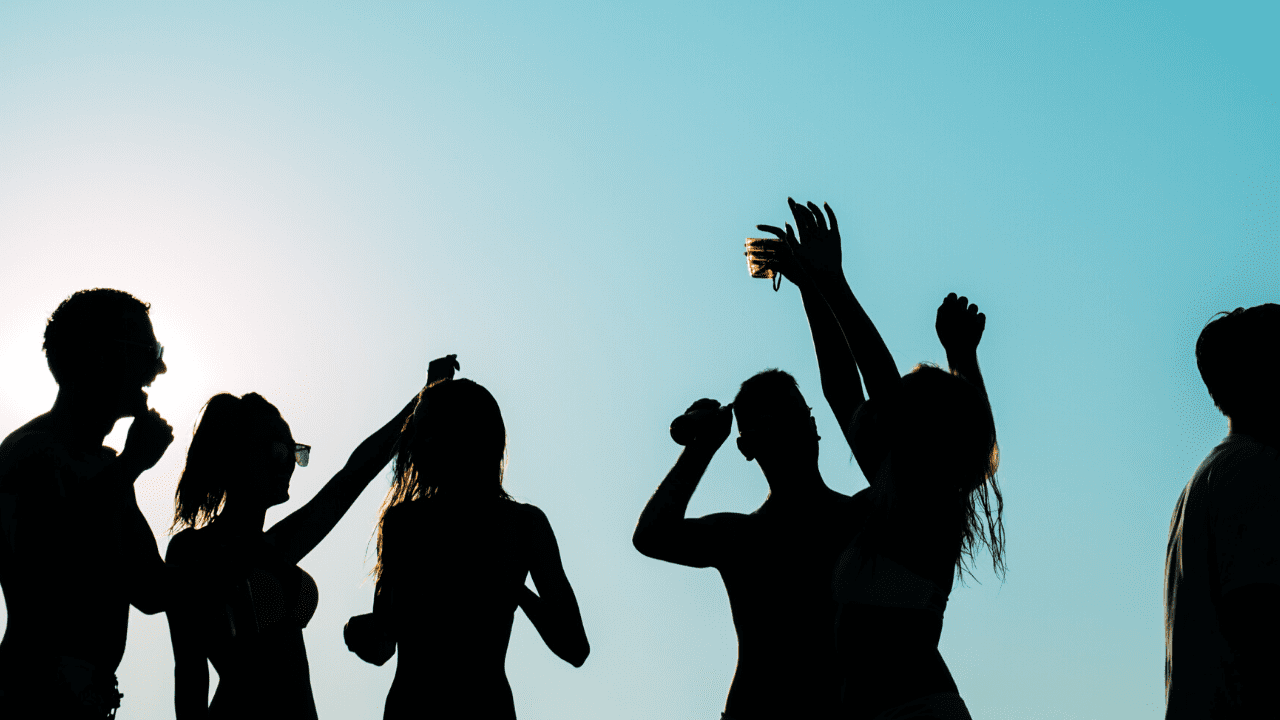 7. Havasu Balloon Festival
When: January 9-12
Where: Lake Havasu, AZ
Why You'll Love It: If you love hot air balloons, this is the event for you. Activities include tethered and untethered rides, live music, mass ascension, and a VIP dinner. This is an event for all ages!
8. Atlanta Camping & RV Show
When: January 24-36
Where: Atlanta, Georgia
Why You'll Love It: If you can't make it down to the Tampa SuperShow, this will definitely do! Dealers and vendors will be there to answer your questions and offer you a sweet deal. Additionally, the show boasts free parking for all!
9. RV Buyers Bootcamp
When: January 11th
Where: Tampa, Florida
Why You'll Love It: This event is for RV buyers! If you're wanting to make the leap into RV life, but feel intimidated about making the big purchase, we recommend this one-day, educational event.
RV Buyers Bootcamp covers all the major purchasing topics. From RV types to understanding financing, you'll leave with more knowledge than when you arrived!
10. Gathering In The Desert 2020
When: January 15-20
Where: Quartzsite, Arizona
Why You'll Love It: This is a Newmar event that takes place in the Quartzsite desert. Its great for owners to hang out together and swap stories about their RVs. According to the Event Page:
Activities Planned so far:
Two prepared early evening dinners, one potluck with Host provided meat, and two heavy appetizer 'meals' provided by attendees.
Social hours each afternoon weather permitting.
Campfires each night weather permitting.
Seminars by vendors and attendees.
'Big Tent' RV Show and too many open-air Flea Markets and Shopping Areas to count in Town!
11. NCRVDA Charolette RV Show
When: January 24-26
Where: Charolette, NC
Why You'll Love It: This is another great RV show that takes place in January 2020. Admission cost $10, but the show includes educational seminars in addition to dealer & vendor booths.
Trip Routing to The Best RV Events & Rallies
Trip planning to RV events and rallies is essential. The west is known for its terrifying mountain passes. The east is known for massive tolls and low hanging bridges.
With RV Trip Wizard you can get a much better understanding on what to expect for travel day. After spending a big amount of money on an RV, you don't want to run into a low hanging bridge!
We use RV Trip Wizard to route our cross country trips. With tools like budgeting, fuel planning, and avoiding bridges, we can easily travel safely through the USA.
You can also avoid steep passes, tolls and tunnels when you select the appropriate filters. Give RV Trip Wizard a try!
The Best FREE Camping in the USA
We love camping across this amazing country. And, we really love it when its free. Here's our list of the 20 Best Free Campsites in the USA.
If you haven't tried free camping before, also known as boondocking, take a look at our beginners guide to boondocking filled with everything you need to know to get started.
Become a FREE CAMPING INSIDER and join the 100,000 campers that love to score the best site! Simply enter your email below.