The Secrets to Finding Great Overnight RV Parking
Overnight RV parking is essential on long travel days. When you're driving from coast to coast in a timely manner, it's a lot easier to park overnight at a Walmart than trying to reserve a site at an RV Park.
Additionally, overnight RV parking is free! However, in 2020 it's becoming more challenging to find legal places to do this.
Today we're sharing a few secrets about how to find the absolute best overnight parking in the USA (and actually enjoy it)!
Let's dive in.
What Is Overnight RV Parking?
Overnight RV Parking is as simple as it sounds. It's camping for one night in a parking lot. Depending on where you do it, it can be legal or illegal.
This may sound slightly intimidating, but fear not! Most places that offer (or don't offer) overnight parking make it abundantly clear if it's allowed or not.
What Is "Good" Overnight RV Parking?
This can vary depending on your RV travel style, but we follow a few easy guidelines to judge if the overnight parking is good.
Is it allowed?
Do we feel safe?
Is the noise level ok?
Is the lighting level ok?
Does it allow easy access on and off our direct route?
Safety, noise and lighting can make or break the experience. Highway rest stops are notoriously loud and Walmart parking lots are super bright.
Sometimes you can strategically park to avoid these conditions, but other times they're unavoidable.
What Tools Work The Best To Find Overnight RV Parking?
Every year we're seeing more great tools that locate free camping options. However, there are still a few that reign supreme. Here are the best "overnight parking locators" in our opinion:
RV Parky: This website has it all – free camping, overnight camping, RV parks & National Parks. We love the amount of reviews you can find on individual overnight parking spots with RV Parky.
AllStays App: This app has filters for everything. You can search for specific overnight camping spots like Walmart, Cracker Barrel, Rest Stops, etc.
Free Campsites Dot Net: Even though this site specializes in off-grid boondocking sites, it also has hundreds of overnight parking listings. Like RV Parky, Free Campsites has great reviews on most locations.
The Pros & Cons of Specific Overnight Camping Spots
There are a number of "tried & true" overnight RV parking spots across the USA. Below we'll review the most popular options and give you all the inside deets.
Keep in mind – every location is unique, but some principles carry through. We'll be focusing on pros & cons of the overall experience, not specific locations.
Walmart
Walmart is the most popular overnight parking option in America, and for good reason! There are hundreds, from California to Maine, that offer it.
Pros: Walmart is great because it's typically open 24 hours. This means you can get a late night treat or and early morning snack. They're also well lit and have onsite security (actual guards and/or cameras). Additionally, Walmarts are located on main roads – making access easy. They can accommodate big rigs.
Cons: The parking lots are usually bright, this can be challenging when getting a good night sleep. If you park too close to a semi-truck it can be loud as well.
Overall Grade: B+
Cracker Barrel
Cracker Barrel is another popular overnight camping option. These are almost always located directly off of interstate exits.
Pros: These feel very safe. They're well lit, but not over-lit. The parking is usually in the rear, keeping random traffic to a minimum. You can start off your morning with a big breakfast and hot coffee.
Cons: Their designated RV spots aren't huge. If you're in a large 5th wheel or 40+ foot class A, you may not be able to fit.
Overall Grade: A-
Bass Pro Shop
A lesser known, but equally awesome overnight parking spot is Bass Pro. Like Cracker Barrel, they usually have designated RV parking.
Pros: They feel safe. These are located in large retail complexes that don't get too much sketchy traffic after hours. Bass Pro also offers dump & water at many of their locations.
Cons: Relatively, there aren't many Bass Pros across the USA. Once you park, there's not much to do. The business will be closed and nearby shops will be a long-ish walk.
Overall Grade: A-
Truck Stops
Most truck stops in America offer some form of overnight parking. Flying J, Loves, and Pilot are the most popular.
Pros: There are thousands of truck stops on the interstate. It's pretty easy to find one. They're usually open 24 hours, which we find convenient. Additionally, you can take a truck stop shower!
Cons: These places can be sketchy. Many times you'll have to park next to a semi-truck – this will make for a loud night! For us, personally, it's harder to get restful sleep at truck stops.
Overall Grade: C-
Interstate Rest Stops
Many states in the USA offer overnight parking at rest stops, some even offer a free dump station.
Pros: These overnight camping options are super easy to access and can fit all size RVs. They usually have 24 hour security and have bathrooms available.
Cons: Interstate rest stops are so loud! It's almost impossible to sleep well.
Overall Grade: D
Unique Places To Find Overnight Parking
If these traditional overnight RV parking options don't sound good to you, there are more options. These unique places to stay overnight require a little more effort, or membership, but can get you a better night sleep.
Harvest Hosts: This membership offers overnight parking at vineyards, farms, breweries and museums.
Boondockers Welcome: This is a membership that offers up host-driveways for overnight camping.
Elks Lodge: If you're a member of the Elks Lodge, most offer free or very cheap overnight camping.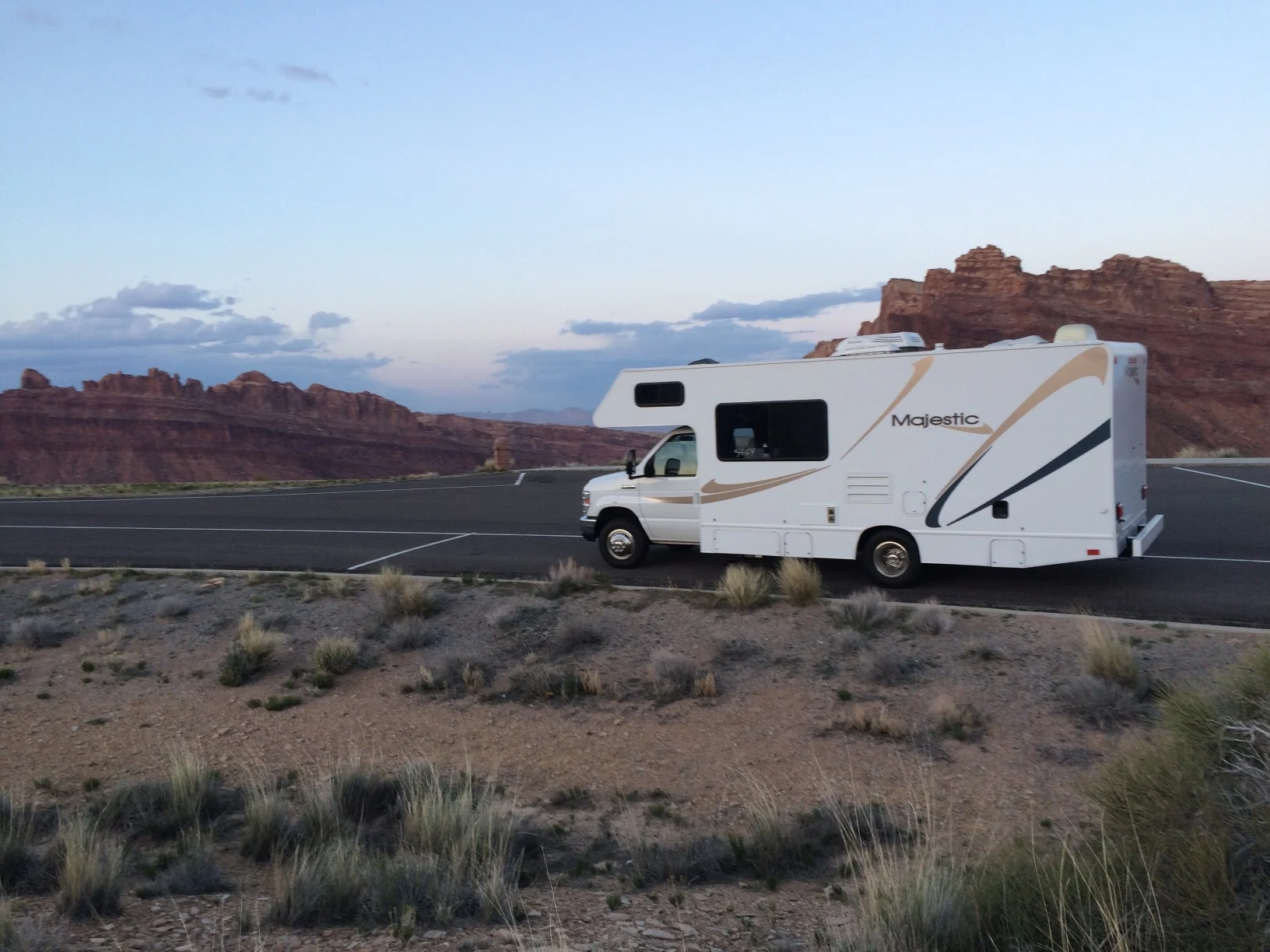 The Best FREE Camping in the USA
We love camping across this amazing country. And, we really love it when its free. Here's our list of the 20 Best Free Campsites in the USA.
If you haven't tried free camping before, also known as boondocking, take a look at our beginners guide to boondocking filled with everything you need to know to get started.
Become a FREE CAMPING INSIDER and join the 100,000 campers that love to score the best site! Simply enter your email below.